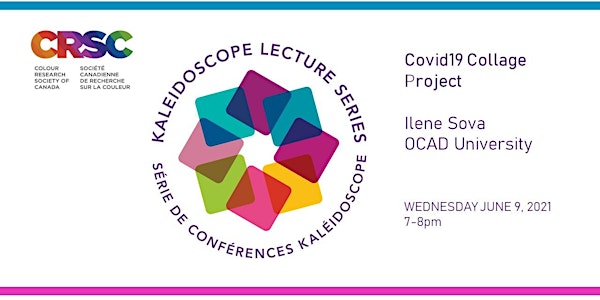 Kaleidoscope Lecture: Covid19 Collage Project by OCAD Professor Ilene Sova
A unique colour-focused artist talk, by Ilene Sova exploring her Covid19 Collage Project created in direct response to the pandemic.
About this event
Abstract: In this unique colour-focused artist talk, Sova will explore her Covid19 Collage Project created in direct response to the pandemic. She will take the audience through an analysis of how she utilizes the precise symbolic and aesthetic qualities of colour-choice to reflect her psychological response to our current times and amplify the intent in her artist statement: 'Former eyes have been replaced, and the curtain pulled back on the inequities that we didn't fully see before. Newsfeeds are full of surreal deaths and devastating condolences. Different eyes; metallic and shiny. Eyes that no longer know how to 'look to our future" for hope and possibilities. Our Instagram lives and our vitriolic materialism now laid bare. We are left to self-reflect, face ourselves, slow down, and toss and turn at night with vivid crackling dreams alive with messages screaming from our subconscious. We thought we were separate from nature, but now we know we are one. Sequestered in our homes, our minds begin to change, fracture with confusion. We float in a sea of unknowns, covering our faces with psychological and real masks. In a sparkly shiny isolated dreamy space; how will we prophesize our new future and manifest in a new uncertain one?
Bio: Ilene Sova holds the position of Ada Slaight Chair of Contemporary Drawing and Painting in the Faculty of Art at Ontario College of Art and Design University. She identifies as Mixed Race, with a white settler, Afro-Caribbean, and Black Seminole ancestry. She is also an artist who lives with the disability of Epilepsy. As such, she passionately identifies with the tenets of intersectional feminism and has dedicated her creative career to art and activism. Ilene Sova is also the founder of the Feminist Art Collective and Blank Canvases, an in-school creative arts programme for elementary school students. She holds an Honours BFA from the University of Ottawa in Painting and an MFA in Painting and Drawing from the University of Windsor. With extensive solo and group exhibitions in Canada and abroad, Sova's work has most notably been shown at Museum of Canadian Contemporary Art, the Department of Canadian Heritage, and Mutuo Centro de Arte in Barcelona. Sova's artwork has been featured internationally in the Journal of Psychology and Counselling, the Nigerian Arts Journal, Tabula and the Italian feminist journal, Woman'O'Clock. In her academic career, Sova has been invited to speak on diversity and equity in arts curriculum at the Art Gallery of Ontario, Pratt University and the Association of Independent Colleges of Art and Design conference in Los Angeles. A passionate public speaker, Sova was chosen to speak at the first TEDx Women event in Toronto, and Southern University New York where she gave an all University Lecture on Art and Social Change. Additionally, Sova was invited to deliver the Arthur C. Danto Memorial Keynote Lecture at the 76th Annual Meeting of the American Society for Aesthetics (ASA). Sova's exhibitions and advocacy in education have been featured on Global Television, CBC Radio, the Toronto Star, Canada AM, The Metro, National Post, Canadian Art, and MSN News.
A Zoom link will be emailed to registered participants approximately 1 hour before the talk, and posted on our CRSC webpage.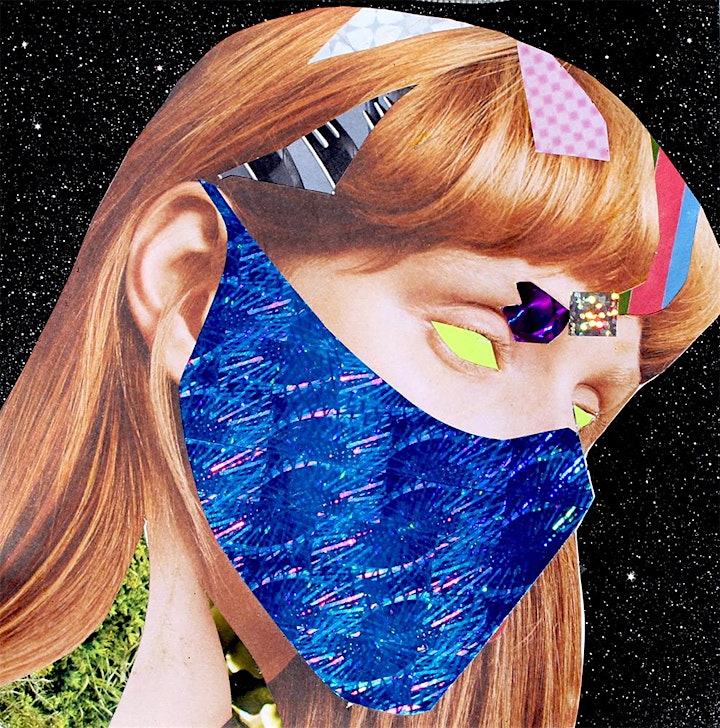 Third Glitter Eye, 6 X 6 Inches, Mixed Media Paper Collage on Glitter Paper