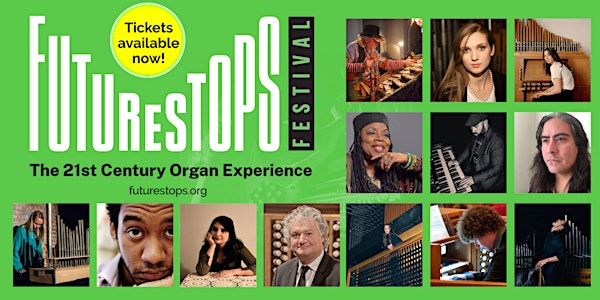 Kali Malone, Sarah Davachi, Raven Chacon: Free @ FutureStops Festival
The 21st Century Organ Experience. Check out FutureStops.org for full info and tickets
When and where
Location
The Cathedral Church of St. James 106 King Street East Toronto, ON M5C 2E9 Canada
About this event
Friday September 30 10:00am–12:00pm
Displays and demonstration organs (which you can play!) from Létourneau Pipe Organs, Juget-Sinclair Organbuilders, MidiWorks
10:00 Jean-Willy Kunz: Camille Saint-Saëns' "Organ Symphony", from modern to contemporary.
In this presentation, Kunz will place this iconic musical work in the context of the late 19th century— Paris, concert halls of the era, Saint-Saëns' other compositions, other Symphonies for organ— and draw links to the present day and future.
10:30 Jeff McLeod presents the Hammond Organ and Leslie Speaker
This session will include a survey of how and why the Hammond Organ and Leslie Speaker came to be, an introduction to the main features of a Hammond and how they are used, as well as a look at the key musicians responsible for establishing the Hammond organ as an popular and important voice in jazz and beyond.
11:00 In Conversation: Kali Malone
We ask Kali Malone about her unique creative process; the way organ tuning led her into a new world of sound; her current performance works; and her new album Living Torch.
11:30 ­Presentation: John Forster: Three conceptions of the pipe organ
Given the diversity of contemporary sound works utilising the pipe organ in some way, exploring the different frames of reference that give rise to such variegation can help us to apprehend new works on their own terms while also engaging with them more meaningfully. There are a potentially limitless number of ways to conceive of the pipe organ, but I will identify and discuss three conceptions in particular which, for the purposes of my own research, act as a lowest common denominator and are applicable in multiple contexts.
------------------
Friday September 30
1:00pm –3:00pm
1:00 Presentation: George Rahi's Modular Organ project
Vancouver-based composer George Rahi is building a modular, portable organ. "By establishing new contexts for the organ, the project considers and responds to the multitude of ways that societies can functionally and imaginatively arrange their sonic environments, viewing the pipe organ as both a 'traditional' and 'radical' instrument which indexes music's changing relationship to society."
1:30 In Conversation: Sarah Davachi
Sarah Davachi's unmistakable sound and approach to music is deeply informed by a period of intense study of keyboard instruments; how did this experience shape her music, and her perception of others' music? Davachi unlocks the mysteries of the creative path, and her new album, Two Sisters, in this engaging live discussion
2:00 Group Discussion: Kevin Komisaruk
Poised between sacred and secular worlds, the organ and its music have always rested in a precarious spot, challenged by the difficulties inherent in bridging them. Does this tension hold back the future of the instrument? In this informal group conversation, we will discuss some practical examples of innovation and collaboration, with a view towards generating awareness, inspiration, and ideas.
------------------
Saturday October 1
10:00am–12:00pm
Displays and demonstration organs (which you can play!) from Létourneau Pipe Organs, Juget-Sinclair Organbuilders, MidiWorks
10:00 Roundtable: Raven Chacon, Amina Claudine Myers, Rashaan Rori Allwood, Charlemagne Palestine
A group discussion about the many paths which lead to the organ; and the future of the organ and its music.
11:30 OrgelkidsCAN demonstration: Cadence Brassard performs "Ten Little Pieces for Ten little Fingers" by Rachel Laurin
Witness the assembly of a pipe organ right before your eyes, and hear a collection of short pieces by Canada' Rachel Laurin performed on it!