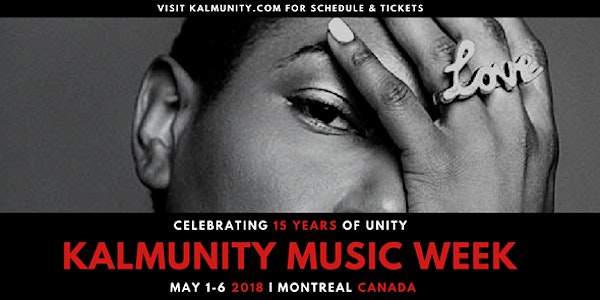 KALMUNITY MUSIC WEEK (2018)
When and where
Location
Various Locations Montreal, QC H2X1B4 Canada
Refund Policy
Refunds up to 30 days before event
Description

+ CELEBRATING 15 YEARS OF UNITY! +
KALMUNITY PROUDLY PRESENTS THE 1ST ANNUAL KALMUNITY MUSIC WEEK, 7 HISTORIC NIGHTS OF BLACK ARTS & CULTURE STAGED IN VARIOUS VENUES AROUND THE CITY OF MONTREAL, CANADA.
FEATURING NOTABLE PERFORMERS FROM ACROSS THE GLOBE, CULTURAL VENDORS, THOUGHT LEADERS, VISUAL ARTISTS, VEGAN CATERERS & MORE.
CAPACITY & TICKETS LIMITED. MORE AT THE DOOR!
+ FEATURING / INVITÉS SPÉCIAUX
SA ROC (U.S.A - RHYMESAYERS)
IBA MAHR (JAMAICA)
RAGING FYAH (JAMAICA)
YAADCORE (JAMAICA - DUBWISE)
SHI WISDOM (TORONTO)
MALIKA TIROLIEN
D'BI YOUNG ANITAFRIKA (TORONTO)
HORACE MARTIN (JAMAICA)
SOUND TRAVELER (CUBA)
DJ SERIOUSBLACK
NARCY
FREDY V
DEAD OBIES
MERYEM SACI
ALIYAH TRUTH
WAYNE TENNANT
FOREVERPREACH
SHARIQ DEVONTE (OTTAWA)
+ ALSO FEATURING / AVEC
TSA
DNA
BLURVA
JJANICE+
SHEM G
CHANDA
MC JUNE
SERENI-T
SCYNIKAL
KYA KINDU
SAR-EL BEY
DIX-IPLE DECA
STELLA ADJOKE
FABRICE KOFFY
DAN FIYAH BEATS
SUGARFACE NENE
JAHMAL WHOSANE
SAM-I-AM MONTOLLA
ZIBZ BLACKCURRENT
JASON 'BLACKBIRD' SELMAN
D-SHADE FROM SHADES OF CULTURE


+ SCHEDULE (PLEASE SEE TICKETS FOR ADMISSION FEES & DOOR TIMES)

+ PROGRAMME (S'IL VOUS PLAÎT VOIR LES BILLETS POUR LES FRAIS D'ADMISSION ET LES TEMPS DE PORTE)
TICKETS & CAPACITY ARE LIMITED. IT IS ADVISED TO PURCHASE PRE-SALE PASSES TO AVOID DISSAPOINTMENT. THANK YOU
1 + [AFRO HOUSE] TUE. MAY 1ST : THE HOUSE PARTY FT. WAYNE TENNANT @ PETIT CAMPUS - 9PM/21H

(Featuring Fabrice Koffy, Chanda, Jjanice+, Sound Traveler, Kalmunity & More)
Help us launch The Kalmunity Music Week with an Afro House party that might just shut the city down!
Featuring Wayne Tennant, who is best known for tearing up the dance floor with hits such as Mercyless & Pandemonium. Wayne will be highlighting some of his past and future works that have delighted fans around the world. Joined by Chanda, Jjanice+, Fabrice Koffy. This is one House Party you don't wanna miss!!
2 + [SPOKEN WORD] WED. MAY 2ND : INTIMATE SKY FT. D'BI YOUNG (TORONTO) @ PETIT CAMPUS - 8PM/20H

(Featuring Aliyah Truth, DNA, Blackbird, MC June, Sar-El Bey BluRva, Sugarface Nene, Kalmunity & More)
Join Kalmunity for a firey night of poetry under an Intimate Sky featuring the world renowned dub poet & storyteller D'Bi Young Anitafrika. From Ted talks to theatre tours, D'bi Young has been a force to reckon with in the world of spoken word for over 15 years.
Joined by the jaw dropping Aliyah Truth and Kalmunity's own DNA, Blackbird, Blurva, MC June & more!
3 + [SOUL] THU. MAY 3RD : FLOWETIK FT. MALIKA TIROLIEN & SHI WISDOM (TORONTO) @ PETIT CAMPUS - 8PM/20H

(Featuring Meryem Saci, Fredy V, Kamunity, DJ Andy Couchman & More)
Come experience the magic of Malika Tirolien, who has been touring her popular mix of creole soul and jazz fusion around the world for the last few years. Best known for her work alongside Snarky Puppy & Bokanté, this will almosst be a homecoming of sort since touring the Americas, Asia & a massive Jazz Fest performance in 2017.
Joining her will be none other than Toronto's own Shi Wisdom, whom is best known for work with artists such as Kardinal Offishall. Chocolate City will be represented when the funk lion Fredy V hits the stage while Nomadic Massive's flowstress Meryem Saci, fresh off her appearance on The Voice France, will help round out this epic night of global soul & honey!
4 + [HIP HOP] FRI. MAY 4TH : ROYAL RISING FT. SA ROC & SOL MESSIAH (U.S.A) @ THE 900 - 9PM/21H
(Featuring Narcy, Dead Obies, Karma Atchykah, Preach Ankobia, Sereni-T, Shariq Devonte, Dix-iple Deca, Jahmal Whosane, Sam.I.Am Montolla, Scynikal, Dshade, Kalmunity & More)
Kalmunity proudly presents a night of God Hop featuring Sa Roc - The Goddess MC! (Rhymesayers) alongside DJ Sol Messiah. From tours with The Roots & Brother Ali, to records with David Banner & hugely popular singles such as 'Forever', Sa Roc has been carving out an undeniable name for herself as a hip hop heavyweight!
Capped off by a Kalmunity Hip Hop Cypher hosted by Preach Ankobia that will surely leave an unforgettable mark on the city of Montreal. This is one night hip hop heads do not want to miss!!
5 + [REGGAE] SAM/SAT. MAY 5TH : DUBWISE FT. RAGING FYAH, IBA MAHR, HORACE MARTIN & YAADCORE (JAMAICA) @ GROOVE NATION - 9PM/21H

(Featuring Dan 'Fiyah' Beats, Kya Kindu, Seydina Ndiaye, Blackcurrent, Rawnia, Black Temple, Kalmunity & More)
Join us for a night of roots reggae & positive vibes when RAGING FYAH, the young reggae sensations known for hits like Milk & Honey and Dash Wata and IBA MAHR known for his smash hits Diamond Sox, Get Up & Show and many more, join Kalmunity for a roots reggae party the likes of which Montreal has not witnessed in quite some time.
As if that wasn't exciting enough, Kalmunity will also play host to Montreal's very 1st edition of DUBWISE featuring Protoje's official tour DJ and founder of Dubwise, YAADCORE.
Alongside the legendary Horace Martin and Montreal's own Dan Fiyah Beats, Kya Kindu, Blackcurrent, Seydina Ndiaye, Black Temple & More!!
6 + [WORLD] DIM/SUN. MAY 6TH : THE FAMILY DINNER AKA LE KOOL FT. IBA MAHR, KALMUNITY JAZZ PROJECT & FRIENDS @ RESONANCE CAFE : VEGAN DINNER & JAZZ (Full Meal & Non Alcoholic Bev. included) - 6PM/18H
(Featuring Stella Adjoké, Shem G, Nora Toutain, TSA, Kalmunity Jazz & More)
NEW ROSTER ANNOUNCED:
Help us cap off Kalmunity Music Week with a night of Nu School Fusion & Jamaican Jazz featuring an intimate and interactive acoustic performance by Iba Mahr who joins us live and direct from Jamaica during his 1st tour on Canada. Followed by an extended set of improv fusion by Kalmunity Jazz and friends.
The evening features a Kalmunity curated vegan dinner complete with dessert and organic non alcoholic beverage which are all included in the admission and prepared by the good folks at Resonance Cafe.
Alongside performances by Stella Adjoké, Nora Toutain featuring Frank O, Shem G, Theo Sunny Abellard and DJ MO!
PLEASE NOTE THAT SPACING & MEALS ARE LIMITED TO 100 SEATS. THEREFORE ADMISSION TO THE FAMILY DINNER WILL BE BY TICKET ONLY. THANK YOU FOR YOUR UNDERSTANDING.
7 +[SOCIAL JUSTICE N JAZZ] MARDI/TUES. MAY 8TH : THE NEGRO MANIFESTO FT. DANA MURRAY (NEW YORK) @ PETIT CAMPUS - 9PM/21H - $10
(Featuring Sam I Am Montolla, Shem G. - The MC, Deanna Smith aka DNA, Seydina Ndiaye, Kalm Unity & More)
Dana Murray, a drummer by trade, is as true as #Jazz gets, Progressing the intention and energy of musicians who painted the streets of New York with music that became the soundtrack to a revolution.
Following the recent release of his LP and tour by the same name, Kalmunity is excited to present Dana Murray's Negro Manifesto, Live at Petit Campus!
Featuring Sam.I.Am, Shem G, DNA, Seydina Ndiaye, Preach Ankobia and Kalmunity.
PLEASE NOTE THAT YOUR ALL ACCESS PASS WILL INCLUDE THIS NEW EVENT!
1. PETIT CAMPUS (57 PRINCE ARTHUR E.) 18+
2. ESPACE DAY & NIGHT (900 ONTARIO E.) 18+
3. GROOVE NATION (410 RACHEL E.) 18+
4. RESONANCE CAFE (5175A DU PARC) ALL AGES
+ TICKETS AVAILABLE / BILLETS DISPONIBLES
PRICES VARY +++
MORE AT THE DOOR +++
LE DON SERONT FAIT À / PROCEEDS FROM PROFITS WILL BE DONATED TO JEUNESSE 2000, UNDER PRESSURE & HIP HOP YOU DON'T STOP!
RENDU POSSIBLE AVEC LE PARTENARIAT DEMADE / MADE POSSIBLE WITH THE PARTNERSHIP OF CAFE CAMPUS, RESONANCE CAFE, STOLEN FROM AFRICA, STUDIO ALKEMY & NO RECIPES MOB.
PARRAINÉ EN PARTIE PAR / SPONSORED IN PART BY CKUT & THE QUEBEC WRITERS' FEDERATION.