KALMUS FELICIÁN: KANADAI TURNÉ - 2019 - CANADIAN TOUR - HAMILTON
About this event
Felicián koncert műsorában a legnagyobb klasszikusok mellett filmzenék, népdalok, és saját szerzeményei szólalnak meg.
Játszon bármit, az magán hordozza egyedi, senkivel össze nem téveszthető stílusát, zenei sármja játszi könnyedséggel nyitja meg a hallgatók szívét a komolyzene irányába.
Gyönyörű ívekben gondolkodik és kézenfogva vezeti végig hallgatóját egy nagyon színes instrumentális (hangszeres) zenei világban. Otthonosan kombinálja a szimfonikus hangzást és az elektronikus zenei elemeket, de amikor egy dal úgy kívánja, saját csellójátékát többszörözi meg.
2018 nyarán Great GreatGrandma címmel jelent meg első önálló albuma, melyen mindenki által ismert népdal motívumokból ihletet merítve készítette el saját bátor, és korszerű feldolgozásait. Az album mottója: Ükanyám dalai az én világomban.
Adventi műsorában klasszikus és mai karácsonyi dalok kaptak helyet, a tőle megszokott egyedi hangzással, varázslatos köntösben, itt ott kicsit felrázva….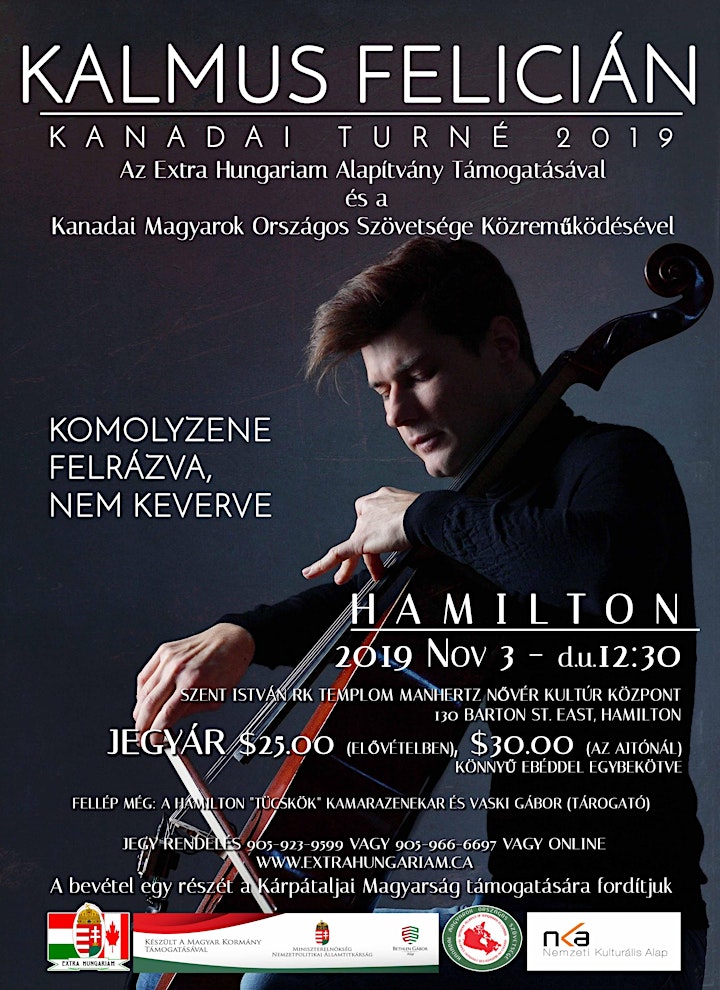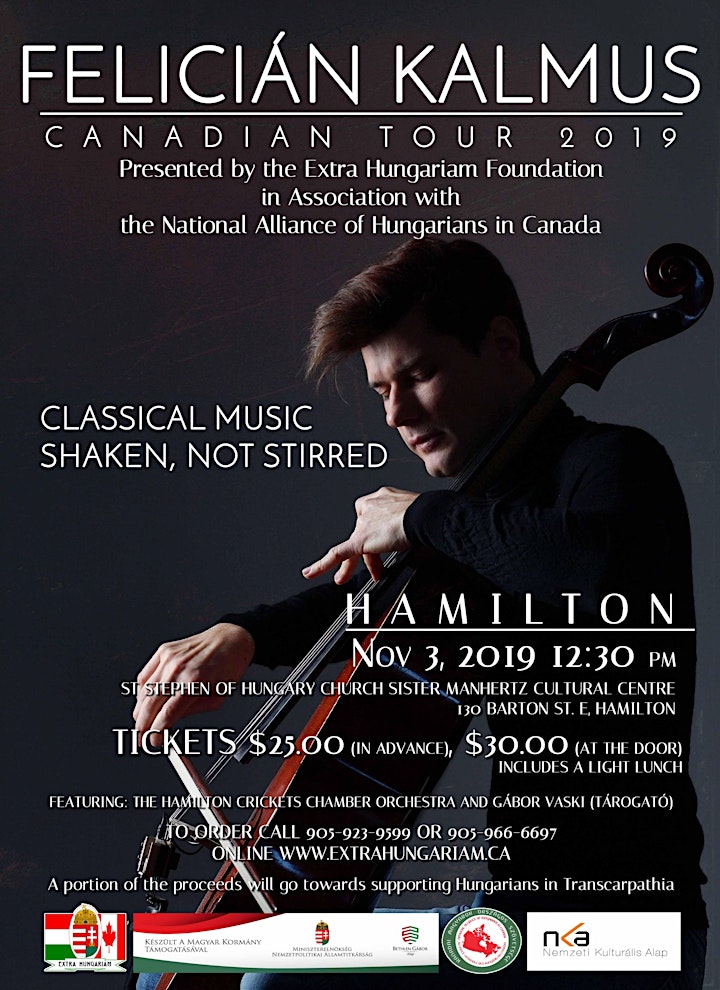 Organizer of KALMUS FELICIAN: KANADAI TURNÉ - 2019 - CANADIAN TOUR - HAMILTON
Alapítványunk célja
​A 2014 óta működő Extra Hungariam Foundation önkéntesek által szervezett alapítvány, melynek célja a magyar kulturális rendezvények pénzügyi támogatása. Támogatásban részesülhetnek a Torontóban és környékén (GTA) valamint Dél-Ontárióban és Kanadában működő magyar klubok, iskolák, könyvtárak, nyelvtanfolyamok, zenei és színházi előadások, művészeti kiállítások, ifjúsági táborok, sport események és más kulturális rendezvények.
​Our Mission
​Our mission, since 2014, is to create a Foundation which will provide long-term and ongoing funding to support Hungarian cultural activities, clubs, camps, sports, dance, school and language programs, music, arts and theatre events in the GTA, southern Ontario and across Canada.