Description
PLEASE JOIN US FOR FAMILY CAMP

AT THE TIM HORTON CHILDREN'S RANCH

Tim Horton Family Camp is a new family-friendly experience that will be hosted on specific weekends across our Tim Horton Camps. Tim Hortons Restaurant Owners and Team Members, RBI Corporate Employees and THCF Employees are all welcome to register their families for this exciting new event.

Family Camp weekends are a great opportunity for families to come together and share a fun and active camp experience at one of our seven beautiful THCF camp locations. The weekend includes camp-based games and activities, delicious meals prepared by our experienced food service team, family camp fires and a relaxed and social atmosphere surrounded by the beauty of nature.

This is a great opportunity to connect with your family and make new memories together. We look forward to welcoming you and your family to Camp!

Join us for Family Camp in Kananaskis, AB from April 6-8, 2018.
---
SAVE THE DATE
Our other camps look forward to hosting Family Camp weekends. Registration for these dates will open soon.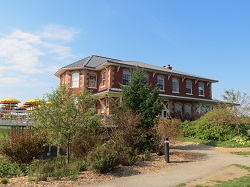 Tim Horton Onondaga Farms (St. George, ON)
April 27-29, 2018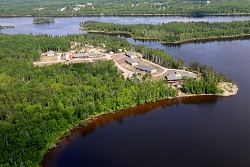 Tim Horton Camp Whiteshell (Seven Sisters Falls. MB)
May 4-6, 2018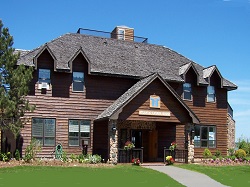 Tim Horton Children's Camp (Tatamagouche, NS)
May 11-13, 2018
---
EVENT DETAILS
We can't wait to welcome you to camp!
More information will be shared closer to your arrival, but here is a snapshot of what you can expect from your weekend with us.
Friday Afternoon: Arrivals
We will be ready to welcome you and your family any time after 4 pm. After you arrive, take some time to get settled in our bunkhouses and explore the beautiful camp property.
Friday Evening: The official kick off of our weekend together
A cocktail hour followed by a delicious family-style meal and evening activities. Choose your own adventure! This will be your opportunity to sign up for the activities you and your family are most interested in.
Saturday Morning/Afternoon: A fun filled day of Camp Activities
Your day begins with a hearty breakfast before you and your family head off to start your camp adventure and the activities you signed up for the evening before. Our weekend will offer both family and individual/age appropriate programming. We will take a break to come together for lunch and also enjoy some quiet/down time in the afternoon, if you so choose.
Saturday Evening: Camp Fire Celebration
What would a trip to camp be without a camp fire? The camp fire circle is often what our campers remember the most about their time at camp, and it will be no different for your family. Join us for a magical night around the fire filled with music, stories and more
Sunday Morning: Last day at Camp
After another delicious meal together, head out to enjoy every last moment of the activities our camps have to offer.
Sunday Afternoon: Departures
Sadly, Family Camp will need to end after one last lunch together, but the memories made with your family will last forever. We wish everyone a very safe journey home.
Accommodations: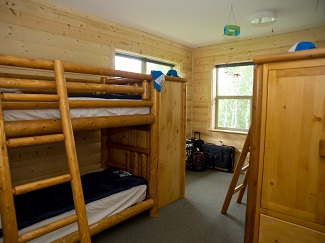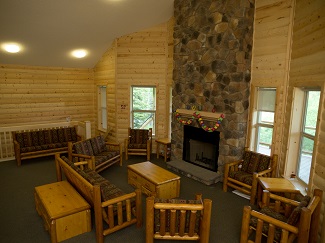 Each bunkhouse in Kananaskis has private rooms with two sets of twin-sized bunk beds, shared bathrooms and common areas with couches and a fireplace. Our bunkhouses will be a great home base for the entire family.
Throughout the weekend, families will enjoy a private bedroom with their family members. Depending on the number of people per family, we may assign you to more than one room.
As you prepare for the weekend, no need to worry about towels and bedding. Our teams will have towels and all necessary linens ready for you upon arrival.
Family Lounges
Throughout the weekend, there will be a family lounge set-up for you to enjoy complete with warm beverages, snacks, a television, books, board games and baby and toddler amenities. This will be a great place to warm up from the cold or enjoy time throughout the evening once our programs are done for the day.
Childcare
Throughout this weekend, we look forward to offering families the opportunity to participate in activities together and/or head out to activities on their own with our staff. Our staff will always ensure that our programs and transition times are well supervised. Childcare in the bunkhouses and overnight, will be the responsibility of each family.
Food & Alcohol
Our Food Service Teams look forward to sharing their culinary skills with you. While at camp, we will provide all meals and snacks. Our meals will be served family style which is one of our many camp traditions. This will give you the opportunity to share a meal as a family, with a new family you meet over the weekend or recreate an adult and kids table tradition. Following your registration, we will be in touch with you to discuss any dietary restriction and/or food allergies that we need to accommodate. Our food service teams are well trained in allergy and special diet management. They will be pleased to incorporate your needs into their menu planning.
Alcohol will be made available during cocktail hour and at dinner on Friday and Saturday night. As you plan for this weekend, please feel free to bring any additional beverages to enjoy throughout the evening all while remembering the family focused nature of this weekend.
Packing for Camp
When packing, please remember that we will enjoy outdoor activities. Please bring the necessary layers to ensure you and your family members are dressed appropriately for the weather.
In the event that you forget something, our teams will be happy to help you out.
Packing Guide
Health Card

T-shirts

Warm sweater/sweatshirts

Camp casual outfits for the evenings

Sun hat

Sunglasses

Travel alarm and/or watch

Bathroom toiletries

Eyeglasses and/or contacts

Pajamas
Pants and/or shorts
Prescription and/or other medications
Camera
Lip balm
Closed-toed shoes

Once you register
Shortly after you register, you will hear from the General Manager of the camp you will be attending. They will provide you with a few more details, check-in on allergies and special diets and answer any questions you may have.

---
REGISTRATION DETAILS
Family Camp 2018 Rates:
Adults 16+: $200.00 + GST
Children Ages 5 to 16: $125.00 + GST
Children under 5: $50.00 + GST
To register, please select the green 'Registration' button above.

Registration fee includes:
- All meals
- Snacks
- Programming
- Accommodations for two nights

Transportation to and from camp will be the responsibility of each family and is not included in this fee.

Please note that we require a minimum of 20 participants for Family Camp. In the event that registration is low, we will be in touch with each family 2 weeks prior to the start of Family Camp to discuss any changes.

Do you have any special requests for the weekend? Any special information we should know about? We look forward to working with you on accommodating these as is possible. Please make note of them in the comment section as you register. Our camp GMs will be in touch with you to discuss these further.

Once you have registered, you will hear from the General Manager of the camp you will be attending. They will provide you with a few more details, check-in on allergies and special diets and answer any questions you may have.

Leading up to your weekend at camp, keep an eye out for a special package from us to help get you ready for a weekend of fun!

Please note that registration closes on March 16th, 2018.
---
CONTACT US

If you have any further questions about Family Camp, please don't hesitate to reach out to Jodi Bond. She will be pleased to help you out!

Jodi Bond
Senior Manager, Communications

Tel: (226) 217-0354
E-mail: jodi.bond@thcf.com
---
For more information about the Tim Horton Children's Foundation, please visit www.thcf.com.