Karma Questions: Year-end Contemplative Yoga & Writing Workshop
Description
SheCoSystem presents
Karma Questions:
A Year-End Contemplative Yoga Workshop
Featuring Author, Yoga Teacher & Writing Coach
Daphne Gordon
Karma Questions* is a chance to connect mind and body through a gentle practice that combines yoga poses with writing prompts. Using movement, breath and sound along with pen-and-notebook reflection, we will listen in to the truth that exists beneath the buzz of daily life.
In this special year-end Karma Questions class, we will reflect back on 2015 and articulate intentions for 2016.
By sharing our reflections in a compassionate group, our realizations will become commitments to our deepest selves. We'll be ready to align our actions with our intentions for the year ahead.
Participants will receive a follow-up guide to help you continue to embody your intentions as we move into the new year.
Experience of writing and/or yoga is absolutely not required for a Karma Questions class. Chair modifications will be offered for all poses.
Wear comfortable clothes
Yoga mats are available in the studio
Bring a pen
The SKETCH Movement Studio is located on the lower level of Artscape Youngplace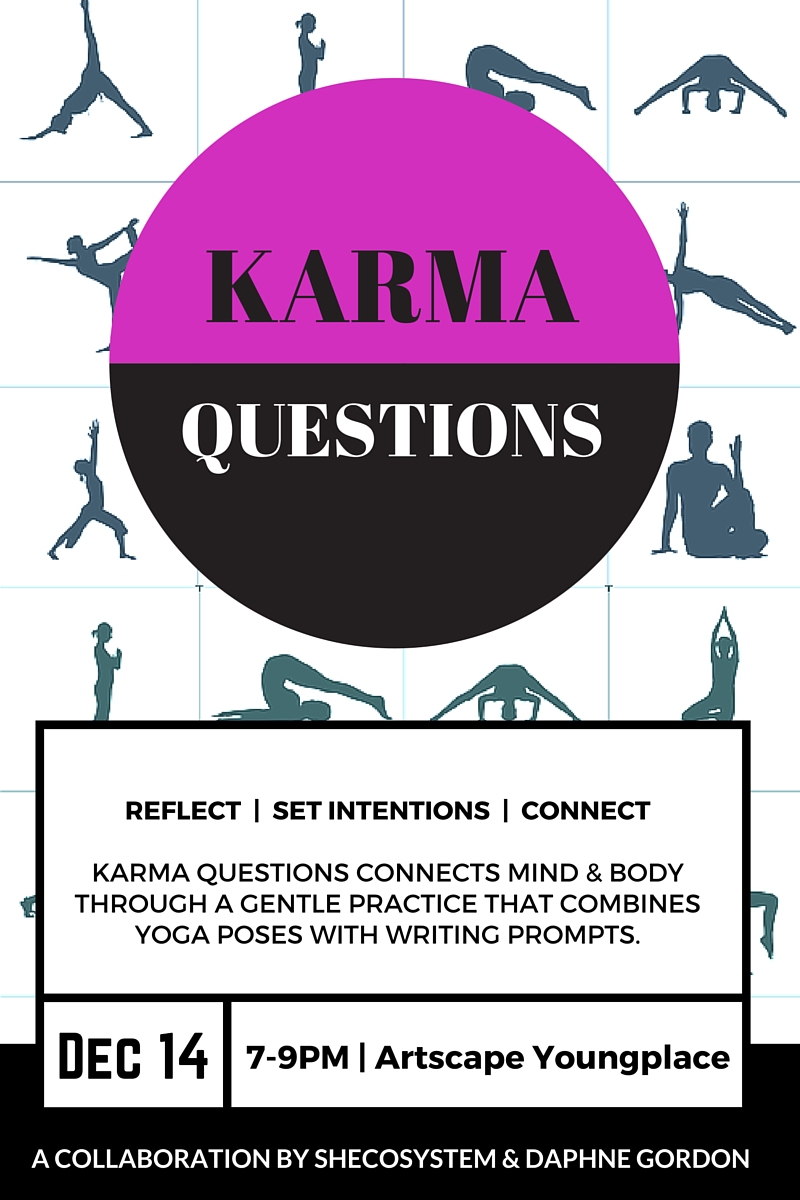 ---
*With origins in ancient India, karma is a key concept in the Hindu, Buddhist, Jain, Sikh and Taoist traditions. Translated directly, it means work, actions, or deeds, and refers to the effects of one's work-in-the-world. This is different than a job, a career or a business. Though the concept of karma may take paid work into consideration, it also includes the important unpaid actions we perform in our families, communities and creative lives.
Organizer of Karma Questions: Year-end Contemplative Yoga & Writing Workshop
This event is presented by Shecosystem: a coworking and wellness community where women thrive.
Founded by Emily Rose Antflick, Shecosystem is designed from a feminine paradigm that promotes holistic self-care and work-life integration. 
Shecosystem is about much more than shared workspace; our mission is to connect and strengthen an abundant ecosystem of entrepreneurial women in Toronto. Learn more at www.shecosystem.ca or better yet, drop in to one of our weekly Coworking & Wellness Meetups every Tuesday!