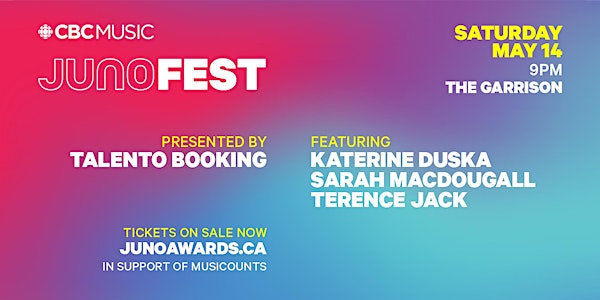 Katerine Duska + Sarah MacDougall + Terence Jack
Performers
Sarah MacDougall, Terence Jack
Location
The Garrison
1197 Dundas St. W
Toronto, ON M6J 1X3
Canada
CBC Music JUNOfest ft. Katerine Duska + Sarah MacDougall +Terence Jack — Live at The Garrison!
About this event
Katerine Duska is a Greek-Canadian singer-songwriter. In 2018, her single "Fire Away" was selected for the official Nescafe Canada television & radio ad campaign. 
 The following year , she represented Greece in the Eurovision Song Contest with her hit song "Better Love", making the top of Greece's iTunes Chart. Duska co-wrote the song with Leon of Athens and David Sneddon (Lana del Rey, Lewis Capaldi) and produced it with Phil Cook (Ellie Goulding, Paloma Faith). The song received extensive international airplay, charting in over 40 countries worldwide and making the Global Viral Top 50 chart on Spotify. 
Her follow-up single "Anemos" that same year, made the top 3 of Greece's Viral Top 50 chart on Spotify as well as the Greek iTunes Chart. 
Duska has collaborated on stage and supported artists such as LP, Albin Lee Meldau, Tom Baxter, Yasmine Hamdan, and Kadebostany, and has performed in prestigious venues and festivals across the world such as South by Southwest, Odeon of Herodus Atticus, Rockwave Festival, The SNFCC, Megaron Athens Concert Hall, The O2 Academy Islington and Sofarsound's /Amnesty International's global festival Give A Home where she was one of 300+ artists to participate in support of the world's refugees. 
 She was also a vocal coach/mentor on the hit TV talent show The Final Four in Greece (2019) and is currently recording her upcoming EP in London with producer Anu Pillai and David Sneddon (Lewis Capaldi, Lana del Rey, Roisin Murphy, Ladyhawke).
Instagram | Facebook | Twitter | TikTok | Spotify | Apple Music
•
Award-winning singer/songwriter Sarah MacDougall is known for her poetic songs and passionate performances. Sarah mixes folk, pop, and rock elements into her infectious, often epic songs. Born in Sweden, now based in Toronto, Canada, Swedish magazine Nöjesguiden declared her: "one of Sweden's best singer/songwriters' and Rootstime Belgium described her as "One of the greatest talents of our era". Her fourth and most recent album, All The Hours I Have Left To Tell You Anything, is about strength, identity, death, the breakdown of relationships, birth, and the ghosts we honour and carry throughout.
Instagram | Facebook | Twitter | Spotify | Apple Music
•
Vancouver's up and coming indie-folk act Terence Jack has hit the ground running with their energetic and refreshingly authentic sound. They're quickly building a reputation for their earnest live performance; which, has a rock 'n' roll atmosphere that will hook you in and leave you wanting more. Terence Jacks single "Eastern Rise" (2016) received Runners-up in the Canadian Songwriting Competition judged by Joel Plaskett, Sam Roberts etc. and was stated as " quite possibly the song of the song of the year in 2016" (RARASfarm.com). This crew of talented musicians, has shared stages with Buffy Ste Marie, The Arkells, and Plants & Animals and has landed Terence Jack slots at major Canadian festivals including Rifflandia 2016, Grey Cup 2017, Canada 150 @ Canada Place, JUNOfest 2018 and CMW 2018. Look for a new Terence Jack album later this year.
Instagram | Facebook | Twitter | Spotify | Apple Music
•
Tickets for the acclaimed and reinvented concert series CBC Music JUNOfest are now available for sale at junofest.ca. The much-missed annual music celebration will take over iconic Toronto music venues across the city with a roster of Canadian artists and 2022 JUNO Awards nominees across many genres. Over 35 musical acts, including some of the country's top touring talent, are involved in this year's festivities. All revenue from select shows will go directly to the MusiCounts Band Aid Program. MusiCounts, Canada's music education charity associated with The JUNO Awards, is celebrating their 25th anniversary. Visit junofest.ca for more information.
COVID-19 MATTERS
While attending CBC MUSIC JUNOfest shows, you must abide by the policies of any of the venues hosting any portion of CBC MUSIC JUNOfest, including their policies related to COVID-19, as well as any of CARAS' COVID-19 policies in place from time to time. Failure to abide by such policies may result in the venues and/or CARAS taking remedial action against you, including prohibiting you from attending the event and/or removing you from the premises. Refunds will not be issued should you be removed from the event or any premises (or prohibited from attending) for any reason, including for failing to abide by applicable COVID policies and protocols.
••
General Admission 19+ event. Valid government issued photo ID is required in order to enter. Door time, set times, and event schedule subject to change. Event subject to change in support of evolving public health protocols.