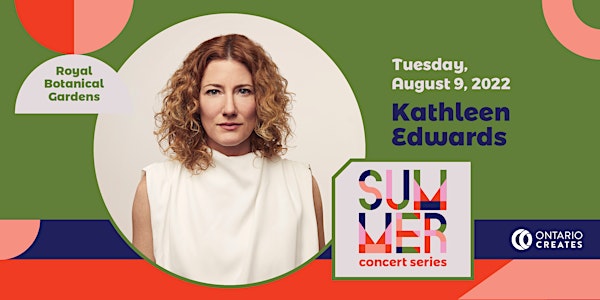 Performers
Kathleen Edwards
Ken Yates
Location
Royal Botanical Gardens
680 Plains Rd W
Burlington, ON L7T 4H4
Canada
Join us for the Summer Concert Series at Royal Botanical Gardens!
About this event
As the show date approaches we will be sharing all mask, distancing, and vaccine protocols to be in effect at this concert. All attendees are required to follow protocol.
This is a seated show, based on first-come first served availability.
This show will be held in the covered Rose Garden Tent at the Royal Botanical Gardens.
--
KATHLEEN EDWARDS
By 2014, the singer-songwriter had released four studio albums and amassed widespread critical acclaim. She had been touring since the release of her 2012 album, Voyageur, and the prospect of returning home—only to start writing her way toward another album, and another tour—felt impossibly daunting. She put her guitar away, at least for awhile: she moved back to her hometown of Ottawa and settled down in Stittsville, an old village on the western edge of town. A running inside joke with bandmate Jim Bryson about opening a coffee shop and naming it "Quitters" became reality. For years, the only new music she heard was playing in the background while she served her regulars at the shop, where she slowly started to fall in love with music again.
But in 2018, she received an unexpected phone call that changed that. Maren Morris, a longtime fan, invited her to Nashville for a songwriting session. Edwards accepted, and "Good Woman," their collaboration, wound up on Morris' 2019 album, GIRL. "It reminded me that writing and creating music is entirely my wheelhouse, and it was so easy to just jump back in and do that," she says of her fortuitous time in Nashville.
Fast forward to 2021 and Edwards made her long-anticipated return to music with Total Freedom, her fifth studio album.
--
KEN YATES
Born and raised in London, Canada, Ken Yates has gained a reputation as one of his country's brightest rising singer - songwriters. The winner of two Canadian Folk Music Awards for Songwriter of the Year and New Artist of the Year, Yates has spent recent years expanding his sound and touring North America and Europe. His upcoming album Cerulean (out on Soundly Music 6/3/22) steps firmly into indie folk and alternative territories, and captures Yates at his most vulnerable.
The cool - hued record was written as an intimate reckoning as he grieved his dying mother, giving listeners a vivid window into the rollercoaster of intense thoughts and emotions that accompany such a personal, yet universal experience. Yates supported Passenger on their tour across North America and in Europe in 2020, and has shared stages with Ryan McMullan, Jenn Grant, and many others.