Description
What is this Event About?
The City of Kawartha Lakes is undertaking Cultural Master Plan and Cultural Mapping Inventory in order to leverage the rich cultural resources of the community in support planning and economic development, and awareness of these resources for both residents and tourists. The project will broaden recognition of the city of Kawartha Lakes as a creative and vibrant municipality where the cultural sector is valued and fostered as a vital component of the community's social and economic well-being.
The project will engage community residents, planners and stakeholders in establishing a cultural vision for the city, identifying concrete strategies and actions to support cultural development, and creating a Cultural Plan that will help to inform municipal decision-making across the region.
The mapping inventory process is the first step in the project. It will identify the rich and diverse cultural resources that exist throughout the City. The mapping inventory will build the foundation upon which the Cultural Master Plan will be developed in the next phase of the project. The City of Kawartha Lakes wants your input on the mapping inventory.
The City will be hosting a series of forums in Lindsay, Bobcaygeon and Fenelon Falls. Register your attendance with eventbrite or show up at the door on the day of the event. Open to all members of the public.
What is Cultural Mapping?
Cultural mapping is a process to systematically identify, document and analyze the cultural resources or assets of a community. Across the country, more and more municipalities are turning to cultural mapping as an important new tool to support economic development and to enrich the quality of life in communities.
Cultural mapping embraces a broad definition of cultural resources as illustrated in the diagram below.
Cultural Resource Framework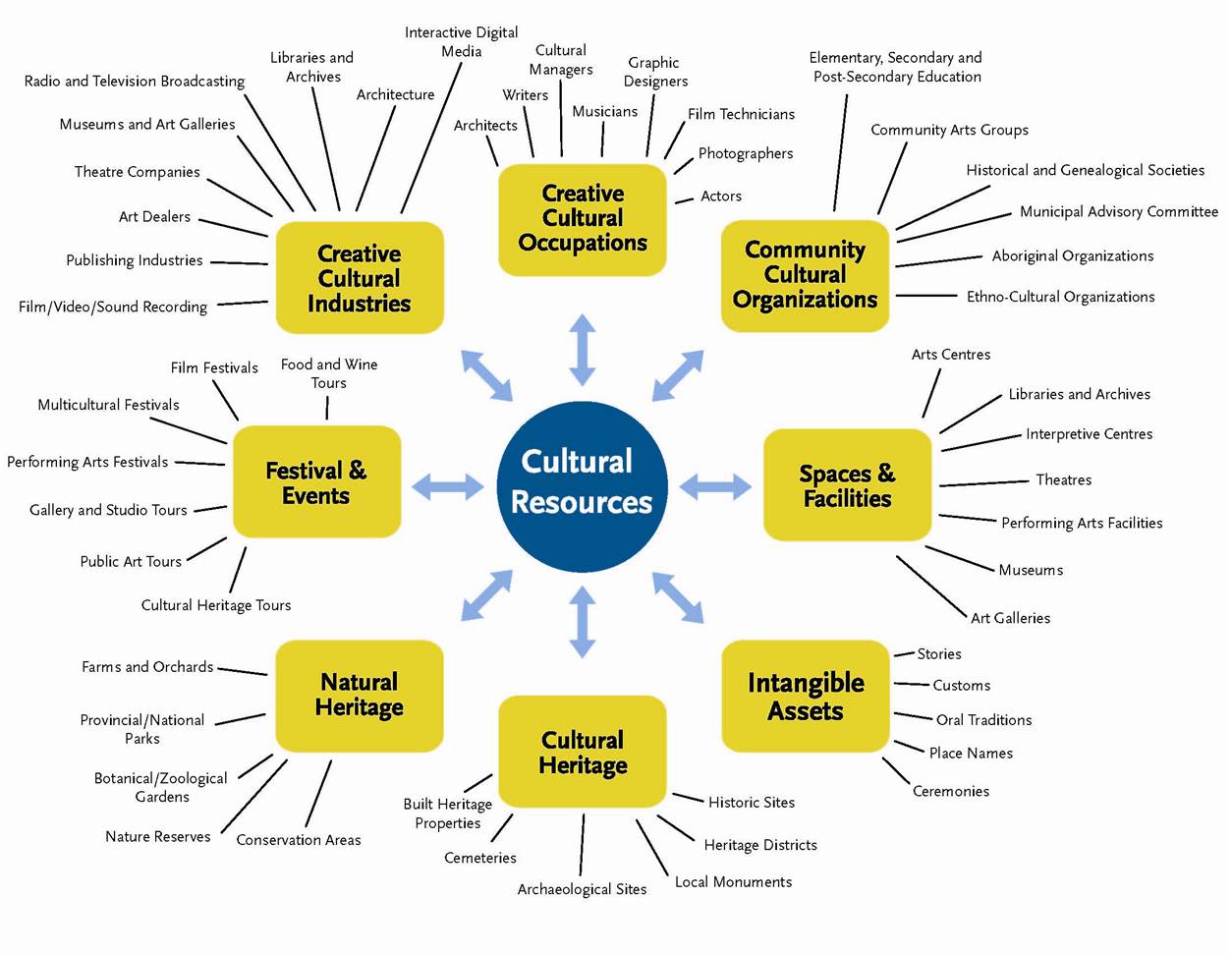 This includes a wide range of tangible resources such as arts and heritage organizations, cultural occupations and industries, cultural and natural heritage – among others. It also explores the areas of intangible cultural assets - the stories, traditions and unique quality of life that shape the town's identity and sense of place. The broad definition of cultural resources illustrated in this diagram is dynamic. It is, however, a starting point for gathering information on our rich and diverse cultural assets in Kawartha Lakes.
For more information on Cultural Mapping and Municipal Cultural Planning visit the following links
Putting Culture on the Map: An Introduction to Cultural Mapping – Dr. Greg Baeker
Why Cultural Mapping and Municipal Cultural Planning Matter to Municipalities – Gord Hume
Rediscovering the Wealth of Places: A Municipal Cultural Planning Handbook for Canadian Communities – Dr. Greg Baeker
http://economicdevelopment.org/category/cultural/ - News and insight featuring up to date stories on cultural development across North America and the World.