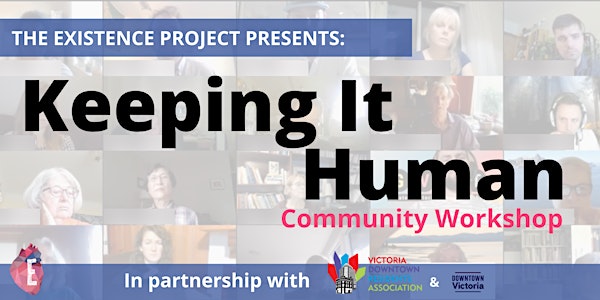 Keeping It Human - Community Workshop
Housing and Homelessness are polarizing issues, let's talk about it.
About this event
Housing and Homelessness are polarizing issues, let's talk about it.
Presented by The Existence Project (www.theexistenceproject.ca), the Victoria Downtown Residents Association (www.victoriadra.ca) + the Downtown Victoria Business Association (www.downtownvictoria.ca)
Keeping It Human is an opportunity for you to hear the story of someone who has experienced homelessness, reflect on social issues happening in your neighbourhood, and get some tangible next steps towards addressing housing solutions for your community.
This workshop is for people who are looking to find:
-Understanding and compassion for the homeless experience
-Baseline knowledge of what's working and what isn't
-An opportunity to reflect on what needs to change
-A way forward for individuals and the group they represent to take action
We look forward to connecting with you!
NOTE: We have an attendee limit of 30 participants. Please let us know if you have to cancel prior to the session so we can extend an invite to the next person on the waitlist. A zoom link will be sent to attendees by email prior to the workshop.
* This workshop will be recorded with the intention of having a graphic facilitator capture knowledge and sharing in the workshop to create a graphic recording following the workshop for you to share with your organization and community.
-----
To see documentaries and video content from the Existence Project check out their Youtube channel (www.youtube.com/c/theexistenceproject) and their Facebook (www.facebook.com/theexistenceproject).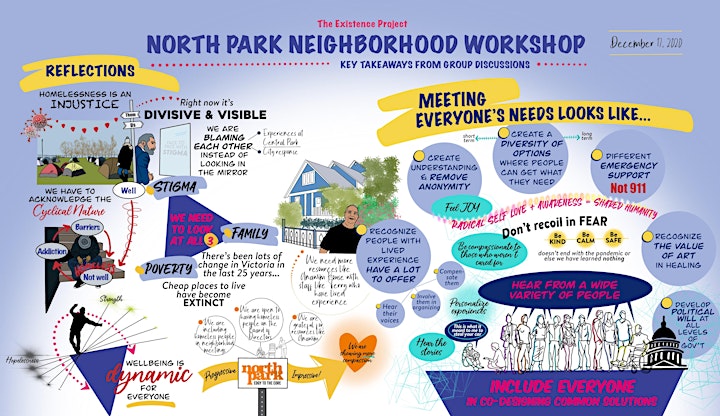 Your group will leave with its very own graphic recording of this workshop with input from everyone who takes part!
See above for an example from our most recent workshop with the North Park Neighbourhood Association!
Organizer of Keeping It Human - Community Workshop