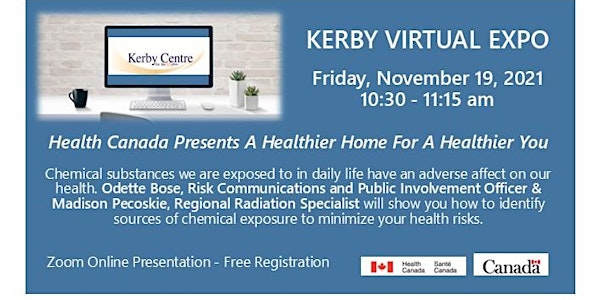 Kerby Virtual EXPO- Health Canada - A Healthier Home For A Healthier You
Health Canada Healthy Home Session: Healthier Home for a Healthier You
About this event
Join Us Friday, Nov 19th
10:30 am - 11:15 am
Health Canada Presents A Healthier Home For A Healthier You
Do you know what goes into the products you use each day? Is there a health risk or hazard? How can you reduce the risks to yourself and those in your care? We don't always know how to answer these questions. This Healthy Home Session can help you answer them. In our daily lives, we are exposed to chemical substances that are found everywhere (for example, cleaning products, drugs, substances in dust, in water, etc.). It can be difficult to identify exposures to chemical substances in the environment, but their long-term effects have the potential to affect our health. Adopting a preventive approach can limit such exposures and improve an individuals' health.
This Healthy Home Session is intended for seniors and caregivers of seniors. It aims to educate participants with the ability to identify sources of exposure to chemical substances in their daily activities and help them minimize health risks.
Odette Bose, Risk Communications and Public Involvement Officer & Madison Pecoskie, Regional Radiation Specialist will show you how to identify sources of chemical exposure to minimize your health risks.
The topics discussed will include the following:
• Chemicals in our environment and their effects on human health
• How to manage risks properly
• How can "Canada's Chemical Management Plan" help the public manage risks from chemicals?
FREE REGISTRATION
A ZOOM PRESENTATION - PLEASE ENSURE THAT YOU ENTER YOUR EMAIL CORRECTLY AS A ZOOM INK WILL BE EMAILED TO YOU PRIOR TO THE PRESENTATION