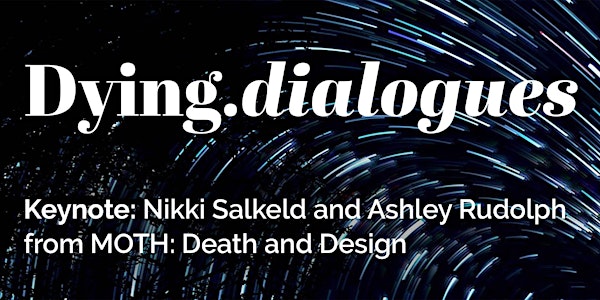 Keynote: Nikki Salkeld and Ashley Rudolph
Location
OCAD University
100 McCaul Street
Toronto, ON M5T 1W1
Canada
Dying.dialogues is part of an event series Dying. exploring death through the lens of art and design.
About this event
Nikki Salkeld and Ashley Rudolph are the creators of MOTH.
Moth is a research project, which through the discipline of Graphic Design, helps with the unhiding of death. It aims to facilitate problem solving by making 'tools' to encourage dialogue about mortality, helping us to find perspective and turning death from something we fear into something we might learn from.
Salkeld and Rudolph's keynote starts Dying.dialogues, a one-day mini-symposium on design for end of life.
Dying.dialogues will feature opening speaker Dr. Naheed Dosani
Dr. Naheed Dosani is a palliative care and family physician at Inner City Health Associates and William Osler Health System. He is the founder and project lead of Palliative Education and Care for the Homeless (PEACH), a mobile, shelter-based outreach program that delivers palliative care for Toronto's most vulnerable individuals.
Dying. is an event series running in conjunction with DesignTO, with collaborators from the Health Design Studio at OCADU and Taboo Health.