Description
Keyword Magic - The Vitual Workshop Training Series that Will Take Your Business From Research To Conversions In Rapid Time!
When: Monday June 10th, Monday June 17th and Monday June 24nd starting at 11am PST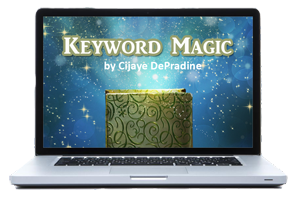 What's in it for you?
A whole lot of knowledge- and some serious action oriented secret's to Online Marketing Success - including (but not limited to)"
A much better understanding of how your customers are REALLY searching online

A detailed look at what they are finding

A deeper understanding about why they aren't finding you
Quick and dirty secrets about how you can change that in less than 1 hour
The real truth about why the "overnight traffic" others promise doesn't always convert

How you can change THAT for yourself!

By knowing what your customers REALLY want

By learning how they want it

and By repositioning what you already have to get the sale

How to avoid using your keywords like giant NEON SIGNS that will irritate search engines
We'll also be covering what it takes to:
Get on page one in Google
Get In positions 1-3 in Google (and why they are so important)
Build a kick ass content strategy that is fully optimized and guarantees that you have unique content to blog about (and therefore spread through your social networks) so you remain top of mind for your subject area.
PLUS - I will show you how you can:
Repurpose ANY / ALL of your content so that you can build a multi-million dollar empire in less than 2 years!


This outstanding 3 pack of live, no hype, educational, mentoring/training sessions go
undercover
to reveal:
The coolest keyword research tools/resources we all have at our disposal (most of which are free)(*some are paid)

How to look beyond the surface of the tools and to get MORE out of them! (Essentially untapping the REAL gold in keyword research by mining the data better)
The Top 10 most powerful techniques myself and my network of experts have been using since 1995 to unleash some of the most powerful, money making longtail keywords anyone can find!
How some long-tail keyphrases are significantly better than others! (You know the ones all the experts tell you that you need - but don't show you how to find them!)
And what to do with the keywords once you have them so that you can build your passive income empire, get more traffic, more leads and more sales!
I will even share case studies that clearly reveal the power of keyphrases. Such as:
How focusing on longtail keyphrases ONLY has taken one of my own websites in a highly competitive marketplace that didn't have a chance of competing big - to page one, position one in Google for the single most important key WORD (one word) that over 33 million other sites were competing for as well!
How another small seasonal business went from losing money to raking in over two million dollars in revenues within 3 years; primarily from executing a smart keyword strategy!
And how one doctor went from conducting keyword research, to finding a HOT niche and started earning over $500k/month within 18 months!!!!
I am putting it all out there - in as short of time frame as possible and for as low a cost I can possibly muster as well. I am doing it because I am TIRED of seeing entrepreneurs like you get scammed in this industry! It doesn't have to be that way.
It's time to put and end to that and do real business online!
You don't want to miss this event! It will supply you with outstanding skills and abilities and empower you to make some of the most important and well founded decisions you could ever make in your business!
P.S. All registrants of this course will also receive 3 months of access to my online marketers club - where you can ask questions about what you have learned, get my feedback and support and KNOW that you are on the right track!
P.P.S. Dates are subject to change; depending on holidays or popular demand.