Colombo Lodge is partnering with the Royal Inland Hospital Foundation to raise funds in support of cancer care at the Royal Inland Hospital
About this event
Over the next 5 years, Colombo Lodge members are committed to raising $50,000 for cancer care at RIH. With their help we can unite in the fight against cancer and drastically improve cancer care in our region.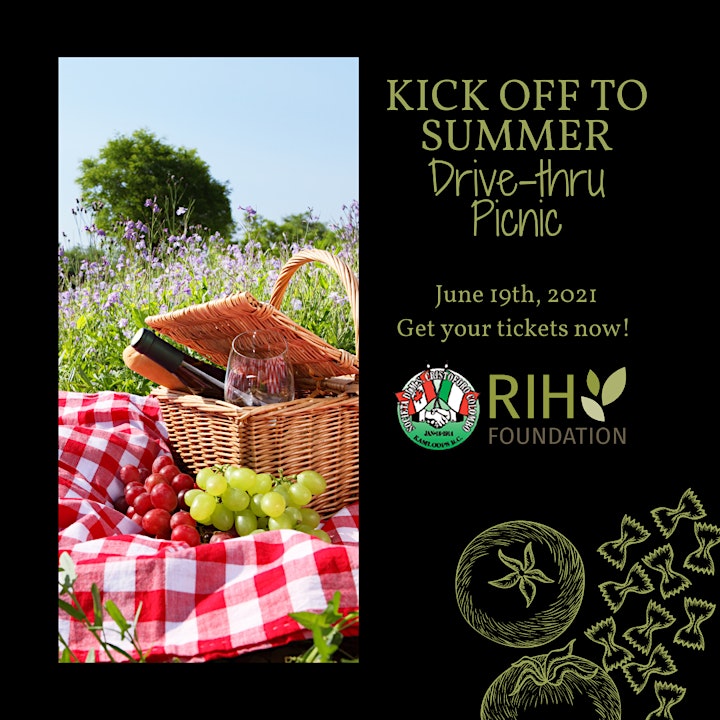 EACH TICKET IS $90 AND INCLUDES TWO MEALS, AND ONE BOTTLE OF WINE. WHEN SELECTING YOUR TICKET, CHOOSE WHICH TWO MEAL OPTIONS YOU WANT, AS WELL AS YOUR WINE CHOICE. EXTRA WINE MAY BE ORDERED AS AN "ADD-ON"
EACH ORDER WILL ALSO RECEIVE A $35 TAX RECEIPT FROM THE RIH FOUNDATION.
THE TWO MENU OPTIONS AVAILABLE ARE:
OPTION (A)
Salad:
mix spring salad with cucumber, tomato topping with Vinaigrette dressing
Main:
fusilli with grilled vegetables and bocconcini mozzarella,
mix of roast chicken and roast jumbo meatballs
Dessert:
Italian peach cookies
OPTION (B)
Salad:
mix spring salad with cucumber, tomato topping with Vinaigrette dressing
Main:
rice primavera
stuffed portobella mushroom with spinach and ricotta
Dessert:
chocolate cake ( vegan and gluten free)
WINE
Italian Red or Italian White