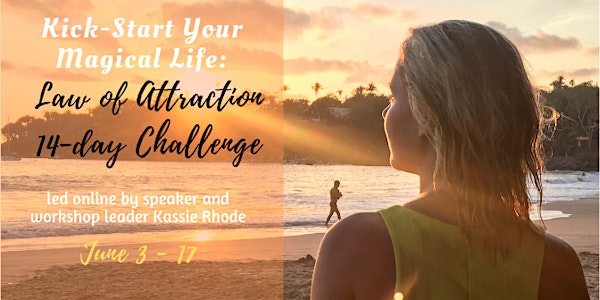 Kick-Start Your Magical Life: Law of Attraction 14-Day Challenge!
Sales Have Ended
Registrations are closed
Sorry, this workshop is no longer open for enrollment.
Description
Do you ever feel POWERLESS over what shows up in your life? Or that some of the good things in life (money, relationships, health, happiness) are just out of reach?
Do you ever feel like you're attracting the opposite of what you want (debt, unfaithful partners, toxic people) into your life?
What if, with just a few small tricks, you could learn to use the Law of Attraction to bring what you truly want into your life?
The law of attraction is ALWAYS working in your life to attract things to you, whether you know you are using it or not - just like gravity!
Discover the well-kept secret of how you are more powerful than you ever believed was possible!
In this 14-day workshop from June 3 - 17, in just 15 minutes a day I will teach you how to use the Law of Attraction to attract something specific that you desire into your life. This can be money, better health, a romantic relationship, more ideal clients for your biz, or feeling happy and peaceful when you wake up in the morning.
Busy schedule? No problem! You can follow along with the Challenge any time of day that you can grab 10-15 minutes to yourself.
This workshop is perfect for Law of Attraction newbies, as well as if you have already have some experience with it but may not have been seeing the results you desire.
What you will learn in this workshop:
How the Law of Attraction works and the 4 main components

Discover the shocking secrets behind why you may be unintentionally attracting the opposite of what you want (debt, unfaithful partners, toxic people)

How to ask the universe for what you want clearly and powerfully

The 1 simple thing you can do in 30 seconds each day that will supercharge your attraction power

Experience a powerful exercise to free you from the self-defeating voice that keeps us stuck in one place
How language may be sabotaging the good things from coming into your life
How to feel confident in knowing that what you want is on its way to you!
Amplify your ability to manifest with NEVER before released BONUS tips
What previous participants have said:
"Such a strong feeling of control and new beginning came over me... It was exactly what I needed." - Stephanie S., Canada
"I love your Law of Attraction workshops, look where it's gotten me! I got to see half the country, meet amazing people, and so much more! I'm even thriving in my career!" - Jake S., USA
"I really enjoy your challenges so much. They changed my life. It's made me so much more self aware. I also feel like I value myself more." - Lisa G., Canada
What you will receive:
1. Workbook PDF to follow along with daily
2. Access to private Facebook community where we go through the Challenge together!
3. LIVE videos throughout the 14 days to provide clarity and answer questions
**ANNIVERSARY SPECIAL: Since this is the 1 YEAR anniversary of the online launch, this round will be very special!
1. This is the lowest price it will ever be at 50% off!
2. There will be over $1000 in free giveaways for participants who play full out!
1st PLACE - Life REIGNITED VIP Day of coaching with me ($500 value!)
2nd PLACE - Spot in my group coaching program "Hey Inner Critic, Shut the Hell Up" ($500 value!)
3rd & 4th PLACE - Mailed copy of one of my favorite Law of Attraction books
5th PLACE - Personalized Stone Jewelry hand made by me :)

Are you ready to turn on the magic?