Description
Workshop Description:
Are you at a point in your life where you have the things you tried so hard to get and are still unfulfilled?

Do you feel like your chasing after things and people you think you should want?

Are there people in your life telling you about how you should feel and live your life but it just doesn't seem right to you?

You feel like you should be happy and grateful, but there is a part of you that's scared that you might not actually be happy if you allowed yourself to be honest

Are you living a life based on someone else's wishes and are not sure how to break free and design your life differently?
If you have a list of "should"s that are keeping you small then this workshop is for you:
At this point in my life, I should have my S&#* together

I should have a mortgage by now and have moved out of my parent's house

I should be married with kids by now

I should have a man around by now

I shouldn't want so many things, who am I to want them

I should have had multiple relationships and more experience at this point

I should be making more money by now

I should be a manager by now

I should go and get my MBA because the competition demands it
Join me if you are someone who is tired of living in shame and guilt for the way your life looks and begin building a completely different list of goals on your terms. This workshop is offering you a chance to reveal your ultimate truth and dig deep into what you want

What you'll get:
An assessment of the shoulds that are running your life

A framework to determine where the shoulds came from

An understanding of what is truly important to you based on your unique values

An exercise to tap into the life you actually want

Action steps to move you towards your desires + dreams

What will be different in your life:
Living life based on who you are not who you think you should be

Knowing more of the how to move forward courageously and with clarity


More peace, ease, and clarity with your desire + dream list

Understand that the time you have now is precious and you owe it to yourself to live it the way that makes you happy on YOUR terms
When is it? Monday, November 19, 2018 Time: 6:30 - 9:00 PM
Where is it? 192 Spadina Toronto, CSI in Meeting Room F, 3rd Floor
About Sonia Grossi
Sonia is a co-active leadership coach working with women who are ready to change their stories and reveal their ultimate truth. Coming from the corporate world in which her HR degree helped her with and living with a conservative Italian family, she had plenty of barriers to overcome in her quest for finding what truly makes her happy. Going against the grain wasn't easy and still freaks people out, however, she's learned that it doesn't matter what anyone thinks and that this time here on Earth may be the only shot we have to make it count.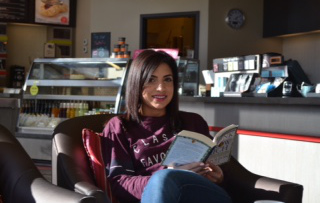 FAQs:
What to Bring: Bring your whole self in whatever state you are in. This workshop will be designed as an informal and safe space.

Dress Code: Wear whatever you feel comfortable in
Is there parking nearby?
Yes, there is street parking on Spadina, Sullivan and Phoebe St – all within a 2-minute walk of the venue.
Can I take public transit?
Yup! Just hop on the 510 Spadina streetcar from Spadina Station (go southbound!) or get off at Osgoode station and walk ten minutes to 192 Spadina.

How can I reach you if I have a question?
By email at sonia@soniagrossi.com
You will receive a contact # before the workshop date.

Do I have to bring my printed ticket to the event?
Nope! Save a tree.