Welcoming all UFV Students back to campus. KICKBACK will include a beer garden, live music, food trucks, fun activities, and giveaways.
About this event
KICKBACK 001 - The return to campus!
To welcome all UFV Students & faculty back on campus, the UFV Student Union Society will be hosting our first KICKBACK outdoors event at the Abbotsford Campus!
What's happening on this day:
Food Trucks
Entertainment
Tie-Dye Station for T-Shirts
Caricature drawing of yourself and your friends
FREE BEER, FOOD & MERCH!
At KICKBACK 001, SUS will be providing students with free beer, food and merch until quantities run out!
A free beer to every student over 19+ (until the kegs are dry)
Free food vouchers from our food trucks listed above(limited quantities)
Branded KICKBACK merch
Make sure to come early and receive many of the free items available to UFV students!
WHY THIS EVENT
The Student Union Society of the Fraser Valley is excited to welcome back UFV students on campus. In light of celebrating a safe and fun return on campus, we are hosting the first KICKBACK outdoor event for students to attend and soak up the on-campus experience this September.
Join us for a free beer, food, live music & more!
SAFETY & SECURITY GUIDELINES FOR THIS EVENT
The event is open to current UFV Students and faculty ONLY. Attendees will be required to check-in with Event Staff at the event on the day of. Wristbands will be issued to ensure that all attendees are UFV Students.
Kindly register with your UFV Student email if possible, and please include your student # for verification purposes.
Please note that students will need to show two pieces of Government-issued photo ID to enter the beer garden and purchase beer.
This event is secured with onsite security guards and will have fencing around the 19+ beer garden zone.
Attendees are responsible for their personal belongings, and the UFV Student Union Society will not be responsible for any lost valuables.
Please ensure you have read through the COVID-19 safety orientation for Events document prior to attending this event.
COVID-19
We sincerely hope we can celebrate the return to campus with all of you. During the event, the SUS team will be following all Covid-19 protocols set in place. Although we are taking every precaution to ensure that KICKBACK is celebrated safely, and we recognize that plans may change.
Should changes arise, we will make sure to keep you informed. Thank you for being a part of the UFVSUS community.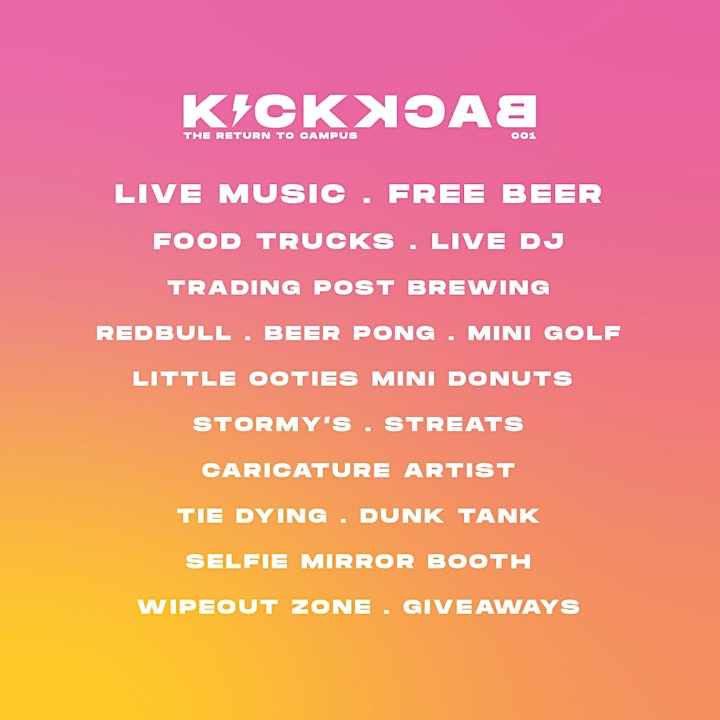 Organizer of KICKBACK - The Return to Campus
The Student Union Society of the UFV is a non-profit organization run by students and for students at UFV. Through a body of elected student executives, faculty representatives, hired student staff, and a small group of permanent staff, the SUS is able to offer services to its members, advocate for post-secondary education on their behalf, connect them with student clubs and associations, and provide them with many opportunities to get involved on campus.