An intimate evening with four extraordinary kidlit creators, hosted by Holman Wang
About this event
$30 general admission tickets available at the door
All proceeds help to support youth education programs run by the Vancouver Writer's Fest.Do you love kids' books? Comics? Do you want to meet your kidlit heroes? Ask them burning questions about their art, all while supporting a great cause? Here's your chance!
Come eat, drink and be merry with four dazzling Canadian kidlit talents:
Mariko Tamaki
Faith Erin Hicks
Ashley Spires
Cale Atkinson
This fundraiser for the Vancouver Writers Fest will be held upstairs in the DrinkLab at BREWHALL, one of Vancouver's finest craft breweries. Come mix and mingle with Mariko, Ashley, Faith and Cale – as well as a host of other local and international kidlit authors and illustrators – over craft beers and canapes in a relaxed, social, and decidedly-not-black-tie affair. Then enjoy presentations by all four artists as they offer insight into their book-making journeys. Afterwards, the unique lounge space is yours to enjoy until the wee hours!
Don't miss this incredible opportunity to try new craft beers and whiskies, support a legendary Vancouver institution, and celebrate Canada's fabulous kidlit community!
Light snacks are included with the ticket price. Alcohol and additional food sold separately.
$25 early bird tickets (until midnight October 20, 2019)
$30 general admission
All proceeds help to support youth education programs run by the Vancouver Writer's Fest.
____________________________________________________
Mariko Tamaki is a Canadian writer of comics and prose. She is the co-creator with Jillian Tamaki of Skim and of Caldecott and Printz Honor book This One Summer. Mariko also writes about superheroes for Marvel and DC Comics. She lives in Oakland, California. Laura Dean Keeps Breaking Up With Me is her latest. marikotamaki.blogspot.com, @marikotamaki
Ashley Spires grew up in Tsawwassen, BC and now lives in Ladner, having made an educated decision to never move from BC again. She is the creator of the Binky the Space Cat series of junior graphic novels and the bestselling The Most Magnificent Thing, now an animated short film. When not drawing, she is often jogging with her dog Gordon or cuddling her growing brood of cats. Fairy Science is her latest book. ashleyspires.com, @ashleyspires
Faith Erin Hicks is a Canadian writer and artist. She worked in the animation industry before transitioning into writing and drawing comics full time. Her graphic novels include Zombies Calling, Brain Camp, the Bigfoot Boy series, and the middle-grade fantasy trilogy, The Nameless City. Her current projects are writing Avatar: The Last Airbender comics for Dark Horse Comics, and drawing Pumpkinheads, a graphic novel. faitherinhicks.com, @FaithErinHicks
Cale Atkinson is an illustrator and animator living lakeside with his family in Kelowna, BC. Believing in tea more than sleep, Atkinson is constantly working on numerous projects. He is the illustrator of many children's books, including If I Had a Gryphon, and he wrote and illustrated Where Oliver Fits and Sir Simon: Super Scarer and many more. His work can also be found in animated shorts, television and games. cale.ca, @2dcale
____________________________________
Vancouver Writers Fest is a registered non-profit, charitable organization that produces year-round programming and as well as a flagship, annual literary festival each October that is recognized as one of the largest and most prestigious in North America. In its 30-year history, the Vancouver Writers Fest has presented multiple award-winning writers from Canada and across the world including: Zadie Smith, Margaret Atwood, Madeleine Thien, Marlon James, Thomson Highway, Malcolm Gladwell, John Irving, Roxanne Gay, David Sedaris, Esi Edugyan, Rohinton Mistry, Alice Munro, Salman Rushdie, and more.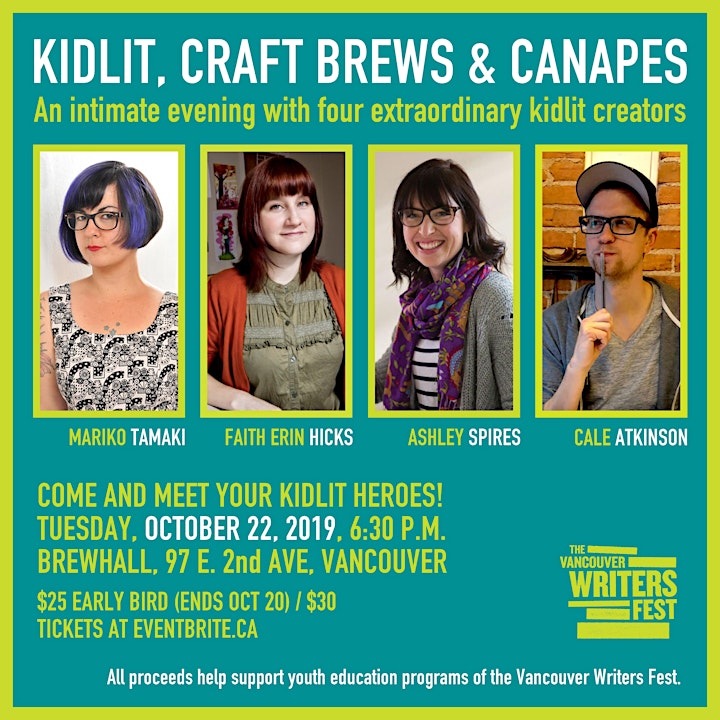 Organizer of KIDLIT, CRAFT BREWS & CANAPES
Words shape our worlds. They can delight, inspire, provoke, comfort and unite—as do the authors, journalists and poets who wield them. At the Vancouver Writers Fest we encourage readers of all ages to explore the power of storytelling, and books, through our dozens of events with local and international writers.

Our mission is to bring readers and writers together to reimagine our lives and our world, through story and vibrant dialogue.

Our activities to achieve this include both year-round programming and our flagship, annual literary festival: one of the largest, and most prestigious, in North America which brings tens of thousand of audience members to see events with local and international authors during one week in October.