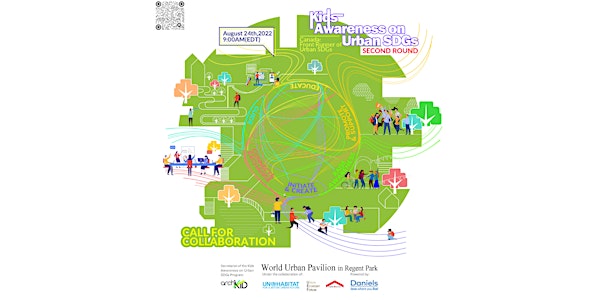 Kids Awareness on Urban SDGs, 2nd Roundtable
The World Urban Pavilion in Regent Park invites you to attend the second round of Kids Awareness on Urban SDGs roundtable
About this event
About
A roundtable session on the Kids Awareness of Urban SDGs was held in partnership with the Urban Economy Forum, archiKID and World Urban Campaign, on February 10th, 2022.
The subject of this roundtable was the Kids Awareness on Urban SDGs program of the World Urban Pavilion in Regent Park – Powered by Daniels, a collaborative initiative between the UEF, UN-Habitat, supported by the Canada Mortgage and Housing Corporation and The Daniels Corporation. The Pavilion is a global knowledge exchange hub to share best practices pertaining to sustainable urban development.
The World Urban Pavilion has been officially launched on April 21, 2022. Since then, we have been working with our partners to establish the Kids Awareness on Urban SDGs. Currently, we are in the process of creating a secretariat and organizing a second roundtable to call for an international collaboration from other organizations that work to improve the lives of children and youth.
This partnership aims to build a global community to explore opportunities and share knowledge and innovations for educating children and youth and raise awareness among them on Sustainable Development Goals with the emphasis on the urban SDG.
Call For Collaboration
The World Urban Pavilion in Regent Park - Powered by Daniels will welcome all international youth and children's organizations to collaborate on the Kids Awareness on Urban SDGs program. Please feel free to send us a message at info@worldurbanpavilion.org