Description
In an attempt to inspire our little ones towards deen, we bring you another Kids Corner program. This time we will present the story of Sulayman Alayhisalaam. See Sr. Kiran's clip below
It's ideal for kids both
boys and girls ages 4-10
. This program includes storytime, pizza, arts/crafts, and soccer.
As you know we live in a time where our kids have fictional superheroes with their supernatural abilities to fight bad guys
.
They rarely remember our amazing superheroes in Islam who were not fictional characters
.
Sulayman Alayhisalaam had special abilities and characteristics that no other prophet had.
Allah's (SWT) power
is manifested
through the story of Sulayman alayhisalam and his many abilities
.
Kids will
be introduced
to the special powers of Sulayman Alayhisalam. His utmost kindness towards animals and the rest of the creation of Allah (SWT). His wisdom in spreading the deen of Allah (SWT), and his passion to establish the deen. They will also
be introduced
to Queen of Sheba and her diplomatic skills and obedience to Allah (SWT).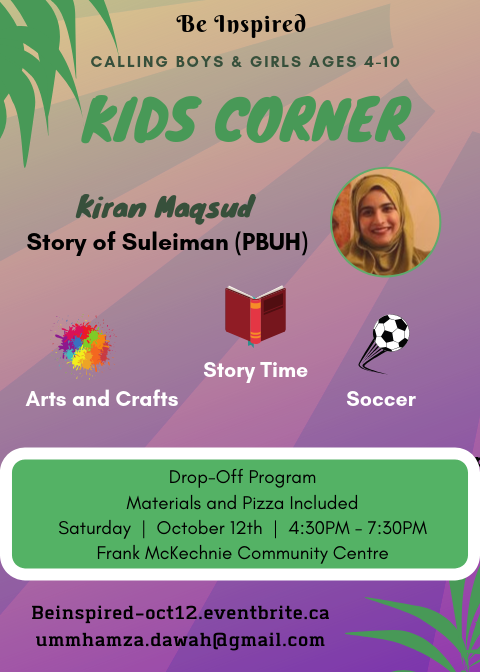 Sister Kiran Maqsud, will lead the session. She is the founder and principal of ILM TREE ACADEMY in Kitchener, Ontario.
Sister Kiran aims to provide quality education to our future generations so they may develop a strong, firm, humble, confident and kind Muslim identity
.
She has been teaching children and adults Qur'an, tafsir and Islamic studies for over 8 years now and has significant experience
regarding
struggles of child upbringing in a multicultural society
. The storytime will conclude with a hands-on arts/crafts project.
The event aims to inspire students to look up to their Muslim heroes and prophets and take them as their role models
.
This event will provide an opportunity for reflection and internalization of Islamic morals and values and strengthen their Muslim identity by providing them a confidence boost
.
Sister Kiran Maqsud is the principal and founder of ILM Tree academy.
She has served as a life coach, motivational speaker, youth educator, and a Quran and tafsir instructor for 8 years at several institutes
.
She is a graduate of York University and has a bachelor's in humanities. She has received her ijazah in Hafs Quran reading. She has been a student of Alhuda's Taalemul Quran program. Sr. Kiran resides in Kitchener with her family.
Her passion is to develop a concise, comprehensive and engaging curriculum and content for future generations that develops the love of Allah SWT and Deen
. She also loves painting, art, reading and trying out DIY projects.
Questions? Please contact
ummhamza.dawah@gmail.com