Kids Learning Code: Programming with Python (For Ages 9-12 + Guardian) - Sa...
Description
Why learn about Programming?

What powers robots, makes video games, and brings you all the cat videos on YouTube? The answer is.. Python!

Python is an open-source coding language that allows us to speak to our computers through step-by-step instructions, and then be able to see (or hear!) the computer's response. Python can be used to communicate anything from a simple mathematical equation, to an interactive game. We will use repl.it, a free, cloud coding environment, to make our programs come to life.

Kids Learning Code is excited to host this creative workshop for beginners, which will cover essential terms in the Python language such as: integers, strings, and variables - all while focusing on how an everyday computer operates and understands input. Learning Python will allow the child in your life to create games and solve puzzles in a fun and engaging way, like creating mad libs with code!
Who is this for?
This workshop is for kids ages 9-12. Our workshops are designed to give learning experiences that are fun, engaging, empowering and inspirational. Through hands-on, collaborative, project-based learning, kids end the workshop having built something. This workshop experience is designed to help kids see technology in a whole new light – as a medium for self-expression, and as a means for changing the world.
Prerequisites:
None! This workshop is designed for beginners.
What's Included: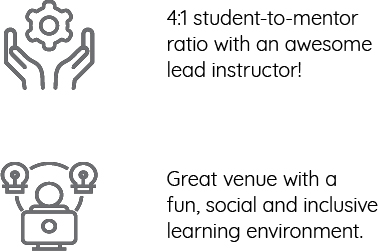 Requirements: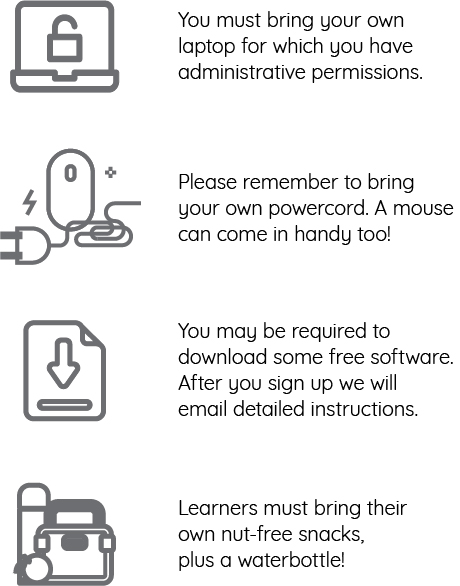 Note: If you do not have a laptop to use during the duration of the workshop, we have a limited quantity that we can loan out. The option to borrow a laptop will be included in your order form when registering.
Hey you!
Have you joined the Canada Learning Code mailing list? If not,
join here
.
Questions? Email us at
info@canadalearningcode.ca
You can also find us here:









Hope to see you soon!
If for some reason you can't make it, check out our REFUND POLICY.