Description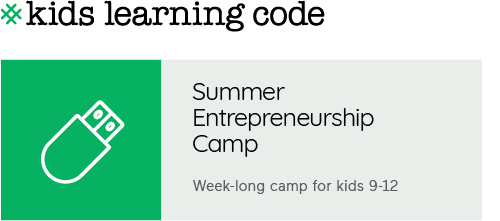 ---
This camp session was created to inspire an entrepreneurial spirit within campers, and show them how to take their innovative imaginings and bring them to reality. Campers start off by brainstorming a startup idea, and work throughout the week to develop and fine-tune it.
Campers will learn about local startups, create business models, and conduct research for their idea. They will design logos, business cards, and infographics for their startup. In addition to writing elevator pitches, and refining their networking skills, campers will create an online presence for their startup through coding a website from scratch.
A key event during this camp is our very own version of Dragons' Den. During this session, the campers pitch their business concepts or products to a panel of entrepreneurs, trying to convince them to 'invest' in their company. At the end-of-session demos, you'll get to hear their pitches as well, and be amazed by their creative startups!
Who is this for?
This camp is for kids ages 9-12. Our camps are designed to give learning experiences that are fun, engaging, empowering and inspirational. Through hands-on, collaborative, project-based learning, kids end each day having built something. This camp experience is designed to help kids see technology in a whole new light – as a medium for self-expression, and as a means for changing the world.
Prerequisites:
None! Our camps are designed for absolute beginners!

What's Included: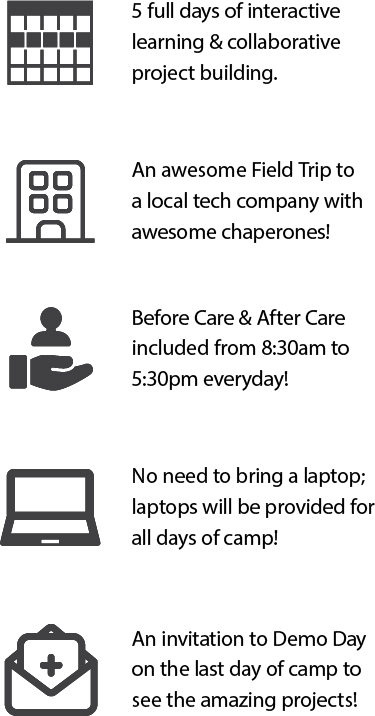 Requirements:

Hey you!
Have you joined the Canada Learning Code mailing list? If not,
join here
.
Questions? Email us at
info@canadalearningcode.ca
You can also find us here:









Hope to see you soon!
If for some reason you can't make it, check out our REFUND POLICY.