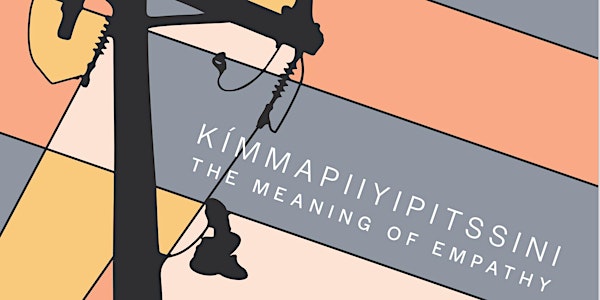 Kímmapiiyipitssini: The Meaning of Empathy – Film Screening and Discussion
Join us in viewing this powerful film, followed by a panel discussion on harm reduction and the impact of substance use.
About this event
Kímmapiiyipitssini (Blackfoot)
GEE-maa-bee-bit-sin — giving kindness to each other.
Elle–Máijá Tailfeathers' film witnesses radical and profound change in her community. Kímmapiiyipitssini: The Meaning of Empathy is an intimate portrait of survival, love and the collective work of healing in the Kainai First Nation in Southern Alberta, a Blackfoot community facing the impacts of substance use and a drug-poisoning epidemic.
Community members active in addiction and recovery, first responders and medical professionals implement harm reduction to save lives. This work is contextualized within the historical and contemporary impacts of settler colonialism; Kímmapiiyipitssini: The Meaning of Empathy draws a connecting line between the effects of colonial violence on Blackfoot land and people and the ongoing substance-use crisis.
Held in love and hope for the future, Kímmapiiyipitssini: The Meaning of Empathy asks the audience to be a part of this remarkable change with the community.
In partnership with Safeworks Harm Reduction Program, HIV Community Link, & the Cultural Instigators.
Moderators
Megan Williamson, BA, has been working in non-profit social services for 15 years with a focus on mental health, crisis intervention, substance use, and housing. She has professionally dedicated the last 4+ years to Harm Reduction, first as Director of Programs with ARCHES in Lethbridge and now with HIV Community Link in Calgary and Medicine Hat. Megan is a passionate advocate of Harm Reduction as a philosophy of care, particularly given the foundation of psychological safety, autonomy, and respect for the people we serve.
Riel Manywounds is the proud mother of Shine. She lives close to Tsuut'ina Nation and works on her Nation as the Youth Program Coordinator. She also contributes to the City through her work on various Anti-Racism and Art projects, boards and committees speaking as a Treaty 7 representative.
Panelists
My name is Kym Porter and I live in Medicine Hat. My son, Neil died from fentanyl poisoning in 2016. Since his leaving, I advocate for drug policy and stigma changes through my work with MSTH and the Medicine Hat Drug Coalition.
https://www.momsstoptheharm.com/
Lori Vrebosch is an Alberta team leader with MSTH who possess ample lived experience including the loss a son to toxic drug poisoning. An active advocate who lives on a First Nations reserve and who works diligently to advocate for human rights, policy change and recovery for one and all.
Brandy Myette, Provincial Outreach Manager of AAWEAR (Alberta Alliance Who Educate and Advocate Responsibly). Brandy is a person who comes from lived experience and is a child of a residential school survivor. Brandy believes in the power of Harm Reduction and uses it to help increase the quality of life of those she works with.
Shannon Beavis is a Registered Nurse who spent the majority of her nursing career working with and for First Nations communities and within Harm Reduction models of care. Shannon has also experienced the loss of a loved one to overdose. She is passionate about compassion and connection in healing.
Elle-Máijá Tailfeathers is a writer, director, producer and actor. She is a member of the Kainai First Nation (Blood Tribe, Blackfoot Confederacy) as well as Sámi from Norway. Beginning her career as an actor in 2006 and a filmmaker in 2011, Elle-Máijá is a true creative force both in front of and behind the lens.
Cultural Instigators (CI) is an initiative to support artists involved in building equity, diversity, inclusion and accessibility in their work to organize and to create artistic projects that build the community's capacity to confront social issues, through an anti-racist framework. The CI is comprised of Indigenous, Black and radicalized artists/ activists/ community organizers funded by but not led by Calgary Arts Development
FILMMAKER'S STATEMENT, ELLE-MÁIJÁ TAILFEATHERS
February 16, 2021
In 2020, fentanyl claimed more than 2,000 lives in British Columbia and Alberta, the provinces hardest hit by the drug-poisoning crisis. A disproportionate number of those lives lost to drug poisoning were Indigenous. Each and every one of them had a story and legitimate reasons for developing addictions. They were human beings with hopes, dreams and aspirations. They had people who loved them, and their deaths were preventable. That is certain. Their deaths make it impossible to ignore the gaping wound left by the ongoing impacts of settler-colonialism.
For decades, Indigenous communities have accepted that abstinence-based treatment models, such as 12-step programs, are the golden standard for treating addiction. However, the drug-poisoning crisis has revealed that abstinence isn't a realistic, or even a humane, expectation for those addicted to substances like fentanyl. As the death toll continues to rise, many Indigenous communities have been forced to question our longstanding relationship with the abstinence-based model. Despite the fact that evidence-based studies prove that harm reduction saves lives, many communities were not and still are not willing to adopt harm-reduction practices.
Seven years ago, my community of Kainai found itself on the frontlines of this crisis. Our community leaders and addictions specialists turned to the conventional abstinence-based treatment models and very quickly learned that the abstinence model was not effective in saving lives. Every week, we lost loved ones and grief permeated every aspect of our lives. Somewhat reluctantly, those on the frontlines began to implement radical alternatives rooted in harm reduction and witnessed a dramatic shift within the community.
Kimmapiiyipitssini is a Blackfoot teaching that reminds us that practising empathy and compassion is how we survive as a people. It is how our ancestors survived genocide and it is how we, as a community, will survive this crisis. Kimmapiiyipitssini is our harm reduction. As a filmmaker and a community member, I felt an urgency and a responsibility to document these radical changes and also honour the lives of those lost to this crisis. I am immensely proud of Kainai and everyone who is contributing to this monumental effort to save lives.
Kímmapiiyipitssini: The Meaning of Empathy is a tribute to my community, lovingly crafted with great care and respect for who we are and who we have always been.