About this Event
You are never too old to set another goal or dream another dream
Kim's friends and family invite you to join Kim in celebrating 30 years with The City of Calgary and her retirement on January 16th 2020, 2nd level at Saltlik. Appetizers and beverages (cash bar)will be available.
Contact:
City Hall - Jacolyn Smart - Jacolyn.Smart@calgary.ca
Local 38 - Kelley Shinnie - kshinnie@shaw.ca
Misc - Lorna Wallace - lornawallace@shaw.ca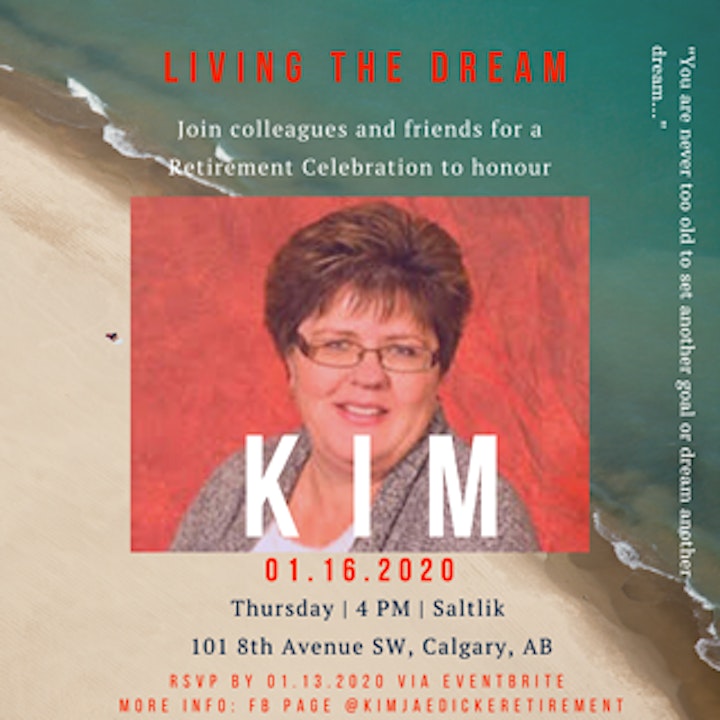 We are looking forward to seeing everyone Thursday afternoon. There is parking available in the CPA Lot 60 - Convention Centre, CPA lot 36 - City Hall, lot 24 or the Hyatt Hotel or Palliser Square. Doors will be open at 4 PM and there is a separate entrance to the west of the main door. There will canapes, charcuterie and cheese platters. Coffee, soft drinks and dessert included. Cash bar including feature cocktails Caesars, Margaritas and Cosmopolitians. Last call at 7:30 PM.