Sales Have Ended
Registrations are closed
Thank you for registering! If you have any additional questions, please contact nhl94king@gmail.com
Sales Have Ended
Registrations are closed
Thank you for registering! If you have any additional questions, please contact nhl94king@gmail.com
Description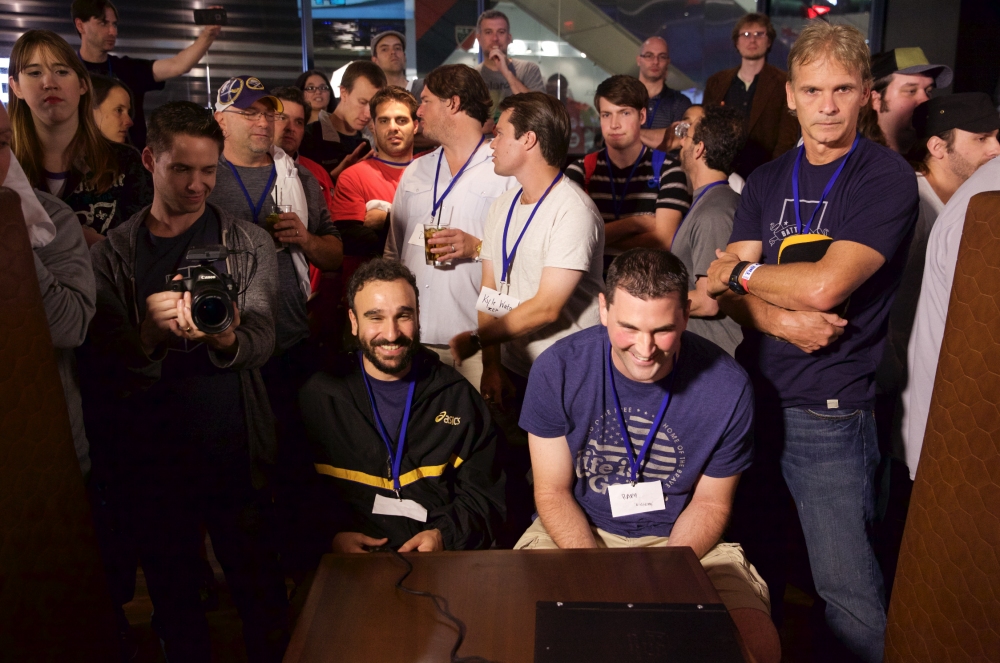 Welcome to the World's Greatest NHL'94 Tournament!
Register now for Sega Genesis and/or Super Nintendo for your chance to win part of $10,000 cash and prizes, and the title of King of '94!
In addition, all entrants will receive a pass to see the premier of Pixelated Heroes, a documentary about the best hockey video game of all time, NHL'94! Click here to see the Pixelated Heroes trailer. The documentary features interviews with the programmers of the games, former NHL players in the game, and other celebrities. Many mysteries of the game's history are revealed for the first time by filmmaker Mikey McBryan.
Downtown Grand Esports is a premier esports company in Las Vegas that will providing the all the tools to ensure we have a successful event. https://www.downtowngrand.com/esports/
Please read below for additional details about registering and attending, and check out the detailed tournament rules on our website: http://nhl94.com/kingof94/rules.html
HOTEL DISCOUNTS!!!! Click here to book! (Discount cutoff is September 7th, 2017).
Any other questions that are not answered in our FAQ can be sent to:
Please note that you must be 18+ years old to attend due to the venue. Food and alcohol will be available.
**NOTE** You may incur extra fees upon registration depending on which country you live in.
FAQs
Can I register for both SNES and Genesis?
Yes. However keep in mind that now you are doubling the amount of games you will be playing. If you progress far into both tournaments, this may not leave much time for breaks in between games.
How many people are going to play?
We expect over 100 total players.
What is the tournament format?
There will be an opening round robin, in which you are guaranteed 4 games. You will need to win 2 of 4 games to advance to the next round -- typically 65% of participants play at least 6 games. The full tournament format will be determined based on number of participants and the schedule will be communicated closer to the event date.
I haven't played in 20 years! Do I have a chance at winning?
When we ran the first tournament in 2015, we expected only online players to be competitive. To our surprise, a complete unknown won the entire tournament. He hadn't played in years until practicing a week before the tournament. So, yes, you may have a chance!
It does seem that SNES players adjust better. For Sega players, there is a handy site for learning some of the details that will help you compete at a high level: http://nhl94strategy.com
The event is from 9am to 10pm. Why so long?
The event is split up into several segments. You will not have to be there the entire time, and food and drink will be easily accessible. There will be two separate morning groups, from roughly 9am-11am and 11am-1pm, during which time approximately 2/3 of participants will qualify for the next segment of the tournament. The rest of the tournament will follow from around 2pm-8pm, including a supper break. Finally, the Pixelated Heroes NHL'94 documentary will be screened from about 8:30pm-10pm.
Schedule is subject to change based on the number of participants and will be communicated in more detail in the week before the event.
Can spectators watch?
Yes of course! It will be open to the general public and there is no fee to watch.
Will it be streamed?
Yes. Information on this to be released closer to the event date.
When will I know what group I'm in and what time I start playing?
The information will be posted three days in advance of the tournament and you will receive an email.
Can I show up on tournament day to play if I haven't registered?
You can, but you'll only have an opportunity to participate if there's a 'no show'. It would be on a first come-first served basis and require paying the usual fee.

How will the prize money be divided?
Sega 33% for first, 13% for 2nd, and 4% for 3rd.
SNES 33% for first, 13% for 2nd, and 4% for 3rd.
What's the refund policy?
There is no refund unless the tournament is cancelled.
Is my registration fee transferrable?
You can give your spot to someone else if you are unable to attend. Any payment arrangement would be worked out between you and the other person you're giving your spot to. Both parties should advise us that this has occurred.
Is there a discount to stay at the hotel?
Yes. Please use the following link. (Discount cutoff is September 7th, 2017).
What ways can I contact you?
We'd love to hear from you.