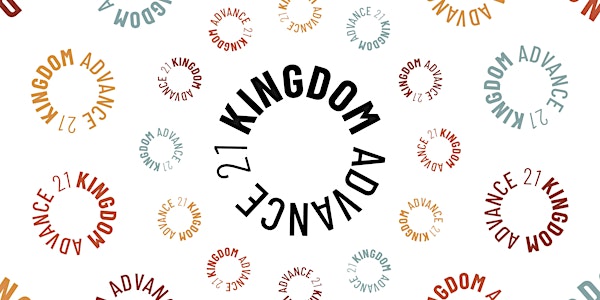 Kingdom Advance Conference 21
All Nations Church invites you to Kingdom Advance 21 on Saturday, October 23 at 39 Bridge Street in Carleton Place!
When and where
Location
All Nations Church Carleton Place 39 Bridge Street Carleton Place, ON K7C 2V2 Canada
Refund Policy
Contact the organizer to request a refund.
Eventbrite's fee is nonrefundable.
About this event
We are excited to be together for a refreshing time in God's presence and to hear a fresh Word for our next season.
The schedule is designed to give us an opportunity to connect before and after sessions. We'd love to encourage you to make breakfast / lunch / coffee / dinner plans with one another so that we can be encouraged and built up in as many ways as possible! Psalm 133 reminds us that it's good and pleasing when brothers and sisters dwell together in unity, so lean in Fam!
CONFERENCE SCHEDULE
MORNING BLOCK
10:00am-10:30am | Arrival, check-in, coffee + donuts
10:30am-1:00pm | Sessions 1+2 (worship, teaching, a break + more teaching)
1:00pm-3:00pm | Lunch break
AFTERNOON BLOCK
2:30pm-3:00pm | Arrival + check-in
3:00pm-5:00pm | Sessions 3+4 (worship, teaching, a break + a prophetic session)
KIDS ADVANCE!
There's lots of fun planned for our kids ages 3-11 through the morning and afternoon blocks! Snacks will be provided. Please indicate any food allergies during the ticket buying process. As a COVID-19 safety measure, we have set a capacity limit on the number of kids who can participate in Kids Advance, so space will fill up fast!
Separate from Kids Advance, a unsupervised nursery room will be open to parents with children two and under. This is a smaller room with limited space.
TICKETS & FEES
Everyone attending in-person must buy their tickets online. Space is limited so it'll be important to get your tickets early! Ticket sales close on Thursday, Oct 21 at 11:59pm or sooner if capacity is reached.
You'll need to buy a ticket for each of the people in your household (including yourself) for each conference block you plan on attending. (Buying tickets for one conference block does not mean you have access to the other block.) If you buy tickets but no longer plan on attending, please submit a refund request to open up the space for others :)
Attendees have the option to buy tickets for the morning block (Sessions 1+2), the afternoon block (Sessions 3+4), or both blocks! The prices listed below are for ONE conference block. If you are an adult or student volunteering on our Kids Advance Team, please select the KIDS' VOLUNTEER ticket option as a thank you for serving!
ADULT: $20
STUDENT: $10
KIDS' VOLUNTEER: Free
Choose ONE of the following options for each of your children 0-17 years old. If your child is going to be with you in the main conference space (or will be accessing the unsupervised nursery room) and not in Kids Advance, select the CHILD 0-17 YRS ticket. If you want your child to participate in Kids Advance, select the age-appropriate Kids Advance ticket.
CHILD 0-17 YRS: Free
KIDS ADVANCE 3-4 YRS: Free
KIDS ADVANCE 5-11 YRS: Free
FINANCIAL ASSISTANCE
We do not want fees to be a barrier to those wanting to attend. We have created two discount codes that will allow attendees requesting financial assistance to buy adult and student tickets at 50% or 100% off the listed price. Attendees will need to enter these codes at the beginning of the ticket buying process to receive the discount. To apply a code, click the green 'Tickets' button. Then, at the top of the next page, click the blue 'Enter Promo Code' link and enter one of the following codes:
For a 50% discount, enter KA50OFF. For a 100% discount, enter KAFREE.
CONFERENCE ONLINE
We respect that not everyone feels comfortable in larger group settings at this time so we will be livestreaming the conference so everyone can take part. Those participating online do not need to buy tickets. Stay tuned for details! For those ready, healthy, and willing, we'd love to see you in-person.
EVENT SAFETY MEASURES
Wearing a mask is required while indoors. If you don't have one, we can provide you with one. If you are unable to wear a mask for medical reasons, please consider using a face-shield.
Please practice physical distancing at all times (keeping two meters apart) with those outside your household.
Everyone from the same household will be asked to sit together. Our Welcome Team will show you to your seats when you arrive.
There will be access to the washrooms with a physically-distanced line marked out for those waiting to use the facilities. Please use the hand sanitizer provided.
We want our most vulnerable members to feel safe and able to participate, so this is a no-contact event.
We encourage gentle singing while physically distancing and wearing a mask. We ask all attending to abide by this guideline.
WHERE DO I PARK?
There is a parking lot behind the church building that holds about twenty cars. After this is full there is plenty of free on-street parking behind and in front of the building. There is also a free parking lot behind the building across Beckwith Street and in front of the building across Bridge Street.
WHAT ENTRANCE DO I USE?
We ask that everyone enter and exit the venue using the front entrance on Bridge Street.
ACCESSIBILITY
There are accessible parking spots at the back of the building off of Beckwith Street. These spots lead to a wheelchair accessible entrance at the back of the building and an elevator that provides access to all of the floors. A key is required to operate the elevator. If you need access to the elevator, please indicate so during the ticket buying process.
WHERE CAN I EAT?
Water, coffee and donuts will be provided starting at 10:00am. For breakfast, lunch, and dinner there's plenty of dining options along Bridge Street and throughout Carleton Place ranging from fast-food to casual and finer dining.
WHERE CAN I STAY?
Out-of-town attendees looking for a place to stay with members of All Nations Church can let us know during the ticket buying process. If you are looking for a place to stay, you must let us know by Sunday, October 17. We will let you know where you are staying by Wednesday, October 20 provided there are spaces available. For those looking for a motel/hotel, there are a few accommodation options in and around Carleton Place, including many places on Airbnb. Here are a few suggestions:
7 West Motel (Carleton Place) $
River Breeze Inn (Carleton Place) $$
Barons Motor Inn (Carleton Place) $$
The Grand Hotel (Carleton Place) $$$
Colonial House Motor Inn (Perth) $
Best Western Plus (Perth) $$$
Comfort Inn Ottawa West (Kanata) $$
Holiday Inn & Suites (Kanata) $$$
COVID-19 SELF-SCREENING
On the day this event is scheduled to take place, EACH PERSON planning to attend is required to self-screen with the following four questions. If anyone planning to attend answers YES to one of the questions, we ask they do not attend. If this is the case, you can join us online for the conference livestream and we will happily refund your conference fees.
1) Are you currently experiencing any of these symptoms that are new, worsening, and not related to other known causes or conditions you already have?
Fever and/or chills - Temperature of 37.8 degrees Celsius/100 degrees Fahrenheit or higher
Cough or barking cough (croup) - Continuous, more than usual, making a whistling noise when breathing
Shortness of breath - Out of breath, unable to breathe deeply
Decrease or loss of taste or smell - Not related to seasonal allergies or other known causes or conditions you already have
Muscle aches/joint pain - Unusual, long-lasting
Extreme tiredness - Unusual, fatigue, lack of energy
Nausea, vomiting, and/or diarrhea (for those under 18 years of age)
2) In the last 14 days, have you travelled outside of Canada and been told to quarantine (per the federal quarantine requirements)?
3) Has a doctor, health care provider, or public health unit told you that you should currently be isolating (staying at home)?
4) In the last 10 days, have you tested positive on a rapid antigen test or home-based self-testing kit? If you have since tested negative on a lab-based PCR test, answer "No."