Kingdom Summit for Excellence in Leadership & Business 2019!
Description
In a world of high-level mediocrity, a world where spiritual principles are constantly watered down with government policies, the concept of excellence is gradually becoming extinct.
The standard of excellence in today's world has so drastically dropped that people are now allowed to get by with the bare minimum, while some academic institutions have regrettably reduced passing grades to increase their graduation rate.
Sadly, people now ignorantly or arrogantly go around expecting less of themselves and others.
It is now unfortunately deemed okay by some people to do what you can rather than what must be done. It is now unfortunately deemed okay by some people to act according to feelings that are never based on reality rather than on purpose.
What is worse . . . some parents now even make excuses for their children's sloppiness thereby destroying the future generation that humanity is relying on!!
Yet, inwardly, in the heart of everyone, we desire to be more, to do more, to have more and to give more. We desire to maximize our innate potential and unveil the greatness within. We desire to increase our impact on humanity, influence on people and situations and our income for life.
This is the reason we are organizing this Kingdom Summit of Excellence in Leadership and Business around the world to empower millions of people with spiritual and strategic concepts for massive success.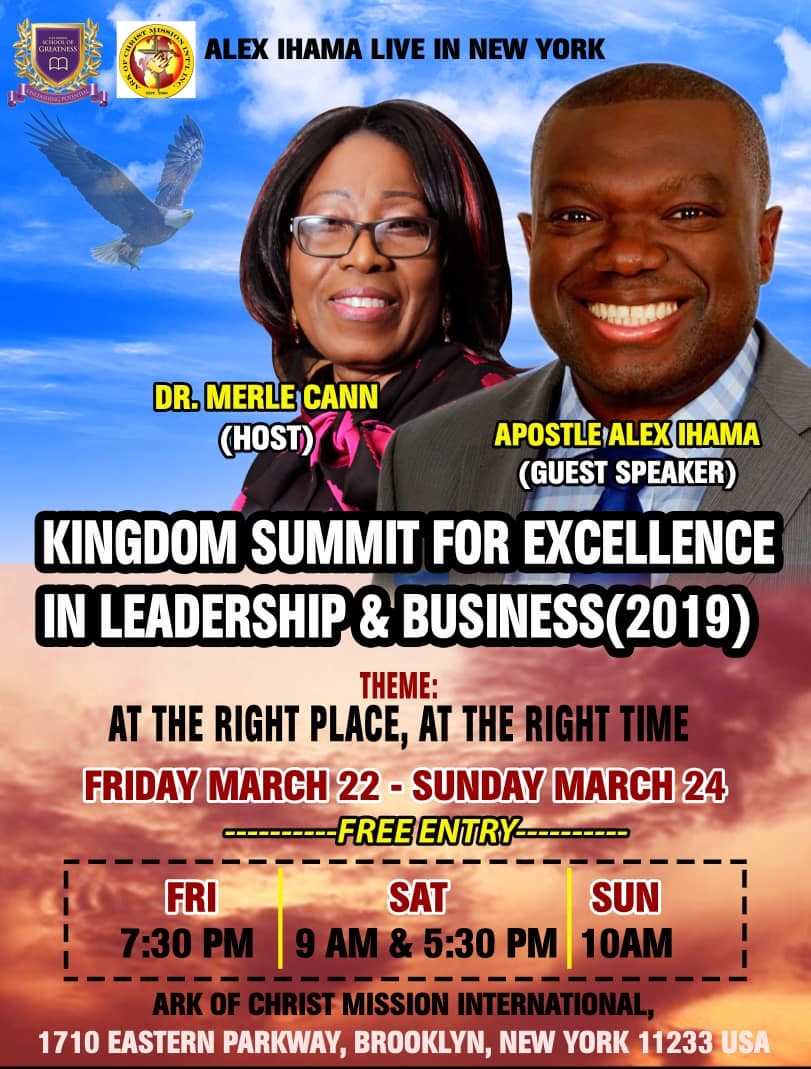 Besides the thought-provoking messages at the summit, we will be having open forums for topics like the Quest for Purpose and Meaning. We will also be having a boot camp on entrepreneurship, with a focus on The Psychology of Sales & Marketing: Seven Organic Laws for Exponential Growth.
My friend, it is time to stand for excellence, to reclaim the dominion God gave to humanity in the creation of the world. It is time to become an exceptional leader in business, ministry and wherever you find yourself. For you are the hero the world is waiting for to make the difference everyone so much desire.
Come to New York for this historic event, the birth of a Kingdom Summit for Excellence that will spread across the United States and around the world!!
If you require more information, email registrar@schoolofgreatness.ca
To get your free tickets and the recording of the messages afterward, click here https://www.eventbrite.ca/e/kingdom-summit-for-excellence-in-leadership-entrepreneurship-2019-tickets-58827008165