It's the 14th annual Kingfisher Bluez Christmas Party! As always, 100% of profit from this show benefits 1-800-SUICIDE and Crisis Centre BC
About this event
The 14th Annual Kingfisher Bluez Christmas Party
Sunday, December 19th, 2021
The Rickshaw Theatre
19+
Doors: 6PM
This year, our show will be presented in TWO DIFFERENT WAYS: In person at the Rickshaw, The Rickshaw show is now officially SOLD OUT, however you can still buy tickets to the live stream HERE.
You also get a collectable 7" record featuring 4 new holiday songs! This year, the records will be delayed, but we will notify you when they're ready.
Line Up
Peach Pit
Indie pop band promoting their upcoming 3rd LP "From 2 to 3" on Columbia Records.
Peach Pit Online
Winona Forever
Local favourites back home from Montreal! Album "FeelGood" on KFB.
Winona Forever Online
Bookclub
Two singles on KFB and an upcoming LP in 2022.
Bookclub Online
Janelane
All the way from Los Angeles! "Celebrity Crush" 7" out now on KFB.
Janelane Online
Babe Corner
Space-age dream-pop with a 7" out on KFB.
Babe Corner Online
Club Sofa
Fun 90's tinged indie!
Club Sofa Online
Tim The Mute
Sometimes sad indie rock by Tim.
Tim The Mute Online
Non La
Lovelorn indie pop. "Not in Love" LP on KFB.
Non La Online
Blue J
Introspective alt-rock, album coming 2022 on Nettwerk Records.
Blue J Online
Flat Earth
Totally normal band.
Flat Earth Online
Hoodie Browns
Groovy, laid-back pop.
Hoodie Browns Online
Grimm
Experimental electro-folklore. LP out now on KFB.
Grimm Online
The This
Energetic indie rock from Victoria.
The This Online
Tractor Beam
Indie rock band with a touch of 90's slacker vibes.
Tractor Beam Online
Grade School
Young indie from North Vancouver, 7" out on KFB and another coming early 2022.
Grade School Online
COVID-19
Please ensure you have read the venues COVID-19 policies here.
Refund Policy
No Refunds, unless show is cancelled.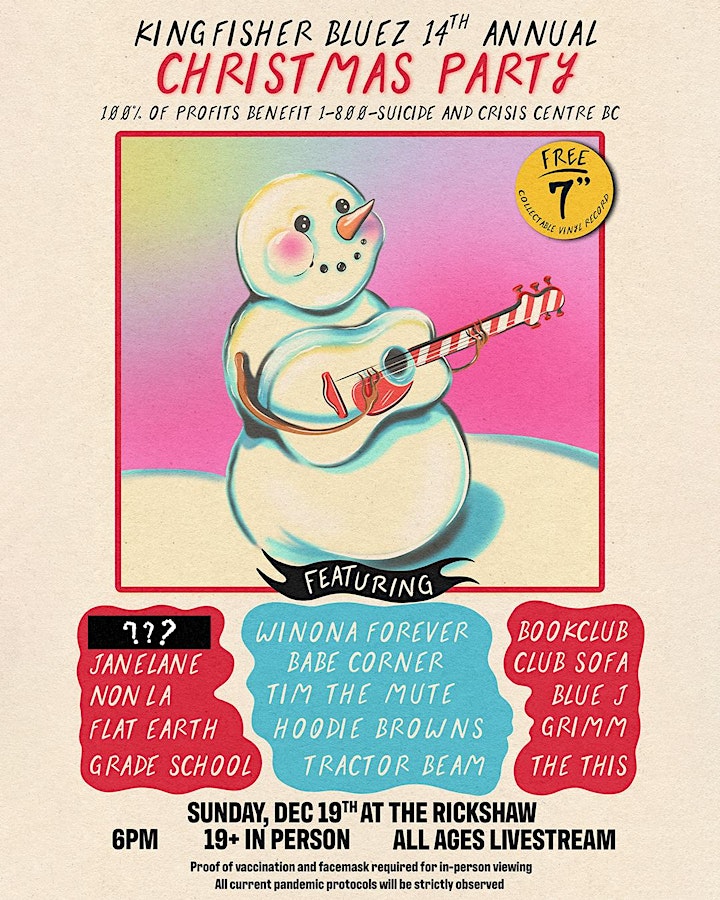 Organizer of Kingfisher Bluez 14th Annual Christmas Party