Meet in-person for a day of creativity with Carolyn Wagner, who is an adopted member of the Kainai nation.
About this event
In this project you will create two original post cards that honour the Indian Residential School (IRS) students, and the Murdered and Missing Indigenous Women & Girls (MMIWG). Using the accepted symbols of these two social movements, the Orange Shirt and the Red Dress, you will decorate the 3" x 5" cards by adding Cree words and syllabics acknowledging Canada's efforts to bring truth and reconciliation for Indigenous people. Participants may use their favorite calligraphy hand to write the words in the Cree language.
Profits from this project go to the U of A Faculty of Native Studies Cree Language program.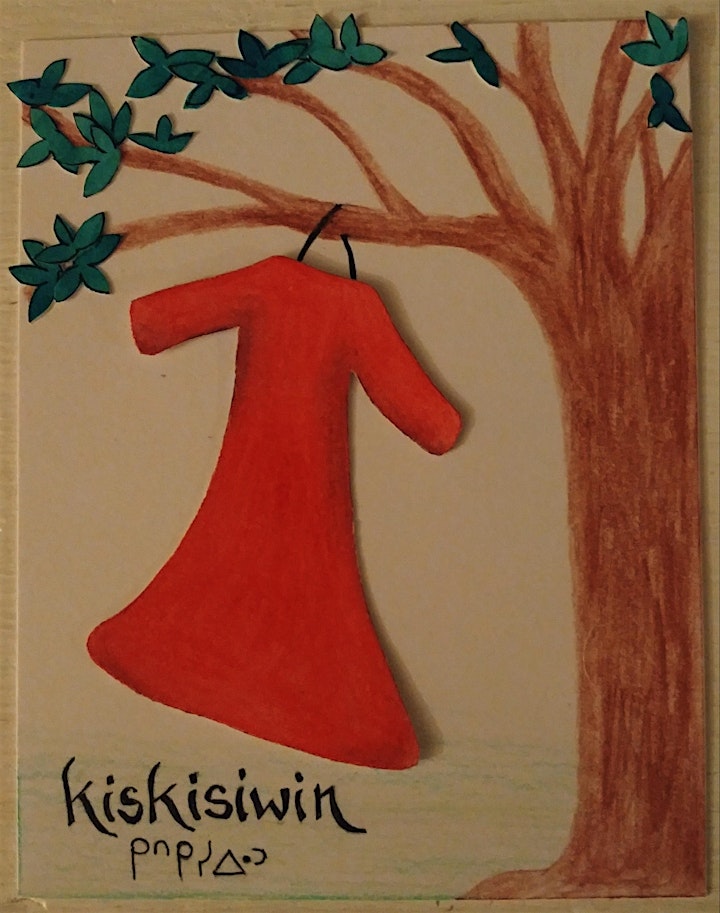 This is an example of one of the two cards we'll be making.
SUPPLIES
Coloured pencils or ink markers
Drawing pencil and eraser
Card stock or similar paper in various colours
Scissors
Glue stick
Pen & Nib, Ink, or Gouache for lettering
Calligraphy in Edmonton:
The Edmonton Calligraphic Society is a non profit volunteer/member arts group operating in the City of Edmonton and adjacent areas to introduce and promote calligraphy (beautiful writing) as an Art form.
The mission of the group is to provide opportunities for ECS members and others to develop and refine lettering skills and their application to other arts...bookmaking, journaling, mixed media and fabric arts.
Our tradition is to provide workshops (cost recovery) that often span several days or are continuous weekly classes. This provides the opportunity for the development of muscle memory when learning a new skill, individualized instruction/feedback and mentoring by experienced calligraphers.