Kitchener Famous Presents: Jammin' For The Fitz Fam!
About this event
Jesse Weber and Jay Carraro the hosts of Kitchener Famous Podcast have teamed up with local artists and venues in the Waterloo Region to host a live pre-recorded fundraising event for Stephen Fitz-henry and his family Alysia, Zuri and Nash
Fans, Friends, Family and Music Loving Peoples- We have a lineup that won't disappoint!
Juneyt: Hosted by Easy Pour, Ayr
Cheryl Lescom: Hosted by Lana's Lounge, Waterloo
Matt Weidinger and Mike Todd: Hosted by White Rabbit, Waterloo
Kevin Coates: Hosted by Descendants, Kitchener
John McKinley: Hosted by Lancaster Smokehouse, Kitchener
Craig McNair: Hosted by The Duke of Wellington, Waterloo
Stephen's journey...
Stephen was 15 years old playing rep hockey when a tumour presented during a hockey game – all of a sudden he could not skate. We took him to the Emergency room, where they diagnosed him with a bruised or fractured coxis. They gave him anti inflammatories and sent us home. After more than a month of extreme pain, they finally found the tumour via an MRI and he was rushed to London for emergency neurosurgery, followed by 30 rounds of radiation.
He was diagnosed with a Myxopapillary Ependymoma, it is classified as a "brain tumour". These tumours are extremely rare (one in 3million) and are usually very slow growing. Stephen's however, have grown more rapidly than "normal".He has had many recurrences over the past 15 years and has endured 5 major surgeries. 2007, 2009, 2017 (2) & 2020. He has been radiated from head to tail – experts have said no more radiation.
In early 2020, the tumor had grown again and the pain was so bad and they were desperate for help. His doctor in Toronto had said he did not want to operate on him again, as the tumours are in the spinal column and are attached to nerves. It is a very delicate operation. In desperation and at the beginning of the pandemic, they went to the NIH in Maryland USA, to participate in a clinical immunotherapy trial. Unfortunately, after 4 months of treatment, that did not work out as we had hoped because the tumours did not respond to treatment and continued to grow.
Later last summer they ended up meeting with their surgeon in Toronto and he agreed to do another surgery – which was scheduled very quickly (Sept 2020). They weren't able to remove the entirety of the tumour so Stephen is currently on month 5 of an 18 month oral chemotherapy treatment plan including Lapatinib & Temozolamide. (This is designed to stop the tumors from growing, not to shrink or kill the tumors)
We were all hoping the surgery would improve his decreasing mobility, but it has not. He cannot walk without assistance, he is using a walker right now, one leg brace and another band to assist his drop foot. Walking any distance is very difficult and he lives with some extreme nerve pain.
A side note: Stephen and Alysia's wedding that was planned for August 1, 2020, had to be cancelled due to the pandemic….so in light of the urgent surgery, not knowing if he would be able to walk again, Alysia planned and executed their backyard wedding in 8 days! They were married September 4, 2020 at a park up the road, with the reception in their back yard. It was a magical day with family and a few close friends.
Stephen and Alysia have been blessed with two beautiful children Zuri 4 and Nash 2 ½ - They are the love of all of our lives and brighten up each day!
These are some of the mounting expenses due to Stephen's situation…. They need to create some modifications to their home to allow for wheelchair accessibility, a ramp into the front door as well as into the backyard where the kids would spend every waking hour if they could. They also need to make modifications to the bathrooms to allow for independence. Stephen is also in the process of getting a new leg brace for his right leg which has been losing function since his last surgery.
One of Stephens goals is to be able to participate in everything the kids enjoy, which includes visiting the local parks and ponds. He has ordered a manual wheelchair and is hoping to get an electric wheelchair to use when the kids are riding their bikes, going on trails in the park or even visiting a beach. Due to the pandemic and physiotherapy/gym equipment facilities not being open they are hoping to add some accessible workout equipment to their home.
Due to the absence of nerve function in Stephens lower legs he is no longer able to drive a regular vehicle. He will lose his regular license now and has just started the process of getting a new license for mobility aided driving. He will be starting a program to learn to use hand controls, which they will have to have installed in their vehicle to provide more independence for him.
Not everyone is able to give, especially during these unprecedented times, if that is the case, you can also help by sharing Stephen's story, the event and/or the GoFundMe page to your social media
https://gofund.me/d43ae231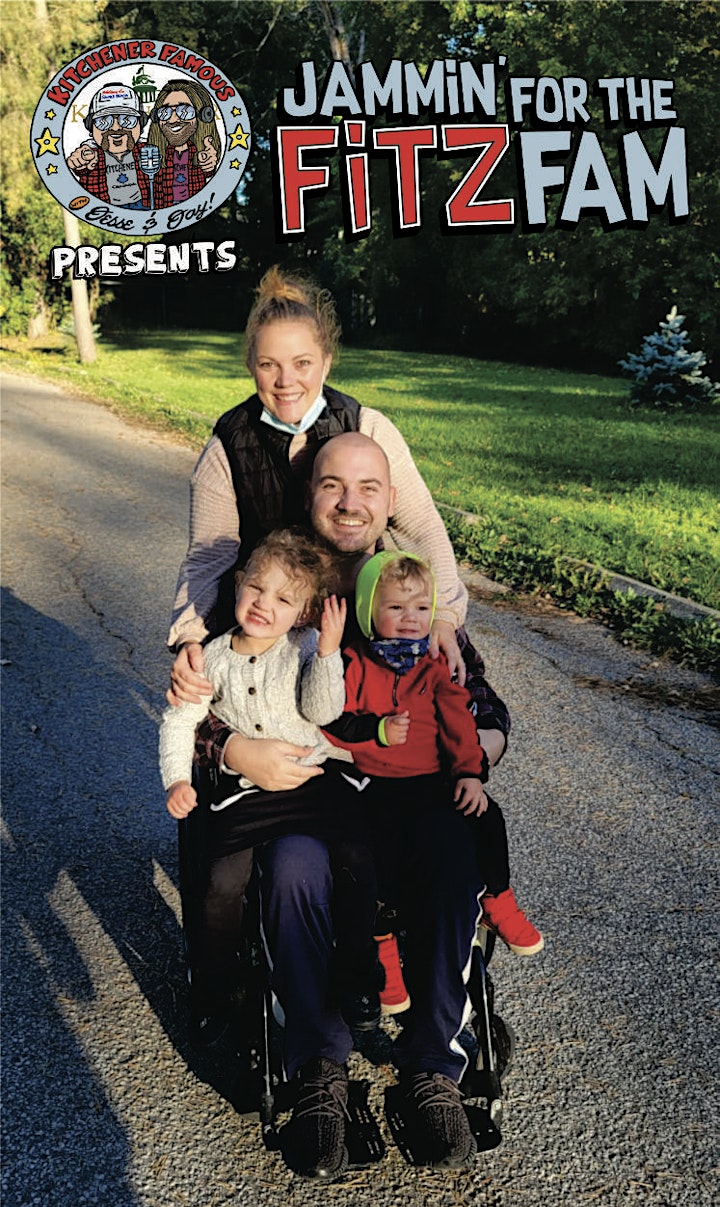 Date and time
Location
Refund policy