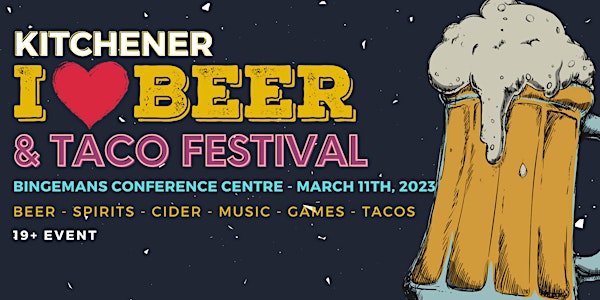 Kitchener I Heart Beer & Taco Festival
Join us for a fun night of beer, cider and spirits sampling, games, dancing, people watching and TACOS!!!!!
When and where
Location
Bingemans 425 Bingemans Centre Drive Kitchener, ON N2B 3X7 Canada
Refund Policy
Contact the organizer to request a refund.
Eventbrite's fee is nonrefundable.
About this event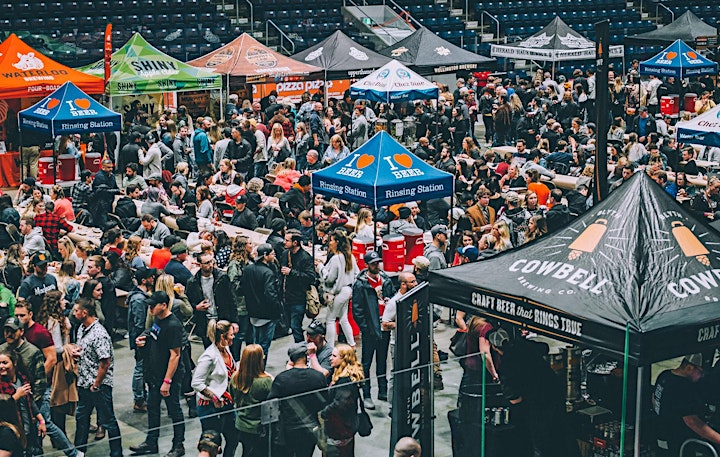 🚨 Tickets are 65% SOLD OUT! Next Price increase on February 15th @ 11:59 PM
Join us for the 4th annual Kitchener I❤︎BEER & Taco Festival on Saturday, March 11th, 2023 at the Bingemans Conference Centre for a fun night of beer, cider and spirits sampling, games, dancing, people watching and TACOS!!!!!
IMPORTANT INFO
➡️ 19+ Event
➡️ Cash Only Event (3-4 ATM's onsite)
➡️ No Refunds on Tickets or Tokens (Tickets are Transferable)
➡️ Session #1 Tickets are $5.00 Cheaper than Session #2 Tickets
➡️ If you don't like beer, there is a Cider and 2-3 Distilleries at each event
➡️ Please Drink Responsibly
​HELPFUL LINKS
🎟️ Website Info Page: LINK
🚍 Getting Here (Free Bus Transportation with Ticket): LINK
📔 Festival Guide: LINK
🗓️ Facebook Event Page: LINK
🌎 I❤︎BEER Facebook Group Page: LINK
EVENT INFO
📍 Location: Bingemans Conference Centre
📅 Date: Saturday, March 11th, 2023
🌮 Theme: Beer & Tacos
🕰️ Time: Session #1 - 2:00 PM to 6:00 PM & Session #2 - 6:00 PM to 10:00 PM
💵 Token Cost: $2.50 Each (Used for both Food and Drink)
🥃 Average Pour Size: 5 Ounces (Beer/Cider)
🍺 Average Sample Cost: 1 to 2 Tokens (Most Beer Samples will be 1 Token)
🧥 Coat Check: Yes (Provided by Venue)
EVENT FEATURES
⚽ Foosball + Pong + Board Games
💧 Free Filtered Water
🚰 Glass Rinsing Stations
🕹️ BEERcade
🎧 DJ Playing Mashups
🪑 Seating for 400+ People
🍺 18 Ontario Breweries, 1 Cidery and 3 Distillers
🥄 14 Local Food Vendors
TICKET PRICES & INFO​
➡️ All General Admission Tickets include admission to the Festival and an official 12 ounce I❤︎BEER sampling cup. Tokens can be purchased at the festival at the designated token tent.
🎫 Designated Driver Tickets are $10 at the Door. DD Tickets give you admission to the event but you are not permitted to consume any alcohol at the Festival (If caught consuming alcohol of any kind, you'll be removed from the venue). Non Alcoholic drinks and food can be purchased using tokens at the local food vendor booths.
🙋 Volunteer prior or during the event to get FREE Tickets and Tokens . Start times are flexible and the work is pretty easy. [SIGN UP PAGE]
🚨 The Earlier you buy your admission ticket, the cheaper it is. Tickets start at just $9.99 (Plus HST and Ticket Fees) and slowly make their way up to our regular ticket price of $24.99 (Plus HST and Ticket Fees)
Session #1 Ticket Price
🎟️ $10 Discount Offer (Discount Expires Wednesday, January 25th, 2023 @ 11:59 PM) - $9.99 + Tax & Fees
🎟️ $8 Discount Offer (Discount Expires Wednesday, February 15th, 2023 @ 11:59 PM) - $11.99 + Tax & Fees
🎟️ $6 Discount Offer (Discount Expires Wednesday, March 1st, 2023 @ 11:59 PM) - $13.99 + Tax & Fees
🎟️ $4 Discount Offer (Discount Expires Friday, March 8th, 2023 @ 11:59 PM) - $15.99 + Tax & Fees
🎟️ Regular Price + Door Price (If Tickets are Still Available) - $20.00 + Tax & Fees
​Session #2 Ticket Price
🎟️ $10 Discount Offer (Discount Expires Wednesday, January 25th, 2023 @ 11:59 PM) - $14.99 + Tax & Fees
🎟️ $8 Discount Offer (Discount Expires Wednesday, February 15th, 2023 @ 11:59 PM) - $16.99 + Tax & Fees
🎟️ $6 Discount Offer (Discount Expires Wednesday, March 1st, 2023 @ 11:59 PM) - $18.99 + Tax & Fees
🎟️ $4 Discount Offer (Discount Expires Friday, March 8th, 2023 @ 11:59 PM) - $20.99 + Tax & Fees
🎟️ Regular Price + Door Price (If Tickets are Still Available) - $25.00 + Tax & Fees
ONTARIO BREWERS & DISTILLERS​
1 - Broadhead Brewing Company - Ottawa,ON - 510 KM Away
2 - Trestle Brewing Company - Parry Sound,ON - 299 KM Away
3 - Wolfhead Distillery - Amherstburg,ON - 289 KM Away
4 - Lake Of Bays Brewing Co - Muskoka,ON - 280 KM Away
5 - Bayside Brewing Co. - Erieau,ON - 220 KM Away
6 - Sons of Kent Brewing Co. - Chatham,ON - 212 KM Away
7 - Three Sheets Craft Brewing - Port Elgin,ON - 155 KM Away
8 - Storm Stayed Brewing Company - London,ON - 114 KM Away
9 - 4EST Brewery - London,ON - 113 KM Away
10 - Anderson Craft Ales - London,ON - 112 KM Away
11 - Powerhouse Brewing Co - London,ON - 111 KM Away
12 - Paniza Brewing - Toronto,ON - 110 KM Away
13 - Junction 56 Distillery - Stratford,ON - 54 KM Away
14 - Black Swan Brewing Co. - Stratford,ON - 52 KM Away
15 - Manns Distillery - Brantford,ON - 52 KM Away
16 - Hop Society Brewing Company Inc - Acton,ON - 45 KM Away
17 - Murphy's Law Moonshine - Elmira,ON - 20 KM Away
18 - Wellington Brewery - Guelph,ON - 14 KM Away
19 - Stockyards Brewing - KW,ON - 7 KM Away
20 - Counterpoint Brewing - KW,ON - 3 KM Away
21 - Waterloo Brewing - Waterloo,ON - 1 KM Away
22 - Coming Soon - Somewhere, ON - Some Distance Away
FOOD VENDORS​
🥄 Official announcement February 15th, 2023