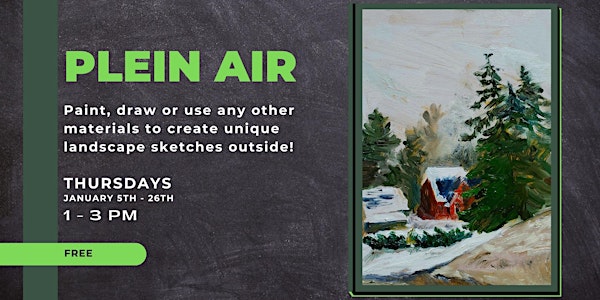 Kitchener-Waterloo Plein Air Painting FREE Weather Permitted
Plein Air Co-painting Event. Bring your favorite mediums and let's create art together!
When and where
Location
Speakers Corner 2 Benton Street Kitchener, ON N2G 1V8 Canada
About this event
Join me in Plein Air Painting (Drawing or whatever medium you like just excluding watercolors) in the Kitchener-Waterloo area.
This is not the class but a co-painting event, its purpose is to boost your art skills. Artists of any level are welcome!
We will be visiting a new spot at every event and doing our sketches there. We will discuss our progress, exchange tips, and our experience.
Why? It is a great way to boost your art skills! I know it is a cold time but this season gives you unique views for your artwork. Also, co-working with other artists sometimes may bring unexpected insights and inspiration.
How? It is co-painting activity, I am not a teacher, I am an enthusiastic aspiring artist. I believe that experience exchange may enrich every artist.
Where? There are a few preselected locations. Each location has its own theme. We met at the time at a certain point and then walk up to 10 minutes to find the best view with the following painting
How long?
0-10 min - walking to find the best spot
60-90 min - creating your sketch or a few
10-30 min - tell about your work
What if my plans change? Please notify me at ride.the.painting.vawe@gmail.com
What to bring? There is no specific list, however, I am sharing my own, and you may adjust it according to your needs.
- Mediums (paints, pencils, etc)
- Brushes
- Pallete knife
- Canva or paper
- Pallete
- French box easel
- Chair
- Paper towels
- Garbage bag
- Hot drink
- Put on warm clothing
Any questions? Please contact me at ride.the.painting.vawe@gmail.com