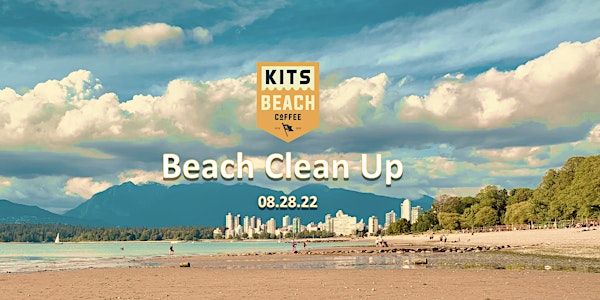 Kits Beach Coffee Beach Clean Up
Spend the day with Kits Beach Coffee for our Kits Beach Clean Up. "When it comes to the environment, a community must work together."
When and where
Location
Kitsilano Beach 1275 Arbutus Street Vancouver, BC V 6j 3W6 Canada
About this event
HELLO,
The first beach clean-up was a huge success, and we want that environmental enthusiasm to continue all year long.
The Details:
It's simple, we meet up, grab a coffee, grab our gear, and this year – we will all be cleaning up together. Then we end with a Kits Beach Beer tasting.
• 12:00PM START & CHECK IN: Arbutus Street (Playground area).
• 3:00PM FINISH & AFTER PARTY: The "finish line" will be at 1945 Cornwall Street. All equipment and garbage is dropped off at our Kits Beach Cafe, so you can finish off with a beer, sponsored by Kits Beach Beer. Yes, your first is free.
The Perks:
• COMPLIMENTARY KITS BEACH COFFEE : will be set up offering strong coffee at the start & popsicles at the end for the kids.
• KIDS ACTIVITY PACKAGE: Download your own copy. It's an interactive experience for before, during and after the event. We have lots of crayons for the After Party so bring it with you!
• KITS BEACH BEER TAP ROOM opens early at 3:00PM, exclusive to our Beach Clean Up Teams. That's right we're opening early just for our Beach Clean Up Teams at 3:00pm
Accessibility & Inclusion:
We recognize that everyone has different access needs, and we strive to meet as many as we can. That's why each group beach clean-up area has taken families, neurodiverse kids and folks and our adaptive community into consideration.
When you RSVP we will send you our "Kits Beach Clean Up Kit" for you to learn more about opportunities to get involved.
In addition to the Beach Clean Up we will have the Kits Beach Coffee Cart set up with an activity area for the kids with games, bubbles and soccer! And a Kids Activity Package to take with you that's packed with all thing's nature and ocean fun. Coffee & treats for the adults, Popsicles for the Kids.
THE DETAILS:
DATE: Sunday, August 28th 2022
START: 12:00pm
END: 3:00pm
AFTER PARY: KITS BEACH BEER TAP ROOM AT 3:00PM
That's right we're opening early just for our Beach Clean Up Teams at 3:00pm.
Do you need to RSVP? YES, we need to know how much equipment to order. But you can also drop in and say hello too.
PLEASE RSVP BY Friday August 26th, 2022.