$30.00 in advance and $35.00 the night of the show. This is an all ages show but anyone under 18 must be accompanied by an adult.
About this event
From Toronto-via-PEI, KIWI JR. released their second album Cooler Returns on Sub Pop Records in January 2021. Put together like a thousand-piece puzzle, assembled in flow state through the first dull stretch of quarantine, sanitised singer shuffling to sanitised studio by streetcar, masked like it's the kind of work where getting recognized means getting killed, Cooler Returns materialises as a sprawling survey from the first few bites of the terrible twenties, an investigative exposé of recent history buried under the headlines & ancient kings buried under parking lots.
"A jangly, indie rock earworm that'll lodge itself in your brain" - NME
"Kiwi Jr. songs unfold like the aisles of a cluttered curio shop, their retro-rock melodies overflowing with non sequiturs and hyper-specific scraps of story." - AV Club
"An impatient, slacker-rock imagining of a folk album....some chords ring out with George Harrison glossiness while others are as shaggy and impetuous as The Clean —rarely do hi-fi and lo-fi splendors coexist so harmoniously." - Pitchfork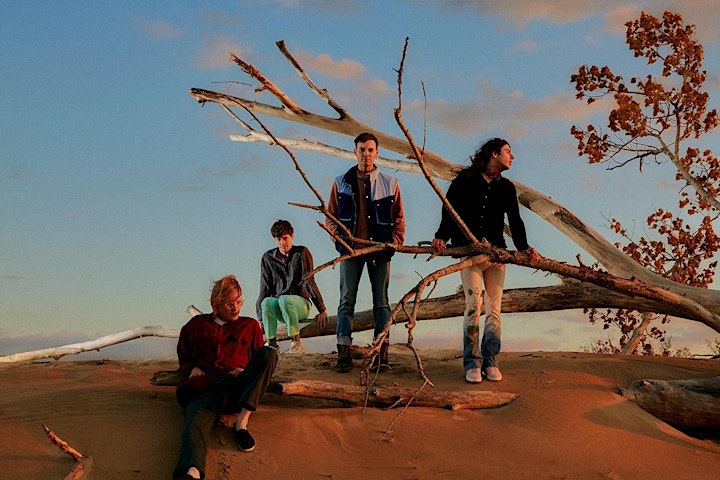 Formed in Halifax, Nova Scotia, Canada in 2012, Nap Eyes have quietly become one of indie rock's most dependable bands, releasing four critically acclaimed records and touring the world over. Centered around the songcraft of singer/songwriter Nigel Chapman – whose introspective and profound musings range from self-actualization to the cosmos to the molecular makeup of proteins – and fleshed out by longtime collaborators Seamus Dalton (drums), Josh Salter (bass) and Brad Loughead (guitar), Nap Eyes' music recalls a number of familiar yet disparate touchstones ranging from The Velvet Underground to The Microphones. Following a trio of records that were all recorded live to tape with no overdubs (Whine of the Mystic (2015), Thought Rock Fish Scale (2016) and I'm Bad Now (2018)), Nap Eyes' latest full-length Snapshot of a Beginner (2020) is proof that sometimes, the late bloomers bloom brightest. Recorded at The National's Long Pond Studios in upstate New York with producers James Elkington (Wilco) and Jonathan Low (The National, Big Red Machine), Snapshot is the band's boldest, most concentrated and most hi-fi album to date.