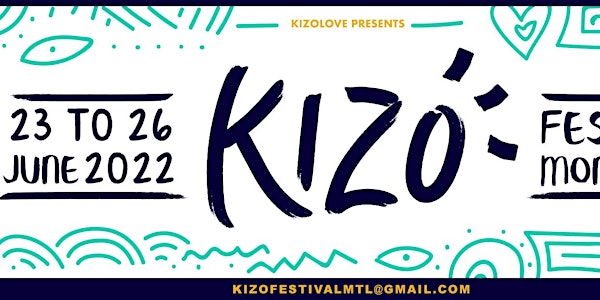 KIZO Festival Montréal 3e 2022
Kizo Festival Montreal is happy to announce the 3rd edition of KIZO FESTIVAL MONTREAL, happening June 23-26, 2022 at the famous Bain Mathieu
When and where
Location
Bain Mathieu 2915 Rue Ontario Est Montréal, QC H2K 1X7 Canada
About this event
Kizo Festival Montreal is happy to announce the 3rd edition of KIZO FESTIVAL MONTREAL, happening June 23-26, 2022 at the famous Bain Mathieu
Join us for another great week in the city of fun to discover international artist, DJs and of course our best national instructors
✔ Wednesday June 22nd
Bals de l'été | Kizomba na rua | KIZOFest 2022 outdoor event FREE
🔜 https://fb.me/e/3j9xbwd2Y
✔ Thursday to Friday June 23th to 26th
Workshops, party and after parties willl be at the #BainMathieu
On site: 2 rooms for workshops and parties, vendor area and private class available as well.
✔ Monday June 27th
After Party KIZO Fest Beach club 🔜 https://fb.me/e/3pRmTLjF6
Confirmed artists
☑️ Anaïs Millon (Paris)
☑️ Iron Mans (Zurich )
☑️ Phillyp & Charlayne / KwalityKiz (Boston)
☑️ Philippe Guy Trackmaster (NYC)
☑️ Freddy / Kazakiz (Québec City)
☑️ Julz & Angola Terra / Amantes do Semba (Montréal)
☑️ Mike Ahmobie (Ottawa)
☑️ Melo / Uplift (Montréal)
☑️ Meggie & David / Danse Select (Montreal)
☑️ Samy - Babs / Kizo Love (Montreal)
Confirmed Djs
☑️ Dj Nice Life (Amsterdam)
☑️ Dj Zay'X (Madrid)
☑️ Dj Casanova (Boston)
☑️ Dj Trackmaster (New-York)
☑️ Dj Sink (Montreal)
☑️ Dj Angel (Montreal)
☑️ Dj NS (Toronto)
☑️ Dj JC Stripes (Québec City)
Join the KIZO fun! From Kizomba to Urbankiz, with Semba, Tarraxinha, Afrohouse and much more. Just come.
Dance and fun only for this new "rendez-vous"!** IMPORTANT **
You will receive a confirmation email from Eventbrite. No need to contact us for a receipt, the email is a confirmation that we have received your payment and reservation for Kizo Festival.
Let the party begin !!
More info to come visit our Facebook page Kizo Festival Montreal / Instagram @Kizo_festival
------------------
** FRENCH **
C'est avec une joie immense que nous vous annonçons officiellement le lancement tant attendu de la troisième édition du Kizo Festival Montréal qui se tiendra à Montréal du 23 au 27 juin 2022 au Bain-Mathieu (leiu non confirmé).
Kizo Festival Montréal se présente comme un lieu culturel privilégiée où se rencontre la diversité. Nous mettons tout en œuvre pour devenir « le porte-étendard du Québec de la danse Kizomba et de son arc-en-ciel de couleurs ».
Notre mission est de démocratiser la danse kizomba au Québec en la rendant plus accessible à tous les publics par la diffusion de spectacles, de performances, de rencontres et enfin d'ateliers. Les spectacles et les performances sont présentés par des artistes locaux, mais également nationaux et internationaux.
Nous sommes la référence No 1 des québécois et des canadiens en matière de festival de kizomba.
Toute l'équipe du festival vous donne rendez-vous le 23 juin 2022 pour le début de cet excitant et mémorable voyage musical !
Bon festival !