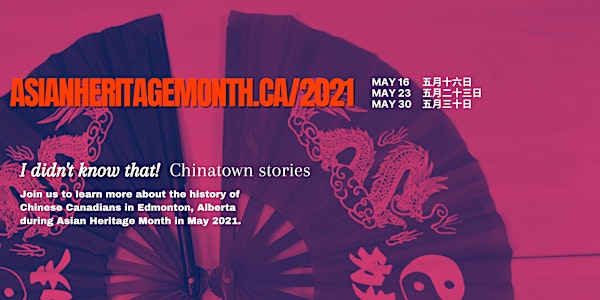 Knitting for a Good Cause: Chinese Women's Club
"I didn't know that!" Chinatown Stories consists of 3 free online webinars for Asian Heritage Month 2021 - May 16, 23 and 30.
About this event
Knitting for a Good Cause: Chinese Women's Club.
During World War II, the Chinese Women's Club of the United Church of Canada in Edmonton knitted many clothing articles for the "Bundles for Britain" campaign. This war relief initiative was founded in 1940 by an American living in New York City, Natalie Latham, in the aid of British servicemen and citizens.
Who were these Chinese women?
These webinars are presented by the Chinese Benevolent Association and sponsored by Edmonton Heritage Council and Edmonton City as Museum Project (ECAMP).
Partnering organizations are the Chinese Graduates Association of Alberta and Fort Saskatchewan Multicultural Association (Asian cultural performance).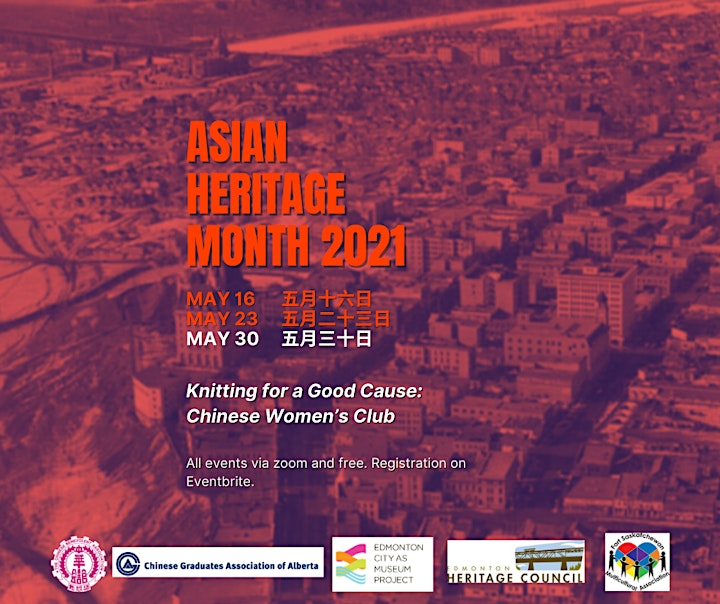 Sharing the story of the Chinese Women's Club will be Lan Chan-Marples.
Before the COVID-19, Lan could be seen all over Chinatown, especially around the southern part of Chinatown near 97 St. & Jasper Ave. She loves to share her knowledge of the history & heritage of Edmonton's Chinatown from a personal lived experience or through her research.
Always striving to give back to the city & community she grew up in, she became involved in various voluntary boards & committees including the Chinese Benevolent Association, the Edmonton Heritage Council and the Canadians for a Civil Society. In 2017, when Edmonton's Harbin Gate in Chinatown was dismantled, she was privileged to be a member of Aiya! Collective, a small, tight knit intergenerational group of artists & community activists working to protect & advance the wellbeing of Chinatown by raising awareness of the impact of the loss of a built cultural heritage on a community. Lan is delighted to be meeting, virtually of course, with people locally and across the province & Canada who are doing innovative Chinatown work.
Lan holds a Master's degree in Intercultural Education. She currently works at the University of Alberta in the Research Services Office.