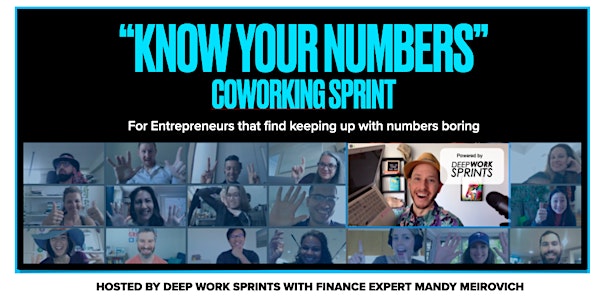 "Know your Numbers" Coworking Sprint
Show up, and get on top of your numbers. A monthly ritual to kick boring finances off your to do list and on to your done list.
Refund Policy
Contact the organizer to request a refund.
Eventbrite's fee is nonrefundable.
About this event
Let's be honest, working on finance and bookkeeping is boring for most Entrepreneurs.
But you know that keeping on top of your numbers is important.
Join us for a monthly "know your numbers" business exercise.
We are creating a date and time for you to finish your bookkeeping, and gather your numbers. A space that will make it more fun.
This is a judgement free space.
You can join if you have years of filings to catchup on, or are a veteran with ninja systems in place.
Knowing your numbers will empower you to make better business decisions and stay focused on what matters most.
Who is this for? Business owners of any level.
Bring your accounting mess and clean it up, or keep your good practices in good standing.
Examples of ways you can use your time:
Get caught up on your books
Keep caught up on your books
Dive in to your key performance metrics
Look for expenses to reduce
Implement new accounting systems / software / applications
You'll be working alongside other small business owners.
THIS IS FOR YOU IF....
You avoid keeping up with numbers each month. (Yes, sometimes this looks like leaving all your bookkeeping until the deadline or filing late).
Knowing your numbers each month will empower your business decisions.
You prefer working alongside other people and being held accountable.
You're wanting a monthly ritual build and maintain strong financial habits.
You are a business owner at any level.
THIS IS NOT FOR YOU IF...
You love working on your finances alone.
You are attending just for information.
WHAT TO EXPECT:
Join video meeting (we use zoom)
First 10mins connect with business owners and declare what you'll finish
90mins Deep Work (everyone is muted, you work on your own finances)
20mins Closing and Q&A
Join this monthly ritual to be on top of your numbers in a way thats more easy and fun.
FAQ
Q: Will I need to share my finances with others at the event?
A: No. You are not expected to share anything about your finances.
Q: What if I don't know where to start?
A: That's ok. Use this time to get started. This is a judgement free zone.
Q: What if I need more financial help and direction?
A: A short Q&A will be available by Mandy Meirovich, CPA, CA
Q: What if I finish "knowing my numbers" before the event ends?
A: Great! Mission accomplished. You can leave the event when you are finished.
Q: What if I don't finish my work by the end of the event?
A: We suggest using the event to kickstart your financial work for the month. Block off the necessary time after the event to finish any remaining tasks. It's best to keep your flow with the numbers, as once you get started it's easier to continue, rather then wait for another day and pick it up again later.