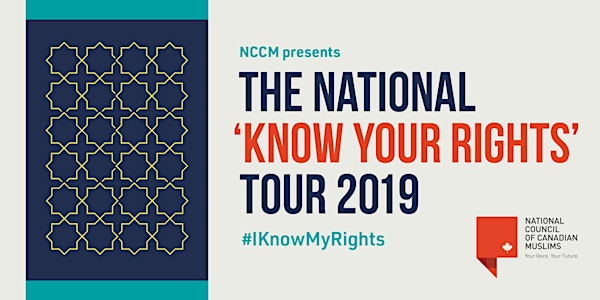 Know Your Rights Workshop - 'Train the trainer' (Kitchener)
When and where
Location
The Family Centre 65 Hanson Avenue Kitchener, ON N2C 2E2 Canada
Description
The NCCM team is going on tour! Join us for an empowering human rights training session in Kitchener as we launch our new 'Know Your Rights' guide.
Wednesday June 19, 5:30PM, 65 Hanson Ave, Kitchener (The Family Centre). Room 2011.
NOTE: This is a 'Train the trainer' style workshop, where by attendees will be trained on how to present the Know Your Rights workshop to others in their community. All graduates from this workshop will recieve a certificate from the NCCM confirming that they are qualified to deliver this training.
------
Understanding your rights and responsibilities as a Muslim in Canada is essential to being able to effectively advocate for yourself and others in your community. That's why we're travelling across the country to bring our flagship 'Know Your Rights' workshop directly to you, and to train people like YOU on how to give this workshop at schools, mosques, community centres and elsewhere in your local area.
In these sessions, you'll learn about your rights in the workplace (such as the right to religious accommodation including prayer time or dress requirements), healthcare system (e.g. as your right to be treated without discrimination by your medical practitioner), when travelling and dealing with the police (for instance, your rights in relation to border officials, CSIS/RCMP members or other law enforcement officers), on a school campus (such as when interacting with campus police or your local Muslim Student Association) and in other important life situations. As a soon-to-be-trainer, you'll not only learn about the above issues, but you'll be equipped with everything you need to deliver the Know Your Rights workshop to others in your community.
Whether you think you think you know all of your rights and responsibilities, or feel you know very little about them - this workshop will equip you with essential tools and knowledge to secure your rights in diverse situations.
Register for this FREE workshop today!