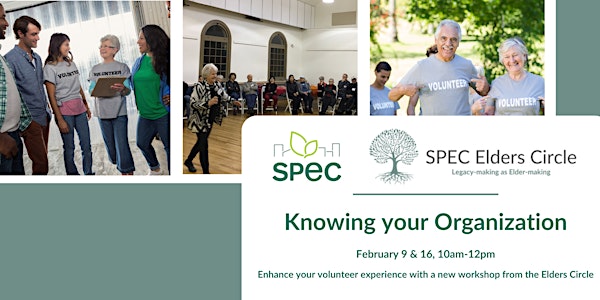 Knowing your Organization: A Workshop for Elder Volunteers
This module guide Elders through a basic understanding of how organizations operate in order to enhance their own volunteer experience.
By SPEC - Society Promoting Environmental Conservation
Date and time
Thu, Feb 9, 2023 10:00 AM - 12:00 PM PST
About this event
The SPEC Elders Circle is testing several modules that we hope to include in a program titled, Becoming Organizational Guiding Elders,* that we'll offer later in 2023. The third in the series of 'test modules' is coming up in just over two weeks with a focus on organizations and how they behave.
Dr. Kevin Lee, UBC Sauder School of Business, will offer a two-part introduction to Organizational Behaviour focused on information for elder who volunteer or staff NGO's and Community organizations.
Anyone who is interested can participate in this upcoming pilot module. Bring your elder-self (or even your mid-age self) and learn about how organizations are structured and behave, the benefits and pitfalls of different organizational structures, with special focus on the structures that characterize charitable/community and non-governmental organizations.
If you have elders in your organization, consider recommending this training as an encouragement to their elder wisdom and to better understand their organization.
*This is a two part module. Please attend both dates to ensure the most enjoyable experience.
Please email Elders@spec.bc.ca with any questions you may have.
*The 2023 program, Becoming Organizational Guiding Elders is designed to equip elders who are volunteers or staff to better understand their organizations and to bring more or their age-related wisdom and skills into supporting the organizations they serve.
About the organizer
SPEC works to develop practical solutions for sustainable cities. We are a Charity founded in 1969 that works to change behaviour for a more sustainable future. We do education, research and advocacy in the areas of Energy, Food, Land & Water, and Waste.