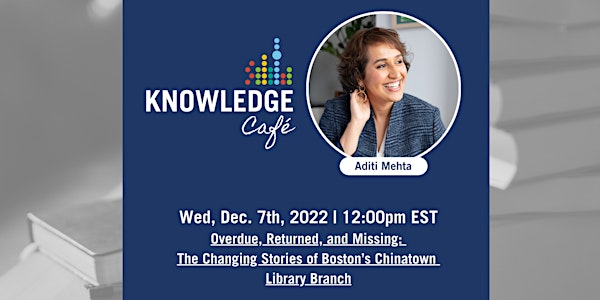 Knowledge Café: The Changing Stories of Boston's Chinatown Library Branch
Aditi Mehta discusses what public branch libraries mean to immigrant neighborhoods and what they can teach us about culture and identity.
About this event
Overdue, Returned, and Missing: The Changing Stories of Boston's Chinatown Library Branch
Public branch libraries are hyperlocal institutions that produce and disseminate local knowledge and play important roles in immigrant communities. They serve as assimilation and/or integration centers, gathering places, economic training grounds, sites of activism, and locations of ethnic identity assertion and memorialization.
The histories of these community organizations are stories about the development of a neighborhood, the preservation of culture and identity, as well as the growth of coalitions and divisions. When branch libraries are under-funded or even missing from immigrant neighborhoods, how do residents fill in the gap? And what does this mean for the practice of community development in ethnic enclaves?
This project seeks to answer these questions through the case of the Chinatown Branch of the Boston Public Library (BPL). Through archival research, media analysis, and interviews, this research documents the 100-year history of a grassroots movement for a branch library in Boston's Chinatown. The once-transient branch finally became official and opened its doors in 2018.
This research identified two important and paradoxical mechanisms that led to the permanence of this hyperlocal institution:
1) the organizing of Chinatown youth who wanted to stay connected to their heritage in their rapidly changing neighborhood as well as
2) the resources of new Chinatown residents who were unintentionally gentrifying the neighborhood.
____________________________________________________________
Aditi Mehta is an assistant professor of Urban Studies at the University of Toronto. She graduated from Cornell University in 2006, received her Master in City Planning (MCP) from MIT in 2010, and received her Ph.D. from the Department of Urban Studies and Planning at MIT in November 2017. As a doctoral student, she was the SAGE/Marilyn Jacobs Gittell Activist Ph.D. Scholar with the Community Innovators Lab.
In May of 2017, she was awarded MIT's Priscilla King Gray Award for Public Service for her outstanding dedication to social change. Her research focuses on a crucial aspect of the architecture of inequality that characterizes U.S. cities, unequal access to the production of knowledge through media, and identifies promising new social and technological infrastructure that can help address these significant disparities.
___________________________________________________________
The School of Cities is committed to making its programs accessible to persons with disabilities. If you need an accommodation to participate in this event, please write to 'schoolofcities (at) utoronto.ca' at least 48 hours prior to the program with information regarding the requested accommodation.