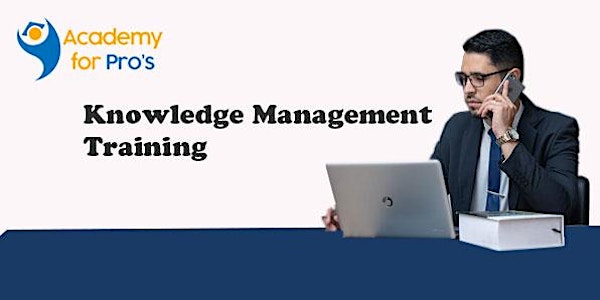 Knowledge Management Training in Singapore
Our classroom training provides you the opportunity to interact with instructors and benefit from face-to-face instruction.
When and where
Location
For venue details reach us at: info@academyforpros.com Singapore, Singapore 068896 Singapore
Refund Policy
Refunds up to 7 days before event
About this event
Certificate: Course Completion Certificate Language: English
Duration: 1 Day Credits: 8
Course Delivery: Classroom/ Virtual Live/ On-Site
Course Description:
The Encarta Dictionary defines knowledge management as the organization of intellectual resources and information systems within a business environment. Sounds pretty simple, right? Take a moment, though, and think about all the information that each person has in their brain. That's a lot of knowledge! The Knowledge Management workshop will give participants the tools that they will need to begin implementing knowledge management in your organization, no matter what the size of the company or the budget. Wherever there are humans working together for one goal, there is knowledge to be harvested, stored, and dispensed as needed.
Target Audience:
Anybody who is interested in learning Knowledge Management Skills
Learning Objectives:
After completing this course, Individuals will be able to demonstrate their understanding of:
Understanding Knowledge Management
The Knowledge Management Life Cycle
The New Knowledge Management Paradigm Implications and Applications
Knowledge Management Models
Building a Knowledge Management Rationale
Customizing Knowledge Management Definitions
Implementing Knowledge Management in Your Organization
Tips for Success
Prerequisites:
None
Course Materials:
Attendees will receive a course manual with presentation slides and reference materials.
Technical Requirements:
For eBooks:
Internet for downloading the eBook
Laptop, tablet, Smartphone, eReader (No Kindle)
Adobe DRM supported software (e.g. Digital Editions, Bluefire Reader)
eBook download and activation instructions
Agenda:
Module One: Understanding Knowledge Management
What is Knowledge
What is Knowledge Management
A Brief History
Applications in the Workplace
Module Two: Dos and Dont's
Data, Information, and Knowledge
The Tacit Mode
Module Three: The Knowledge Management Life Cycle
Understanding Episodes
Acquisition
Knowledge
Integration
Module Four: The New Knowledge Management Paradigm
Paradigms of the Past
The New Paradigm
Implications and Applications
The Knowledge Management Endgame
Module Five: Knowledge Management Models
The Nonaka and Takeuchi Model (SECI)
Wiig Model
Kakabadse Model
Boisot Model
Module Six: Building a Knowledge Management Rationale
Why Rationale is Necessary
Building a Business Case
Finding Success Stories
The Communization/Customisation Model
Module Seven: Customising Knowledge Management Definitions
Components of a Knowledge Management Definition
Customising the Components
Creating a KMBOK
Module Eight: Implementing Knowledge Management in Your Organization
Gathering Support
Identifying Opportunities for Revenue Streams
Key Knowledge Management Techniques
A Map for Success
The No-Budget Scenario
Module Nine: Tips for Success
About the Chief Knowledge Officer
Knowledge Management Skill Checklist
The Knowledge Management Imperative
The Hype Curve
Barriers and Helpers to Success
Module Ten: Advance Topics
The Knowledge Management Maturity Model
Absorptive Capacity
Rustiness
Process Model Types
Module Eleven: Wrapping Up
Words from the Wise
Review of Parking Lot
Lessons Learned
Completion of Action Plans and Evaluations
Certification:
Once after the training you receive course completion certificate.
Note:
However, catering to the demands of busy professionals, our virtual training programs are as effective as face-to-face learning. Reach us at info@academyforpros.com for dates and details of Instructor Led Live Virtual Session.
If you would like to get this course customized and delivered exclusively for your group, we have an On-Site Training Option you can reach us at info@academyforpros.com for more details about on-site or corporate training.
Offers:
Groups of 3 people 10% Discount
Groups of 5 people 15% Discount
Groups of 10 people 20% Discount