Knox Presents...Pablo Cardenas and the music of the Buena Vista Social Club
Pablo Cardenas assembles a band to bring you a tribute to the legendary Buena Vista Social Club. The evocative music of Cuba.
About this event
Knox Presents... is thrilled to bring you the fabulous music of Cuba and Latin America with a performance by Pablo Cardenas and his band of talented musicians and singers. Joining Pablo for this incredible night of music will be Laura Deviato, Rafael Duvergel, Michel Rivero, Olimpo Ortega, Hector Ramos.
Pablo Cardenas originates from Cuba and was destined for a life in music after his hands first touched a piano at the age of five. When he was seven years old began his studies at the Conservatory of Music in Matanzas and went on to complete his high school diploma in music. Pablo studied at the Conservatory for seven years before heading to the National Conservatory of Music in Havana in 1997 and graduating in 2005 with a master in Classical music performance. In the years after he went on to work as a piano teacher at the Conservatory of Music in Matanzas, teaching music theory along with classical and popular piano styles to children and young adults. At the same time he was worked as a classical piano accompanist at the Conservatory and was selected to travel to the National Music Conservatory of the Dominican Republic [directed by the prestigious pianist Ivan Dominguez] to teach workshops and performing.
Pablo has performed Classical recitals in the theatres of Havana including the famous Amadeo Roldan Theatre as well as collaborating with many accomplished musicians including singers Leo Vera and Paulo FG as well as his own jazz project performing jazz, fusion, Latin jazz, traditional and contemporary Cuban styles. This young pianist played at famous events in Cuba such as the International Jazz Plaza Festival and clubs including Casa de la Musica, Jazz Cafe and Havana Cafe. Since arriving in Canada in 2010 he has performed with Miguelito Valdes, Adonis Puentes, Gergana Velinova, Maureen Washington and many more.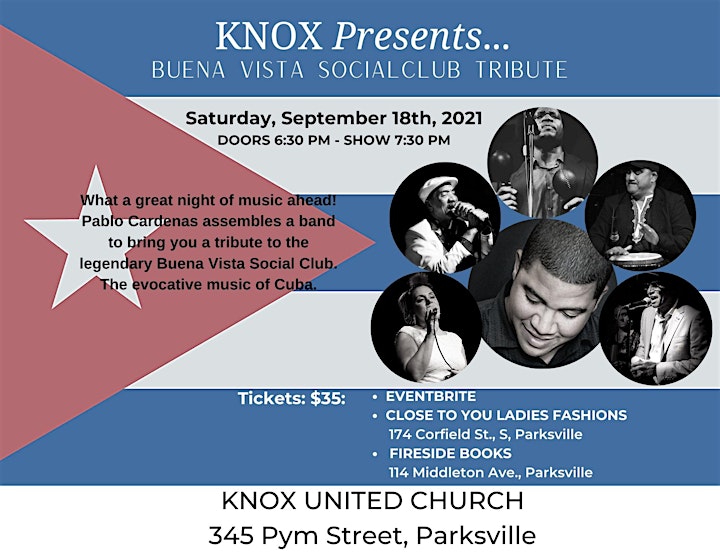 Organizer of Knox Presents...Pablo Cardenas and the music of the Buena Vista Social Club