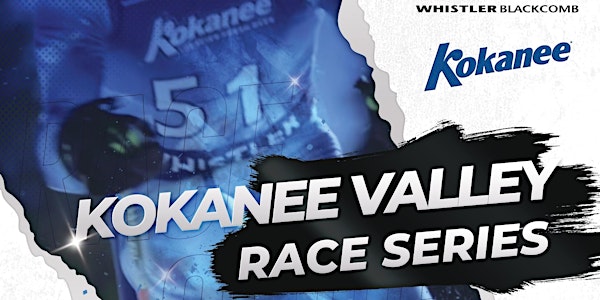 Kokanee Valley Race Series - Individual Races
The series is open to skiers, telemarkers & snowboarders with different gender and age divisions. No racing experience is required to joined
When and where
Location
Whistler Mountain 4545 Blackcomb Way Whistler, BC V0N 1B4 Canada
Refund Policy
Refunds up to 1 day before event
Eventbrite's fee is nonrefundable.
About this event
KOKANEE VALLEY RACE SERIES
www.whistlerblackcomb.com/KVRS
Come out and have some fun with your friends and coworkers. The series is open to skiers, snowboarders and telemarkers with different gender and age divisions. No racing experience is required to join in on the fun of recreational racing. All you need is the desire to participate and we'll look after the rest.
Race Format:
Each Race we will endeavor to have a celebrity course setter to keep things interesting and different!
Races will now be 'Best Of' rather then combined times. This will enable people to come race either one run or two runs and still feature in the results. There will not be a course reset.
Everyone is eligible to win tons of great prizes.
Awards and presentations are still to be confirmed. Video will be available online after the event.
EVENT INFORMATION
SCHEDULE
KVRS - Welcome Day - Cancelled due to limited snow at Race Centre.
Dec 22nd - GS Race on Ross' Gold - Blackcomb
Jan 12th - Race
Feb 16th - Race
Mar 2nd - Race
Mar 9th - Series Finals
*Dates are subject to change*
RACE TRAINING
Check out the Blackcomb Race Centre to sharpen your skills.
EQUIPMENT
Helmets are mandatory at all race events.
AWARDS & PRIZES
Awards and presentation -
Dec 22nd - We will host an awards/video presentation at Merlin's from 3:30pm to 5:00pm.
Please stay tuned for more details throughout the season. Competitors must register for at least 3 events throughout the winter to be eligible for End of Season Ski Draw Prize from Atomic Skis.
FAQs
How can I contact the organizer with any questions?
Please email wbevents@vailresorts.com with any questions
Does my Event Entry include a lift pass?
A valid lift ticket or season pass is required to compete in KVRS events. If you do not have a season pass, there is a discounted ticket available when purchasing your KVRS entry.
WAIVERS
Please note, all Participants must agree to a release of liability agreement prior to competing. Competitors must be at least 19 years old to complete.
COMPETITION, RACING, TRAINING AND TRYOUTS RELEASE OF LIABILITY, WAIVER OF CLAIMS, ASSUMPTION OF RISKS & INDEMNITY AGREEMENT
WARNING: PLEASE READ CAREFULLY BEFORE SIGNING!
THIS IS A RELEASE OF LIABILITY & WAIVER OF CERTAIN LEGAL RIGHTS INCLUDING THE RIGHT TO SUE OR CLAIM COMPENSATION
1. The person who is taking part in ski, snowboard, or other winter sport racing, competition, tryouts, or training activities as an athlete, coach, staff member, prospective or active ski patrol member, volunteer, event credential holder, spectator, or other participant is referred to as "Participant." I am the Participant or, if the Participant is a minor/infant, I am the Participant's parent or legal guardian. I understand that skiing, snowboarding, winter sports recreation, race training, competition, ski or snowboard testing or tryouts, other equipment testing, wax testing, using freestyle terrain or terrain park features, performing any other training or competition related activities, and/or using any of the facilities of the ski area, including but not limited to use of the lifts, ski slopes, trails, and other equipment, for any purpose (the "Activity"), can be HAZARDOUS AND INVOLVE THE RISK OF PHYSICAL INJURY AND/OR DEATH.
2. I understand the dangers and risks of the Activity and that the Participant, as a "skier" and/or "competitor" (as may be defined by statute or other applicable law), ASSUMES ALL INHERENT DANGERS AND RISKS.
3. Exposure to COVID-19, disease and sicknesses ("sickness") is an inherent risk of the Activity. Every Participant has the responsibility to enjoy a safe and healthy experience. The resort cannot eliminate the risk that a Participant is exposed while engaged in the Activity. The Participant agrees it is his or her responsibility to (1) follow all instructions, signage, warnings, and guidelines; (2) stay home if sick or experiencing symptoms of any sickness; (3) if required, wear a face covering and maintain at least 6 feet physical distancing from other guests, including in lift lines; and (4) wash and sanitize hands frequently.
4. I expressly acknowledge and assume additional risks and dangers that may result in property damage, physical injury and/or death that may be above and beyond the inherent dangers and risks of the Activity, including but not limited to: Falling or loss of balance; icy, slick or uneven surfaces; avalanches, cornices and crevasses; collisions with natural or man-made objects or other people; bumps, tree wells, downed timber, rocks, drainage channels, holes, debris, and other rugged mountainous terrain; marked and unmarked obstacles; unmaintained or unmarked trails/roads or trail obstructions; the negligence of Participant, Ski Area employees, event officials or organizers, a guide/instructor, or others (including selection of terrain that exceeds Participant's ability); guests' failure to comply with signage; collisions with snowmobiles and/or other motor or over-snow vehicles; equipment malfunction, failure or damage; improper use or maintenance of equipment; misloading, entanglements, or falls from ski lifts; varying visibility, storms, lightning, hail, snow and other adverse weather; becoming lost or separated; lack of shelter; limited access to and/or delay of rescue efforts or medical attention; Participant's health condition, physical exertion, exhaustion, dehydration, hypothermia, altitude sickness, other sickness, or frostbite; and/or mental distress from exposure to any of the above. I UNDERSTAND THAT THE DESCRIPTION OF THE RISKS IN THIS AGREEMENT IS NOT COMPLETE AND VOLUNTARILY CHOOSE FOR PARTICIPANT TO PARTICIPATE IN AND EXPRESSLY ASSUME ALL RISKS AND DANGERS OF THE ACTIVITY, WHETHER OR NOT DESCRIBED HERE, KNOWN OR UNKNOWN, INHERENT OR OTHERWISE.
5. Participant assumes the responsibility of maintaining control at all times while engaging in the Activity and for reading, understanding and complying with all signage, including instructions on the use of lifts. Participant must have the physical dexterity and knowledge to safely load, ride and unload the lifts. I understand that a minor/infant Participant may use the ski lifts without an adult present or may ride the ski lifts with non-employee guests. I understand that snowmobiles, snowmaking equipment, and snow-grooming equipment may be encountered at any time, and that falls, collisions and injuries are common.
6. I agree that the Participant is a "competitor" at all times, whether practicing or training for competition or in competition, or trying out or training for ski patrol, that Participant shall inspect the training and competition courses prior to participating in the Activity, and that Participant assumes the risk of all course conditions, including but not limited to course construction, layout and obstacles.
7. Additionally, in consideration for allowing the Participant to participate in the Activity, I AGREE, to the greatest extent permitted by law, TO WAIVE ANY AND ALL CLAIMS AGAINST AND TO HOLD HARMLESS, RELEASE, INDEMNIFY, AND AGREE NOT TO SUE Vail Resorts, Inc., The Vail Corporation, Trimont Land Company, Heavenly Valley, Limited Partnership, VR US Holdings, Inc., VR US Holdings II, LLC, VR CPC Holdings, Inc., VR NE Holdings, LLC, VR NW Holdings, Inc., VR PA Holdings, Inc., Whistler Blackcomb Holdings Inc., Blackcomb Skiing Enterprises Limited Partnership, Whistler Mountain Resort Limited Partnership, Peak Resorts, Inc., Andermatt-Sedrun Sport AG, each of their affiliated companies and subsidiaries, the resort owner/operator, land owner, activity operator, the equipment manufacturer, Activity organizer, Activity promoter, United States Ski & Snowboard Association, Snow Park Technologies, LLC, The Burton Corporation, Beaver Creek Resort Company, TSG Ski & Golf, LLC, the United States, His Majesty The King In Right Of The Province Of British Columbia and all their respective insurance companies, successors in interest, commercial & corporate sponsors, affiliates, agents, employees, representatives, assignees, officers, directors, and shareholders (each a "Released Party") FOR ANY INJURY, INCLUDING DEATH, LOSS, PROPERTY DAMAGE OR EXPENSE, WHICH I OR PARTICIPANT MAY SUFFER, ARISING IN WHOLE OR IN PART OUT OF PARTICIPANT'S PARTICIPATION IN THE ACTIVITY, INCLUDING, BUT NOT LIMITED TO, THOSE CLAIMS BASED ON ANY RELEASED PARTY'S ALLEGED OR ACTUAL NEGLIGENCE OR BREACH OF ANY CONTRACT AND/OR EXPRESS OR IMPLIED WARRANTY OR BREACH OF ANY STATUTORY OR OTHER DUTY OF CARE, INCLUDING IN BRITISH COLUMBIA ANY DUTY OF CARE UNDER THE OCCUPIERS LIABILITY ACT. I UNDERSTAND THAT NEGLIGENCE INCLUDES FAILURE ON THE PART OF ANY RELEASED PARTY TO TAKE REASONABLE STEPS TO SAFEGUARD OR PROTECT AGAINST THE RISKS, DANGERS AND HAZARDS OF THE ACTIVITY. In further consideration for allowing Participant to participate in the Activity, I FURTHER RELEASE AND GIVE UP ANY AND ALL CLAIMS AND RIGHTS THAT I MAY NOW HAVE AGAINST ANY RELEASED PARTY AND UNDERSTAND THIS RELEASES ALL CLAIMS, INCLUDING THOSE OF WHICH I AM NOT AWARE, THOSE NOT MENTIONED IN THIS RELEASE AND THOSE RESULTING FROM ANYTHING WHICH HAS HAPPENED UP TO NOW.
8. I ALSO AGREE TO PAY ALL COSTS, INCLUDING ATTORNEYS' FEES, INCURRED BY ANY RELEASED PARTY IN DEFENDING AN INVESTIGATION, CLAIM OR LAWSUIT BROUGHT BY OR ON PARTICIPANT'S BEHALF WHETHER ARISING IN WHOLE OR IN PART FROM PARTICIPANT'S PARTICIPATION IN ANY ACTIVITY OR FROM ANY MISREPRESENTATIONS OR FRAUDULENT EXECUTION OF THIS AGREEMENT.
9. I grant the Released Parties the right of publicity to own and use any image collected of Participant while participating in the Activity.
10. I represent that Participant is in good health and that there are no special problems associated with Participant's physical or mental condition. I authorize a licensed physician or other medical care provider to carry out any emergency medical care for Participant which may be necessary and agree to be fully responsible for any costs associated with such care or transport to such care.
11. I agree that any and all claims for loss, injury and/or death arising from Participant's participation in the Activity shall be governed by the law of the State or Province where the alleged incident occurred and that EXCLUSIVE JURISDICTION of any such claim shall be in a court of competent jurisdiction in the State or Province where the alleged incident occurred, except that all cases arising out of an alleged incident at (a) Heavenly Mountain shall be governed by California law and the exclusive jurisdiction of any such claim will be a California court of competent jurisdiction; and (b) Hunter Mountain shall be governed by New York law and the exclusive jurisdiction of any such claim will be in the Supreme Court of the State of New York, County of Greene or in the US District Court for the Northern District of New York.
12. BY SIGNING ON BEHALF OF A MINOR/INFANT OR OTHER PARTICIPANT, I REPRESENT THAT I AM AUTHORIZED TO SIGN ON PARTICIPANT'S BEHALF and/or I AM THE PARENT OR LEGAL GUARDIAN OF THE MINOR/INFANT PARTICIPANT and acknowledge that Participant is bound by all the terms of this Agreement. I understand that the minor/infant Participant would not be permitted to take part in any of the Activities unless I agree to the terms of this Agreement. By signing this Agreement without a parent or legal guardian's signature, I represent, under penalty of fraud that I am at least 18 years old (US) or 19 years old (Canada). I understand that a minor/infant Participant may use the ski lifts without an adult present or may ride the ski lifts with non-employee guests.
13. I understand that this Agreement will apply for each and every day participant engages in any Activity during the applicable operating season. I understand that this Agreement is a contract and, to the fullest extent permitted by law, shall be binding on me and my assignees, subrogors, distributors, heirs, next of kin, executors and personal representatives. If any part of this Agreement is deemed to be unenforceable, the remaining terms shall be an enforceable contract between the parties. It is my intent that this Agreement shall be binding upon my assignees, subrogors, distributors, heirs, next of kin, executors and personal representatives.
14. FOR WILMOT MOUNTAIN ONLY: I understand that, for a fee per person per day in addition to the normal price, Wilmot Mountain offers an optional Agreement that does not require me to sign a Release of Liability. In signing this Release of Liability, I acknowledge I am aware of this option, do not wish to pay this fee, accept the full scope of this Release of Liability and hereby waive my right to purchase the same.
MINOR/INFANT PARTICIPANT INFORMATION - Requires Parent/Guardian to Complete, Sign & Date Below
_______________________________________________ ________________________ ____________________
MINOR / INFANT #1 – Last Name, First Name, M.I. (print) Date of Birth (MM-DD-YYYY) Gender *
_______________________________________________ ________________________ ____________________
MINOR / INFANT #2 – Last Name, First Name, M.I. (print) Date of Birth (MM-DD-YYYY) Gender *
_______________________________________________ ________________________ ____________________
MINOR / INFANT #3 – Last Name, First Name, M.I. (print) Date of Birth (MM-DD-YYYY) Gender *
_______________________________________________ ________________________ ____________________
MINOR / INFANT #4 – Last Name, First Name, M.I. (print) Date of Birth (MM-DD-YYYY) Gender *
ADULT PARTICIPANT / PARENT / LEGAL GUARDIAN INFO. – Required to Complete, Sign & Date Below
_________________________________________________________ __________________________ ___________________
ADULT / PARENT / GUARDIAN – Last Name, First Name, M.I. (print) Date of Birth (MM-DD-YYYY) Gender *
________________________________________________________________________________ ____________________________
ADDRESS – Street Address/Mailing Address, City, State/Province, Zip/Postal Code (please print) PHONE NUMBER
____________________________________________ __________________________ ____________________________
EMERGENCY CONTACT (print full name) RELATION PHONE NUMBER
X _______________________________________________________ ____________________
SIGNATURE DATE
* Used only for Activity Division, Category, or Class Designation
For Resort Use Only
Tracking # ___________________________