Join us to learn about Polish mushroom picking, herbalism & survival!
About this event
Guided by the creative vision of "Poland in the Rockies" founders Irene Tomaszewski and Tony Muszynski, Konekt brings you an enticing weekend of connecting with your "Polishness". Delegates will have the chance to learn about Polish culture and history, network, build friendships and celebrate their Polish-Canadian heritage in scenic and historic Barry's Bay. 
ZHR Scouts Campground, Barry's Bay, ON
This program is designed for a 25+ MATURE audience
Limited delegate spots are available
Including lectures on Polish culture & history, film screening under the stars, hiking, canoeing, swimming, wilderness games, full accommodations, all inclusive Polish catered meals, guided tours, and of course, a bonfire!
FULL PROGRAM AND ADDRESS WILL BE SENT TO REGISTERED DELEGATES
THIS EVENT WILL SELL OUT. Prices increase to $230 per person on September 1st.
Your Ticket Includes:
All inclusive Days of Fun, Learning, Meals and Accommodations 
Full itinerary and programming
Lectures, seminars and activities
Access to water equipment, canoes, kayaks, swimmable lake, shared modern bathrooms & showers 
Shared sleeping accommodations (2-3 per room or trailer - Please specify preferred roommates for COVID-19 protocols)
Opportunity to bring a tent (Please specify)
3 Homecooked meals per day (Please specify dietary restrictions)
Sponsored product and bevvies ;)
Delegates must bring:
Sleeping bag, pillow, sheets
Toiletries
Personal Belongings
BYOB
Water bottle
Konekt Principals:
- All programming is held in English or will include translation/subtitles
- You do not need to be of Polish descent to participate in Konekt events 
- Polish aficionados are welcome!
- All programming is non-religious, but we support each participant's religious freedom and right to practice
- All programming is LGBTQ friendly
- We welcome interested participants of all backgrounds, genders, histories, orientations, races and values systems
- We celebrate diversity and promote tolerance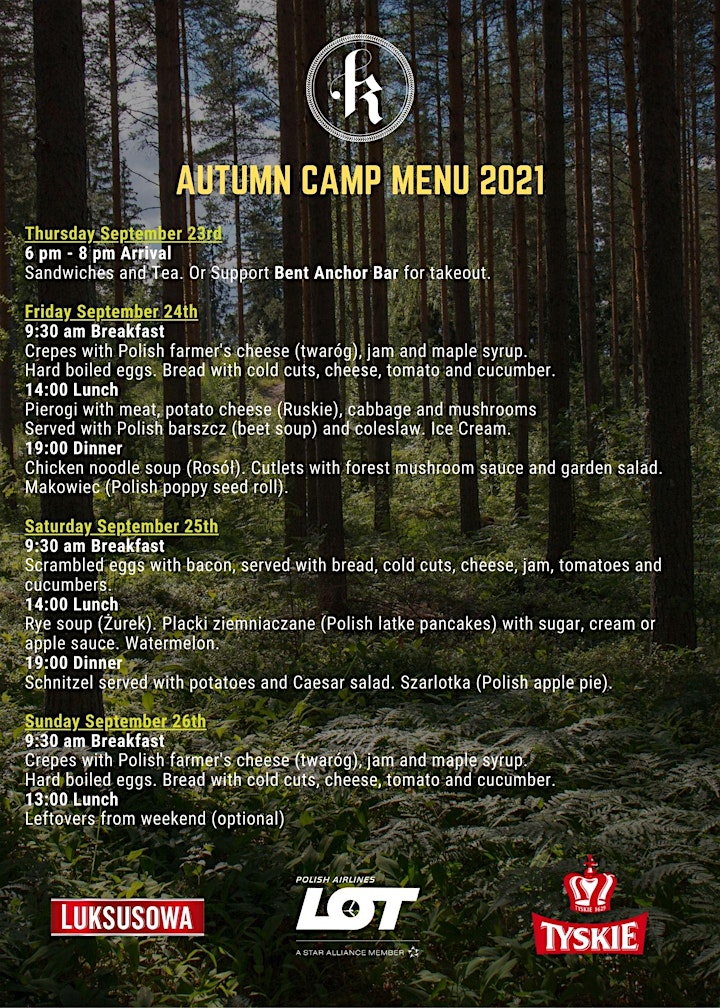 Organizer of Konekt Autumn Camp 2021: The Foraging Edition
Konekt is an non-profit organization which offers Canadian adults of Polish descent relevant and sophisticated spaces for professional development, community building and networking, assisting them to excel in their endeavors and maintain, as well as heighten, a connection to their Polish heritage. The organization also aims to educate the wider Canadian population about Polish culture, history and Polish-Canadians' contributions to its infrastructure and cultural mosaic.