Konnect High School Mentorship Camp 2017 (한인장학재단 하이스쿨 멘토쉽 캠프)

Saturday, 11 March 2017 at 9:00 AM

-

Sunday, 12 March 2017 at 12:00 PM (EST)
Event Details
캐나다한인장학재단 산하의 학생계발부(KCSF-SDC)가 캐나다 한인 고등학생들을 위한 연례 멘토쉽 캠프인 "Konnect 캠프"를 개최합니다.
2017 Konnect 캠프는 열정적인 대학 및 대학원생들로 구성된 Konnect 리더들이 금융, 회계, 교육, 의료, 연구 등 각 분야에 진출해 있는 차세대 한인 리더들로 구성된 학생계발부의 지도하에 계획하고 있습니다. "Culture-문화, Emotion-감정, Opportunity-기회" 라는 주제의 2017 Konnect 캠프의 참가 고등학생들은 안전하고 즐거운 환경에서 학우들, 대학에 진학한 선배들 및 전문직종에 종사하고 있는 차세대 리더들과 교류하고 자아 인식, 자아 수용 및 문화적 정체성을 탐구하며, 성공적인 대학 진학과 적응, 진로 등 실질적인 문제 관련 조언과 멘토링을 받아 두려움을 허물고 팀워크와 리더쉽을 키우고 자신감을 구축하기 위한 각종 의미있고 재미있는 프로그램을 준비중입니다.
날짜: 3월 11일 아침 - 3월 12일 오후

대상: 9학년 - 12학년

장소: YMCA Cedar Glen 

토론토 영/핀치와 미시사가 스퀘어원에서 버스 출발 예정

인원: 50명 제한

참여비: $100 3월 3일까지, $120 3월 5일부터 

식비 (전문조리사가 준비하는 점심, 저녁, 아침), 숙박비 (2인 1실), 교통비 포함
수용인원이 한정된 관계로 참여를 원하시는 학생들은 최대한 빨리 신청 바랍니다.
* 재정 지원 : KCSF-SDC는 모든 청소년들이 자신의 잠재력을 최대한 발휘 할 수있는 기회를 가질 수 있도록 모두에게 Konnect 캠프 참여 기회를 드리고자 합니다. 혹시 재정 지원이 필요하신 경우 연락주시기 바랍니다.
* KONNECT 리더들에관한 정보를 알고싶으시다면 "https://www.facebook.com/konnectcommunity" 를 방문해주세요!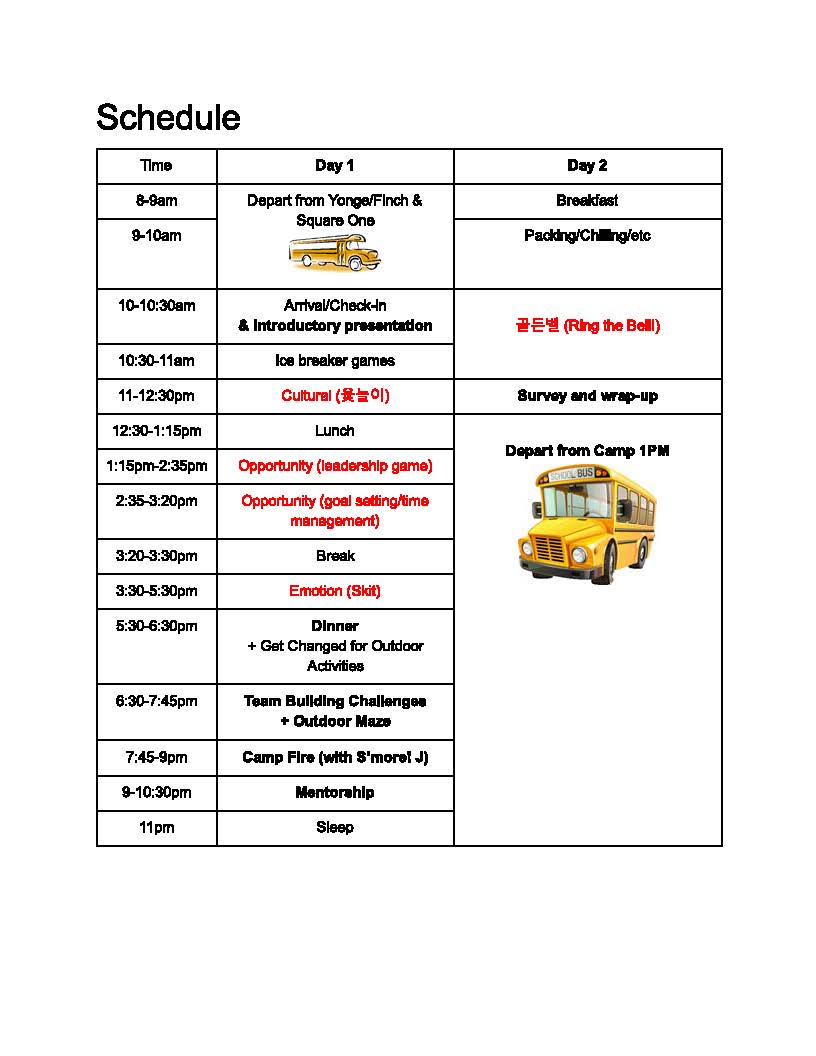 FAQs
Are there ID requirements or an age limit to enter the event?
We will have a list of attendees. Please bring a piece of identification (with picture) to prove your name. It is also a good idea to print and bring your ticket. This event is intended for high school students who are looking to enroll to a post-secondary program in the next few years.
What are my transport/parking options getting to the event?
Bus transportation will be provided. One bus will be leaving from North York and one from Mississauga. Please contact us via email if you prefer to provide your own method of tranportation.
Is there financial assistance available?
Financial assistance may be available in exceptional circumstances and with proof of income. Please contact konnect@kcsf.ca for more information.
Are the tickets refundable?
The tickets are refundable until Sunday March 5, 2017 at 11:59 PM. We will not issue any refunds past this point under any circumstances. 
Where can I contact the organizer with any questions?
You can reach out to us at: konnect@kcsf.ca
When & Where

YMCA Cedar Glen
13300 Concession Road 11
Schomberg, ON L0G 1T0
Canada

Saturday, 11 March 2017 at 9:00 AM

-

Sunday, 12 March 2017 at 12:00 PM (EST)
Add to my calendar