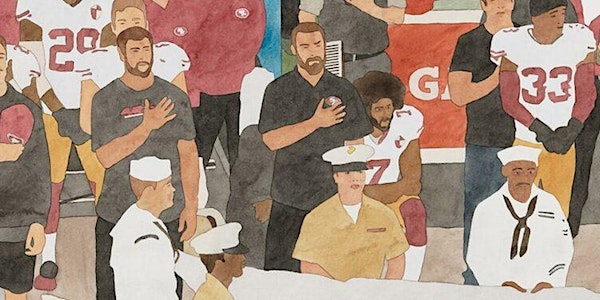 KOTA EZAWA: MOBILIZING CONSCIENCE
In-person opening reception with virtual artist talk and Q&A on 6 May 2022 5:30pm EST at the newly designed Goethe Space
When and where
Location
Goethe-Institut Toronto 100 University Avenue Toronto, ON M5J 1V6 Canada
About this event
Art + Protest
Presented by the Goethe-Institut Toronto with the CONTACT Photography Festival & the Japan Foundation
Join us for an in-person opening reception with virtual artist talk and Q&A on 6 May 2022 5:30pm EST at the newly designed Goethe Space.
Your registration and in-person attedance enters you into the draw to win an exclusive poster by Ezawa commissioned by Art Metropole.
This exhibition of two video works in dialogue by German artist Kota Ezawa traces the legacies and divergences of "photographs as instruments of protest", "the representation of pain and suffering" (Susan Sontag) and "beating the establishment at their own games" (John Lennon) through art, popular culture, and spectacle.
Exploring the appropriation and mediation of current events and images, Ezawa's work reduces complex visual information to its essential elements, questioning the photographic record's validity as a mediator of experiences, and confronting the viewer with the historic and cultural distance between themselves and the figures who feature prominently in public memory. Ezawa meticulously recreates, frame-by-frame, animated sequences from television, cinema, and art history using basic digital drawing and animation software. His practice encompasses light-boxes, videos, and works on paper that distill found images into his signature pared-down, flattened style.
Kota Ezawa, born 1969 in Cologne, is a Japanese-German artist and Professor of Film and Fine Arts at California College of the Arts. Ezawa studied at the Art Academy Düsseldorf with Nam Jun Paik and holds an MFA from Stanford. Solo shows include Hayward Gallery Projects Space, London; Vancouver Art Gallery; group exhibitions Whitney Museum, New York; Art Institute of Chicago; Museo Thyssen-Bornemisza, Madrid. Ezawa was a resident at Goethe-Institut Villa Kamogawa, Japan; his work is in collections from MoMA to Musée D'Art Contemporain de Montréal. Monographs include The Crime of Art and The History of Photography Remix.
Kota Ezawa will be in conversation with SoJin Chun, a curator and visual artist working in photography and video, who explores the alternative dialogues that emerge in-between cultures and disciplines. Influenced by her experience living in the Korean diaspora in Bolivia and Canada, Chun combines art and community to decolonize the process of image-making. As an artist, Chun has participated in international film festivals such as the Oberhausen International Film Festival.
Works presented:
Kota Ezawa: Lennon Sontag Beuys (2004)
Single channel video with sound
2:10 min. on continuous loop
The artist animates documentary footage of John Lennon and Yoko Ono's 1969 Amsterdam "bed-in" for peace, a 2001 lecture delivered by the late media philosopher Susan Sontag at Columbia University, and Joseph Beuys' 1974 lecture at the New School for Social Research in New York.
Kota Ezawa: National Anthem (2018)
Single channel video with sound
1:48 min. on continuous loop
A powerful meditation on protest and patriotism, solidarity and hope, first exhibited at the 2019 Whitney Biennial, National Anthem depicts professional NFL athletes "taking a knee" during The Star-Spangled Banner to protest police brutality and the oppression of people of color.
Courtesy of Kota Ezawa, Murray Guy, New York and Galerie Beckers, Frankfurt