Kristian Bogner: "Passion and Excellence in Photography"
Description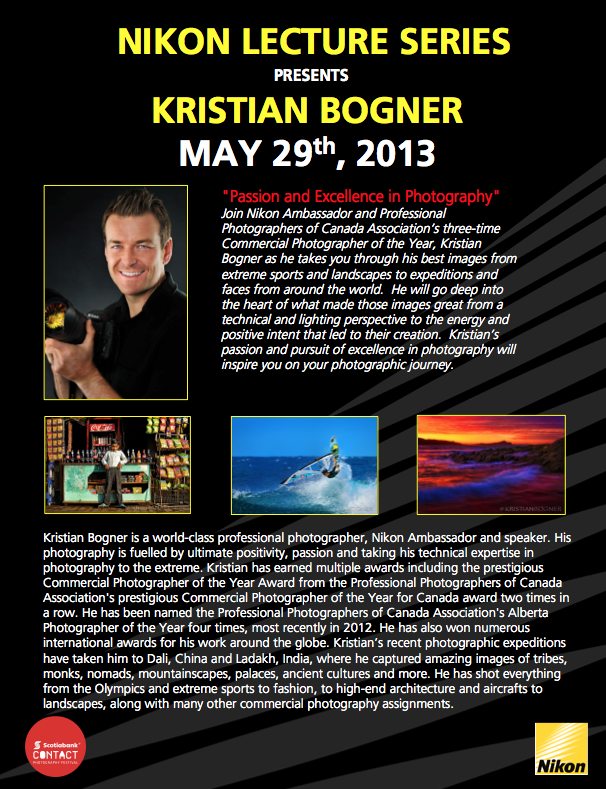 Organizer of Kristian Bogner: "Passion and Excellence in Photography"
Year after year, Nikon products continue to gain the patronage of professional photographers across the globe. Such trust is invaluable to us, and it plays a crucial role in who we are, what we make and what we do. As an optical manufacturer and brand leader, it is our mission not only to create reliable, high-quality products, but also to consistently offer useful, faithful and dependable service to those who make their living from the images their cameras produce. This is where Nikon Professional Services (NPS) excels. Our goal is to keep NPS members shooting with certainty, ease, and a feeling of security that comes with dedicated support.

---
Année après année, les produits Nikon continuent de gagner le soutien des photographes professionnels du monde entier. Une telle confiance nous est précieuse et joue un rôle crucial dans ce que nous sommes, ce que nous produisons et ce que nous faisons. En tant que fabricant d'optique et marque chef de file, notre mission est non seulement de créer des produits fiables et de haute qualité, mais également d'offrir un service utile, fidèle et fiable à ceux qui vivent des images que produisent leurs appareils. C'est là qu'excellent les services Nikon aux Professionnels (NPS) Notre objectif est de permettre aux membres des NPS de prendre des photos en toute confiance, avec l'aisance et le sentiment de sécurité que procurent un support dédié.