Join Kundalini Yogi & Ceremony Facilitator Chris Dub for a Kundalini Yoga Series where we collectively evolve and grow together
About this event
Join Kundalini Yogi, Transformational Teacher, Emotional Intuitive Healing Facilitator & Ceremony Facilitator Chris Dub for a Kundalini Yoga Series where we collectively evolve and grow together each class.
.:: The Experience ::.
This Yoga Experience Fuses Together Kundalini Yoga, Yin Yoga, Powerful Pranayama, Advaita Vedanta Teachings, Self-Inquiry Teachings & Wisdom from My Spiritual Experiences.
This series will be focused on raising the Kundalini energies & tuning into Unity Consciousness.
.:: Details of The Experience ::.
- Build rooted trust and safety as you balance your lower chakras
- Root in to Connect to the Heart of Mother Earth as you clear through Fear Blocks
- Expand in heart centered awareness
- A Slow Meditative and Conscious rising into your power and vital life force energy flow
- Powerful Pranayama (Breathwork)
- Soundbaths (Gong, Crystal Bowls, Crystal harp, Buffalo & Moose Drums, Harmonium & More)
- Mantra Chanting
- Getting Limber & Loose
- Balancing & Centering All Chakras
- Tuning into your soul essence and embodying this
- The visceral experience of letting go of stored trauma, pain & hurt
- Inspiration, Motivation, & The Awareness to Move Forward in Life in The Ways That Feel Most True To YOU
_______________________________________
Allow yourself to receive and be empowered by the collective energies to support you in all the ways you need as your soul evolution increases in a very integrative way. Feel the love of community and be nourished by the sharing circles after every class. These will happen from 8:30 - 8:50 (These circles are optional, there will be a chance to leave at 8:30 after each class).
The series will end with a finishing potluck and inspiring movie night to celebrate the completion of our commitment together :).
Experience a Kundalini Yoga class like never before, in a strong, energized setting mixed with softness and grace. Get immediate results with a notable experience of heightened awareness, energy flow and calmness even after your first class.
_______________________________________
Energy Exchange
$175 for 8 Weeks plus tax
"Only 10 Spots Available"
or
$25 Per Class plus tax
"Spots will be reserved for those who sign up for the 8 week commitment, individual classes will only be available if spots remain"
If individual tickets show up as an option for your to purchase that means there is spots available :)
A couple spots will be reserved for those who may need financial assistance. PM if that is you or if you have any questions.
********************************************
.:: Timing ::.
Begins Monday Oct 25th from 7-8:30 PM (8:30 - 8:50pm) optional sharing circle
Every Monday from Oct 25th - Dec 13th @ 7pm
Located @ The Soul Sanctuary
Dovercourt & Bloor "Exact Address Give Upon Deposit or Full Payment"
********************************************
Come as you are 🙂 and bring a water bottle, yoga mat and wear comfortable clothing (optional: cushion, blanket) .
********************************************
Your Yoga Teacher
.:: Chris Dub ::.
Emotional Intuitive Healer, Kundalini Yogi, Transformational Teacher & Ceremony Facilitator
Chris is devoted to cultivating and holding space for you to become more aware of your mental blocks and repressed emotions, which allows this energy to transform into a higher understanding of one's self and your interconnectedness to all of nature. The result is a high degree of self love which leads to a letting go of past pain, hurt and trauma. Experience increased energy flow and creativity, zest for life, calmed nervous system, amplified self worth and deeper, more meaningful relationships.
Chris is a Certified Kundalini Yoga Teacher, Yoga Alliance Certified & Holds a Diploma in Social Service Work. He teaches Kundalini Yoga, Self-Awareness Practices, Meditation, Mantra, Sound-Healing and Breath-Work classes, he also holds space for Men's & Women's Circles.
Along with this Chris offers 1 on 1 Intuitive Healing & Empowerment Sessions, Transformational Retreats & Facilitates Ceremonial Experiences, Journey Through Your Chakras Classes & Online Programs, as well as Community Spiritual Offerings like Temple Groove, The Word & The Wave - Evolving Human Consciousness Podcast.
Chris is passionate about supporting you to bring self awareness and energy flow practices to your daily life so you're internal GPS can always be online, guiding you to the most heart nourishing and fulfilling experiences.
𝐂𝐡𝐞𝐜𝐤 𝐨𝐮𝐭 "𝐂𝐡𝐫𝐢𝐬 𝐃𝐮𝐛 𝐊𝐮𝐧𝐝𝐚𝐥𝐢𝐧𝐢" 𝐨𝐧 𝐅𝐁 𝐟𝐨𝐫 𝐦𝐨𝐫𝐞 𝐨𝐟 𝐇𝐢𝐬 𝐎𝐟𝐟𝐞𝐫𝐢𝐧𝐠𝐬. 𝐂𝐡𝐫𝐢𝐬 𝐨𝐟𝐟𝐞𝐫'𝐬 𝟏 𝐨𝐧 𝟏 𝐄𝐦𝐨𝐭𝐢𝐨𝐧𝐚𝐥 𝐈𝐧𝐭𝐮𝐢𝐭𝐢𝐯𝐞 𝐇𝐞𝐚𝐥𝐢𝐧𝐠, 𝐘𝐨𝐠𝐚, 𝐁𝐫𝐞𝐚𝐭𝐡 𝐖𝐨𝐫𝐤 & 𝐌𝐞𝐝𝐢𝐭𝐚𝐭𝐢𝐨𝐧 𝐒𝐞𝐬𝐬𝐢𝐨𝐧𝐬. 𝐏𝐌 𝐂𝐡𝐫𝐢𝐬 𝐓𝐨𝐝𝐚𝐲 𝐟𝐨𝐫 𝐚 𝐅𝐫𝐞𝐞 𝟒𝟓 𝐌𝐢𝐧 𝐂𝐨𝐧𝐬𝐮𝐥𝐭𝐚𝐭𝐢𝐨𝐧 & 𝐌𝐢𝐧𝐢-𝐒𝐞𝐬𝐬𝐢𝐨𝐧 𝐈𝐧-𝐏𝐞𝐫𝐬𝐨𝐧 𝐨𝐫 𝐕𝐢𝐚 𝐙𝐨𝐨𝐦 𝐕𝐢𝐝𝐞𝐨 𝐂𝐚𝐥𝐥.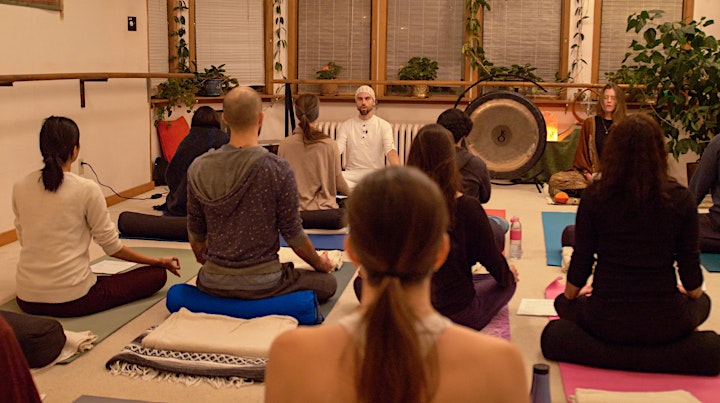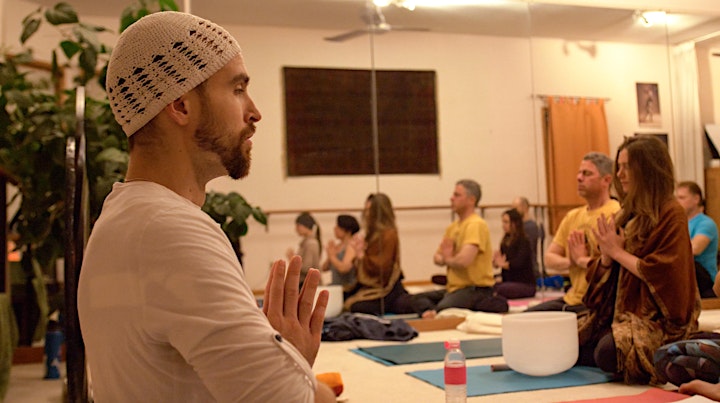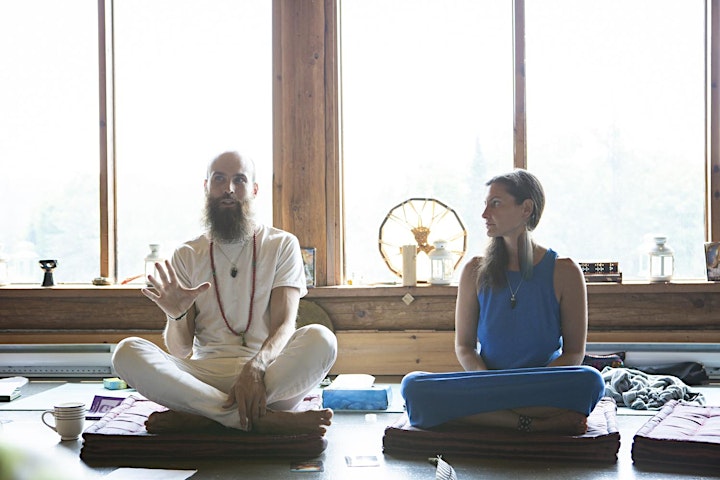 Organizer of Kundalini Yoga 8 Week Collective Evolution
::: CHRIS DUB :::

Chris has been consciously walking the path of self realization since becoming very ill 8 years ago. His body suddenly began to purge physically, emotionally and mentally in an intense process which created dramatic changes and shifts of consciousness. Although an incredibly painful process, it allowed him to become in touch with the essence of his spirit and follow the path of service that resonates most with his heart.

Chris is a certified Yogi Bhajan Kundalini Yoga Aquarian Teacher & Yoga Alliance certified. He has a diploma in Social Work and has worked in the field developing and running after school programs for youth relating to healthy living, he has worked as a Teacher's Assistant and public speaker in elementary schools. Chris has undergone intensive breathe work, bodily cleansing, meditation and self-inquiry to move through chronic pain and find deeper depths of self love over the past 8 years. He works 1 on 1 with clients to develop more self-love through self-awareness practises. In these sessions you move through stress, become aware of self-defeating beliefs, emotional repression and access the core of your heart. Chris is passionate about bringing rituals to your daily life to assist in tuning into the heart frequency so you can make decisions based upon what resonates with this vibrational frequency.

Chris is a public speaker with a focus on empowerment. He teaches Kundalini Yoga & Other Classes weekly, run's meditation classes, primal movement classes and hosts the Sacred Brotherhood Men's Group. Chris is the co-creator of Yoga Unites Burrito Rolling Project which does outreach work with the homeless and supports many heart-centered community events. He is a spoken word artist and conscious hip-hop performer. Chris is the former Owner and Creator of Dub's Deals Buy & Sell & Space Coordinator of The Mermaid's Den. He is also the Operations Manager at Popbox MicroMrkt in Toronto. 

Check out www.consciousnessnow.ca to learn more about Chris and the services he offers. Also check out Consciousness Now & The Burrito Rolling Project by Yoga Unites Facebook Page to be kept up to date with the events he host's, co-host's and that are run in the Toronto Spiritual Community