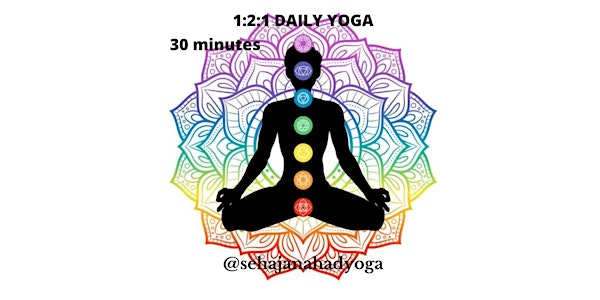 KUNDALINI YOGA SPINAL HEALTH MASTERY 1:2:1 YOGA
"Age is measured by the health of your spine." A powerful series to strengthen spine and release energy blocks in body, mind and soul.
About this event
A yoga program offering daily1:2:1 yoga for 30 minutes.
The daily yoga kriyas (sequence) will focus on working all 26 vertebrae of the spine, from the base of the spine to the top, nervous system, glandular system and all other body systems so that you "EXPERIENCE" yoga in trinity of body-mind-soul.
Classes are everyday, with a time arranged that best suits you.
It can be morning, afternoon or evening yoga for 30 minutes.
30 minutes of kundalini yoga involving yoga asanas, pranayama, relaxation (savasana), and meditation, to center, ground, balance and align yourself.
In Kundalini Yoga, it is said that if the spine is healthy, overall body-mind-soul is healthy. Therefore, having a strong, flexible and supple spine keeps all body systems working optimally, stimulates the vertebrae of the spine, balances the chakras and removes energy blocks within so that life force universal energy can flow freely.
The spinal series consists of a sequence of yoga asanas (postures), breathwork, movement and meditation to activate, align and loosen up the spine, cleanse and strengthen your mind and body, cultivate and nurture your soul connection and bring you into inner calmness.
The Kundalini Yoga Spinal Series begins at the base of your spine, working your way up to top and finishing with the crown chakra. Energy blocks are removed, stiffness eases and all body systems are stimulated to work more effectively.
Benefits of Spinal Exercises:
Develops an AWARENESS of your spine
BALANCE central nervous system
Establishes the spine as a FOCAL POINT for your attention
ACTIVATES and opens the energy flow in the spine
ALLOWS the energy to move and align itself