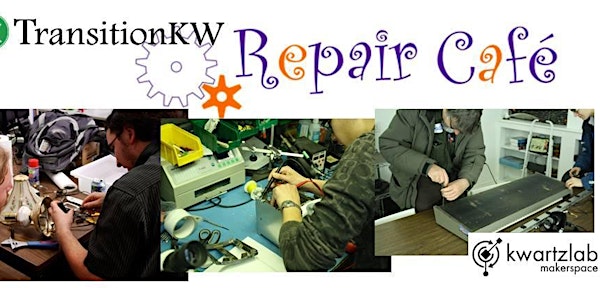 KW Repair Cafe April-2017
When and where
Location
KwartzLab Makerspace 33 Kent Ave Kitchener, ON N2G 3R2 Canada
Refund Policy
Contact the organizer to request a refund.
Description
KWBring your broken or flawed: COMPUTER, FURNITURE, ELECTRICAL APPLIANCES, TOYS, Etc!!!!
You can repair it at Repair Café! A group of volunteers are waiting to help you realize that not everything that breaks needs to be a hassle to fix! Come and experience a great new project that is continuing to grow in popularity and maybe even learn something!!
Repair Cafe is about repairing things together, receiving expert advice, and meeting others to be inspired.
Please register for the time that you are available to attend. This helps us to make sure we have the right volunteers available, without having to make you wait a long time. Also let us know in the registration what you are bringing. One repair per guest, please.
If you don't have anything that is broken, but would still like to participate or come and see how it works -- You are WELCOME to drop in and tell your friends!
This event is hosted by KWArtzLab and TransitionKW. There is NO COST to get your items repaired! Donations are welcomed.
We also need VOLUNTEERS to help with repairs, especially if we are going to offer clothing repairs! If you can volunteer, please sign up here:
For more information check out these links about how Repair Cafes started in Europe and came to North America:
KitchenerPost report: http://www.kitchenerpost.ca/news/gadget-inspector/
Waterloo Region Record :
http://www.therecord.com/opinion-story/5648307-repair-caf-tackles-wasteful-notions/

http://www.therecord.com/news-story/5642286-kitchener-s-repair-caf-helps-save-broken-items-from-the-dump/
YOUTUBE VIDEO: http://www.youtube.com/watch?v=UmmLRVkDZbk
http://repaircafe.org/about-repair-cafe/
http://www.nytimes.com/2012/05/09/world/europe/amsterdam-tries-to-change-culture-with-repair-cafes.html?_r=0
http://www.vernonmorningstar.com/community/225346162.html